Angry march
By Rowan Roebig and
Randolph Rarnsay
THOUSANDS of people marched down Oxford St on Sunday in an unprecedented demonstration of community anger over the Brisbane Airport Corporation Ltd (BACL) parallel runway.
The trendy cafe strip at Bulimba was transformed into a sea of faces and placards as more than 3000 people marched to protest against the BACL's revised master plan, which was approved by Federal Transport Minister John Anderson last Friday.
Ban Aircraft Noise Over Residential Brisbane (BARB) spokesman Jackie Cann, who was expecting only about 500 protesters to attend, said she was overwhelmed by the response.
"This turnout has been absolutely fantastic," Ms Cann said.
Representatives from all sides of the political spectrum came together to voice their concerns, with Federal Labor Member for Griffith Kevin Rudd, Federal Opposition transport spokeswoman Cheryl Kernot, the Democrats' Senator Andrew Bartlett and former Griffith Member Graeme McDougall addressing the large crowd.
BACL communications manager Vanessa Kennedy said the protesters had been misled by politicians using the issue for personal gain.
She said a parallel runway would reduce noise over residential Brisbane.
"There is very high emotion in the community at the moment,'.' she said.
To page 4
Community against runway
From page 1
"The people who have politicised the issue are four years too early and the reason for that is the development application for the runway won't occur for four years.
"A master plan is not an approval for a parallel runway."
Mr Anderson said he told BACL to explore runway options before submitting any proposal to build a parallel runway.
"I have approved the Brisbane Airport Master Plan as a land use planning tool only," he said.
"My decision does not mean that the BACL will be able to build a second runway without further debate.
"The airport will be required to obtain a separate approval, consistent with the Airports Act, if they want to build a second runway next century.
Mr Rudd said it was time for both the BACL and the Minister to stop hiding behind walls of corporate and bureaucratic silence. He has called for a senate inquiry into the decision- making process behind the approval of the master plan.
Senator Bartlett said the Democrats would support any such moves for an inquiry.
Wit and wisdom of rally marchers
"HEY hey, ho ho, parallel runway's got to go."
Thousands chanted that one simple line as southsiders came out in force on Sunday to protest the Brisbane Airport Corporation Ltd's (BACL) parallel runway.
The line of protesters stretched down the length and breadth of Oxford St, surprising the bemused patrons of Bulimba's many cafes.
A broad cross section of the community came out to show its concerns families, elderly residents, couples and children all waving placards and shouting their protest.
"Run away runway", "Hear teachers not planes" and "Over the bay, not my house" were just some of the many placards being waved.
At the front of it all was one lone voice for the parallel runway.
Bulimba resident Damien Freiberg waved his "Yes to Parallel Runway" sign in front of the thousands of marchers as they walked down Oxford St. Mr Frelberg, a Bulimba resident of 12 years, said he had never been bothered by the noise and it was the yuppies who were causing all the fuss.
His protest was drowned by others who begged to differ those who say a parallel runway will drastically lower their standard of living.
South-East Advertiser Wednesday, February 17, 1999. Pages 1 & 4.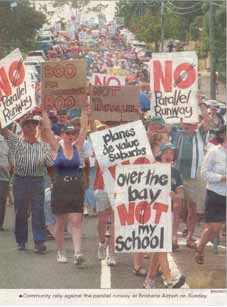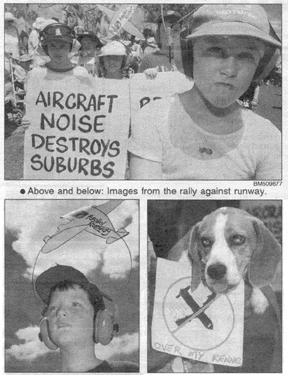 last update 24 Oct 1999
---
This page is maintained by
The Rivermouth Action Group Inc
as a community service.
---