Environmental Vandalism?
by the Brisbane City Council
A Report has come to our attention that the Brisbane City Council held a demonstration day of their mosquito control equipment at the far northern end of Elanora Park, Wynnum North on the 19 th of April.
The equipment being used was a type of watercraft (airboat) similar to those used in the American everglades with a large fan at the rear. The noise was of such volume that the local residents alerted the local Councillor who came from his office a few kilometres away to investigate. As the local Councillor wasn't even invited or informed that a demonstration was to take place within his ward.
Also quad bikes were being demonstrated at the same time. They were driven up and down the slopes of an area, which has been set aside for native bird breeding. That story at http://www.rag.org.au/bcc/grasscutting.htm
This area is a Ramsar site adjoining the Moreton Bay Marine Park. At the time of this demonstration not all the birds had left on their long journey to the Northern Hemisphere. An expert on the birds' habits informs suggested that if the birds are disturbed more that three times that the bird because of their fat build up can never fly off again. (This information is being checked)
The airboat is used for mosquito control damages the wetlands as shown by the video clips below. The lower part of the craft leaves ruts in the wetlands. A perfect place for mosquito breeding. Reports from the Boondall Wetlands Area also support the concern about Brisbane's wetland areas being damaged by Brisbane City Council's mosquito control staff and equipment. The picture of the airboat and quad bike were taken from BCC promotional material.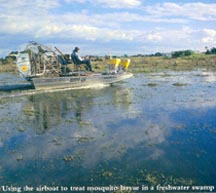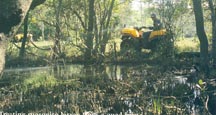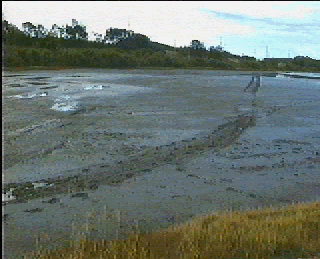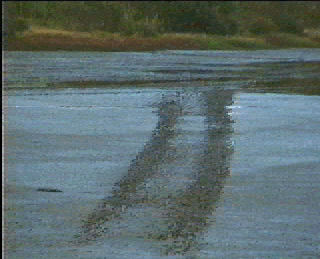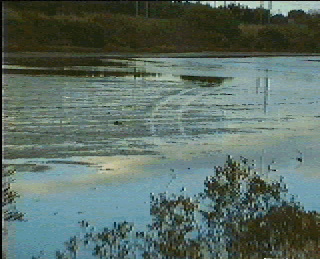 Three video clips were taken on Monday 3 May 1999 at the northern end of the old Wynnum North landfill site looking north by Barry Wilson. Unfortunately the tide was in at the time of the video shoot. Photos taken at low tide can be viewed as part of EYE WITNESS REPORT above.
last update 24 Oct 1999
---
This page is maintained by
The Rivermouth Action Group Inc
as a community service.
---