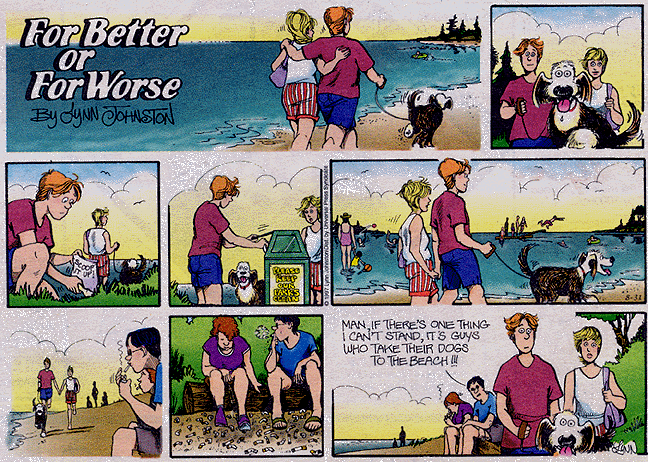 This cartoon appeared in the Sunday Mail Magazine of September 7, 1997 on page 27.
N.B. Copyright for this cartoon is retained by Lynn Johnston and her publisher.
---
A 1999 BCC publication included with the Rates Notice listed the 10 most found items of litter in our Moreton Bay. Plastic bags were number 1 (one) and cigarette butts were number 2 (two).
The Brisbane City Council has clamped down on dog owners but not smokers. Why? Is it that too many political supporters smoke? Does the Brisbane City Council need public support for such action? Maybe this page will supply that support.
E-mail the Brisbane City Council Lord Mayor and add your support for on the spot litter fines for smokers who litter our streets and waterways.
Send the Lord Mayor of Brisbane an e-mail now. Show you support on the spot litter fines for polluters especially smokers.
Cr Jim Soorley LORDMAYOR@brisbane.qld.gov.au
last update 24 Oct 1999
---
This page is maintained by
The Rivermouth Action Group Inc
as a community service.
---