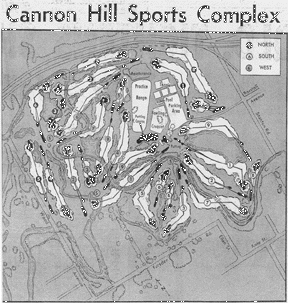 PRELIMINARY plans of a multi-million dollar sporting project which the Brisbane City Council proposes to build at Cannon Hill.
It comprises three nine-hole golf courses, 10 tennis courts, bowling greens, swimming pool and croquet green.
The area set aside for the project is part of the redevelopment of the reclaimed area of Bulimba Creek in Fursden Road.
The golf courses - designated -North, South and West - are all par 36 layout. They have been designed by the international firm of which professional golfer Bruce ????viin is a partner.........
The Courier Mail 12 Nov 1975
---
Unfortunately the bottom of the newspaper article has been damaged and cannot be read.
---
But looking at what the Public were shown to approve only shows 8 full fairways and 11 partial fairways on the western side of Bulimba Creek leaving 11 partial fairways and 8 full fairways on the east side. The large majority of the golf development was on the eastern side of the Creek. None of the development went west of Wood Avenue (extended). The Golf Clubhouse, swimming pool, parking, tennis croquet, practice range, putting course and maintenance areas were all on the eastern side of Bulimba Creek.
---
The present layout has no resemblance to the above map which appeared in The Courier Mail. The present proposed layout which includes one 18 hole Championship Golf Course situated completely on the western side of Bulimba Creek has never had any open Public Consultation on the proposed development.
What the Brisbane City Council did not know about the site when the sports area was proposed was the existance of the Squirrel Glider Possums, Acid Sulphate Soils, the building of the Gateway Motorway which would increasing flooding in the area, the signifiance of the bushland or environmental damage Acid Sulphate Soils cause to aquatic life.
There has been a massive increase in housing development in the middle and upper catchments of Bulimba Creek which is contributing the increasing flood levels experienced by residents near the proposed Golf Course development.
The proponents of the Golfing Faternity must dissociate themselves from such developments as this one and the Gold Coast one at Oyster Cove. Our Environment cannot afford such acts of vandalism.
Check out the Golf Course Development planned for the northern Gold Coast. http://www.rag.org.au/goldcoast/
Since the Tenders for the development of the Golf Course closed in January 1999 nothing has been released except the names of those who tendered.
last update 24 Oct 1999
---
This page is maintained by
The Rivermouth Action Group Inc
as a community service.
---