THE FREIGHT RAIL FIASCO
A Critique of the Dual Gauge Link to the Port of Brisbane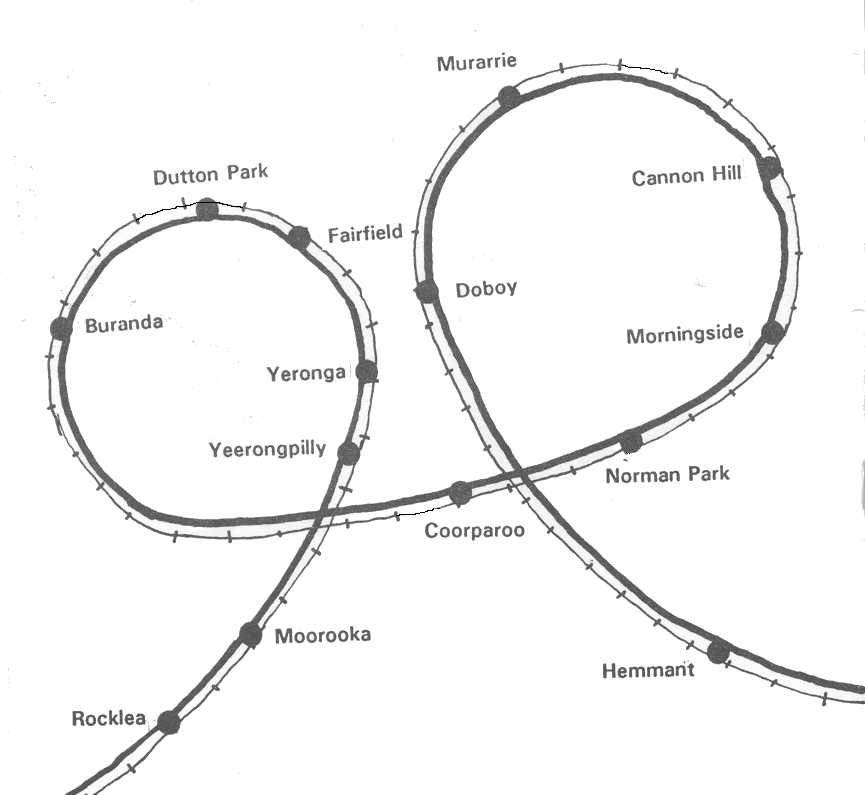 TABLE OF CONTENTS
INTRODUCTION ..........................................................2

Map: Proposed Freight Rail ..............................................2

History of the Cleveland Rail Line .....................................3

THE CASE AGAINST THE PROPOSED RAIL

LINK TO FISHERMAN ISLANDS ...............................4

The Project Is of Dubious Economic Benefit......................4

The Proposal Is Socially Unjust ........................................6

The Proposal Is Environmentally Unacceptable .................8

THE ROOT CAUSE OF THIS FIASCO .......................10

No Environmental Protection Act In Queensland ..............10

No Compensation For Injurious Impacts

By Governments On Citizens ...........................................11

No Urban Plan ................................................................12

Vital State Planning Processes and Decisions

Have Been Secret ...........................................................13

CONCLUSION: Is There An Alternative ........................14

REFERENCES ...............................................................15

MAP

Williams Plan For linking With The National Grid .............17
Published by The Freight Rail Action Group March 1993
Page 2
Introduction
The Queensland Government has proposed a dual gauge rail link to Fisherman Islands to upgrade Queensland's freight rail transport and bring it into line with the national rail system. Funds have been made available through the Federal Government's 1992 One Nation strategy.
According to the Queensland Minister for Transport1, the proposed development is intended to-
"enhance the Port of Brisbane... as a major shipping destination,
"create jobs locally
"promote rail as the preferred means of long distance freight transport, overcome the need for double handling of south bound container traffic at Acacia Ridge"
This will be done through the construction of a new dual gauge rail along the Cleveland passenger line at a cost of $75 million for laying the new track.
The final assent for the project has not been given by the Queensland State cabinet, but many aspects of the work are already begun or completed. These include many resumptions of property not already owned by Queensland Rail, compacted earth infills for major overpasses, overhead walkways, and a multi-million dollar contract for concrete sleepers2
The proposal has drawn criticism from a variety of interested parties on the basis of economic, sociological and environmental grounds.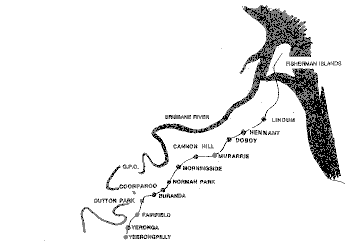 TO SCALE MAP: OF THE PROPOSED FREIGHT RAIL TO BE BUILT ALONG THE EXISTING CLEVELAND LINE SHOWING 13 OF THE AFFECTED STATIONS
Page 3
History of the Cleveland Rail Line
The present narrow gauge rail has existed since the late 19th century. It has always carried a passenger rail service and has thus provided a valuable amenity to citizens of Brisbane. As with all rail lines (and roads) in Brisbane, there has been some freight traffic. The freight traffic along the Cleveland line serviced the Brisbane Abattoirs (1931-90) and the Bulimba Powerhouse (till 1966).
In 1980, the rail was temporarily connected to the new Port of Brisbane at Fisherman Islands. This temporary situation was to provide rail access to the new Port until the construction of a purpose-built freight rail line, which was planned to go around the main population centre of Brisbane.
In 1956, the Brisbane City Council suggested a standard gauge line to rail connect northern NSW to Brisbane but nothing eventuate A Federal Bureau of Transport Report (1984) concluded that such a link was not expected to generate ally significant export cargoes from NSW and that the dual gauging of the link would probably have a negative effect on Queensland Railways unless the congestion savings were significant.3
page 4
The Case Against The Proposed
Rail Link To Fisherman Islands
THE PROJECT IS OF DUBIOUS ECONOMIC BENEFIT
The proposed development falls to provide the infrastructure for a competitive national freight rail
This is because the preferred route piggy backs along an existing urban passenger rail. As a result -
It will not permit double stacking required for efficient interstate transport of containers by rail.
It will not permit trains longer than 900m. Economic transcontinental rail freight transport calls for trains upwards of 3000m.
It will not link with the main, faster and more efficient interstate standard gauge lines. Such links are necessary for the implementation of the Keyport Strategy for Brisbane4. This strategy envisages Brisbane as the main Eastern seaboard distribution centre (keyport) for movement of goods to and from Asia.
It will not permit single handling of goods because of the current design restrictions on double stacking and longer trains. Goods will be handled at least twice, at the Port and at Acacia Ridge, before reaching their destination.
page 5
The Government proposed route will not take freight off our roads
The proposal does not even provide the rail infrastructure to reduce the number of heavy trucks on our roads. In the words of the Queensland Government's own assessment, the proposed rail link is not expected to result in any general reduction in road based freight movements. 5
The assessment goes on to say, delays to road traffic (at level crossings) could be significantly affected by the scheduling of goods/ freight/ grain/ coal) throughout the day.
Above all, the proposal lacks vision
Contrary to official claims, the proposed development does not provide the infrastructure for efficient freight rail transport for Queensland or Australia. Two major Academic reports6,7 have said that the Australian transport industry will pay dearly for lack of investment in an efficient rail infrastructure. An efficient National Rail is the long term solution to many environmental problems associated with the transport of freight.
The shortsightedness of government that gave rise to the problem of different gauges has cost Australians dearly. The current proposal is in the same mould. To make maters worse, the cost of rectifying past errors is growing.
The One Nation Strategy, which funds this proposal, was meant to be of permanent and lasting benefit to Australians in the 21st century. However, the economic reality may be very different International consultant engineers who were hired by the National Rail Corporation to perform a feasibility study on the standard gauge link from Acacia Ridge to the new Port of Brisbane, reported that it was difficult to justify on economic grounds8 The Queensland Department of Transport Policy and Planning Unit has said in its own economic valuation of the proposal, that if the link is built by 1995/96, it would be viable under optimistic conditions and marginal under expected conditions9.
Economic conditions have not improved since the writing of these reports. Indeed growth forecasts have been downgraded. if the proposed development offers little to directly benefit Australia, then why build this extra line at a cost of $75 million at this stage in Australia's economic development
page 6
THE PROPOSAL IS SOCIALLY UNJUST
The current proposal does not seriously consider options to contain the impacts that it creates
These Impacts injuriously affect up to 23000 households (Queensland Government's own data10). The quality of life of many of these people will be measurably reduced by this development if it goes ahead. This is because the proposal does not seriously consider the mitigation of the impacts that it will create. In particular, there will be impacts caused by -
an average of forty six to fifty 900 metre long freight trains each day along the passenger line (42 trains on the narrow gauge, plus a maximum of 4 to 8 trains on the standard gauge line), with each train requiring three diesel locomotives to haul it5. Thus, according to Queensland Government data, a triple diesel header freight train will be hauled on the passenger route on an average of every 15 minutes during the day. (It is assumed that there will be a night curfew).
trains which will carry toxic waste, volatile and explosive materials through sixteen inner Brisbane residential suburbs, in one instance within loom of a major hospital (PA Hospital)5.
The proposed freight rail corridor will physically split the communities of 16 residential suburbs
The irreparable damage to the community of Woolloongabba by the South East Freeway was a major consideration of the Australian Law Reform Commission Report No 14. 11 The proposed freight rail development does not seriously consider design options to mitigate against a similar outcome.
page 7
The dire social consequences can be predicted
Building a freight rail corridor through residential suburbs will inevitably cause serious social and health problems.
There will be a polarisation of suburbs.
This will encourage a transient population.
In time, this will create a corridor of slums and a sense of powerlessness on the part of people living in the corridor and its neighbourhood. Alienated and delinquent behaviour will be a natural consequence.
The cost of this will impact measurably on future budgets of Government Departments of Social Services, Health, Education, Corrective Services, Environment, and the Brisbane City Council.
It is ordinary workers and their families who will pay the biggest price
There is no political will to design and construct a freight line which does not impact adversely on the people who live on the line, or otherwise provide them with compensation. Patterns of settlement in our cities have been such that communities along rail lines are often from lower socio-economic groups. These include blue collar workers and railway workers themselves. Should the proposed line go ahead, it will be these groups who will pay the biggest price. In the long term, it will contribute to the disaffection of these people from a political process which denies them a voice.
page 8
THE PROPOSAL IS ENVIRONMENTALLY UNACCEPTABLE
The Conflicting Evidence of The Impact Assessment Study5
Existing information raises serious questions about the environmental impact of the proposal. There is enough evidence already to state that the noise impacts of the proposed development fall well outside guidelines for rail noise levels adopted in other states and countries. Most of this evidence comes from the Impact Assessment Study which was carried out by a private consultant for the Queensland government
The Conclusions and Executive Summary of the impact Assessment Study state that there would be an imperceptible increase in future noise levels assuming a maximum increase in freight rail traffic. Yet, noise levels in the vicinity of the rail do not and will not even comply with standards for industrial workplaces in Queensland.
How then did the Queensland Government study arrive at its conclusions?
Inaccurate data
These range from inaccurate data on existing freight train movements to misdescriptions of current land uses. Their conclusions just do not withstand critical review. Some examples are -
The study misdescribes existing freight movements by 300%12. This makes computer comparisons of future noise levels with existing levels so erroneous as to make the conclusions irrelevant
The Impact Assessment Study misdescribes a totally Residential A area with many fine houses built at the end of the 19th century, as urban/commercial. The Impact Assessment study produces a photograph of an urban/commercial scene some 300m away from the affected area to support its claim 5.
page 9
Misinterpreted data
Queensland Rail ran a test train similar to the freight trains which are proposed, i.e., a triple diesel freight train 906m long. Maximum noise generated by this train was up to 14 dBA more than the maximum noise generated by existing freight trains5. This amounted to a noise level of 99.l dBA at a distance of 10 metres from the track or a trebling of the noise level of existing freight trains. This does not appear anywhere in the Executive Summary of the study, even though the Impact Assessment Study found noise to be the environmental impact which causes the greatest concern.
The Impact Assessment Study places undue reliance on a computer model for the prediction of existing and future noise levels. The computer modelling does not provide confidence intervals and uses only one scenario. Its predictive power must be severely questioned.
This computer model is not validated in the scientific sense, i.e., its capacity to model real life situations has not been shown. There is an inconsistency between the community's perception (and indeed any reasonable person's perception) of noise and the computer predictions. The Impact Assessment Study concluded that electrical passenger trains 145m long were noisier thin existing diesel freight trains over 600m long.
In conclusion, this Impact Assessment Study is seriously flawed. It is not equivalent to an Environmental Impact Study, which is required elsewhere in Australia.
page 10
The Root Cause of This Fiasco
Past and present Queensland governments have lacked the political will to protect the environment. They have had a development-at-all-costs mentality. The Government only pays lip service to its touted policy for ecologically sustainable development. This and errors of judgement by government are aided and abetted by the current legislation.
NO ENVIRONMENTAL PROTECTION ACT IN QUEENSLAND
Queensland is the only state in Australia which does not have an Environmental Protection Act.
Environmental Protection Acts in all other Australian jurisdictions require much more rigorous assessment than the Impact Assessment Study, which was carried out under the Queensland State Development and Public Works Organization Act (1971-81}
Failure to consider alternatives
The Impact Assessment Study does not adequately consider any alternative means of achieving the development aims of enhancing the Port of Brisbane. This would breach all other Environmental Protection Acts in Australia
No rail noise policy in Queensland
The analysis of noise levels is seriously flawed because of the failure to apply standard criteria on noise. However, the Queensland Government Impact Assessment Study does say that even current noise levels fail to comply with environmental standards established in NSW, the UK, or the USA (the only criteria mentioned).5.
page 11
The Impact Assessment Study does not seriously consider design options which would contain noise impacts so as to comply with those standards. Any consideration of noise mitigation is shown to be a sham by the Queensland Government's financial constraint of $2 million for this purpose13. This would breach legislation in the rest of Australia
The Queensland Department of Transport has a draft Rail Noise Policy which was mentioned in the Final Terms Of Reference14 for the Impact Assessment Study, but never used. One can but wonder why.
No legal obligation to mitigate or contain damage to the environment
Queensland law does not oblige the Queensland Department of Transport to limit the environmental impacts of its projects. This is in part because there is no legal obligation for government in Queensland to examine the "merits" of its projects.
The relevant Queensland legislation requires only a "deliberative obligation" by government with regard to the environmental assessment of impacts and their mitigation. Queens Counsel have confirmed that the criticisms in this critique relate only to the "merits" of the project and the Impact Assessment Study. Therefore, the criticisms do not invalidate the criterion of "deliberative obligation".
NO COMPENSATION FOR INJURIOUS IMPACTS BY GOVERNMENT ON CITIZENS
The proposal does not oblige compensation of those who are injuriously affected by (e.g.) the noise of diesel engines, by the pollution from coal dust or by the possibility of a derailment (there are thirty per year in Queensland) and spillage of toxic waste.
This is an injustice which was the subject of an Australian Law Reform Commission investigation11. All Western countries legislate for compensation to individuals for injurious affection caused by private individuals or corporate bodies. Many Western countries also compensate individuals for injurious affection caused by Government bodies (e.g., British Land Compensation Act 1973; German Constitution Article 14; also Canada, U.S.A., Denmark, France, Austria, Netherlands, Switzerland, etc).
page 12
Such a basic reform to Australian Law has been criticised because it would be expensive (Hamill)15. However, such legislation exists in many countries. It has not resulted in huge compensation claims. It has resulted in sensible design options and engineering solutions which take into account the existing social and biological environinent16.
NO URBAN PLAN
There is no adherence to a city and rural land use plan
The proposal, devised by Queensland Department of Transport engineers, has not had adequate input from town planners at State or Local Government levels.
The proposal fails to assess the negative impacts on the quality of life of existing residents, businesses, schools and hospitals in the inner suburbs of southern Brisbane. The negative impact on quality of life will result in a growing pressure on residents, businesses and services to relocate to new suburbs. The proposal does not cost the price of the new infrastructure (roads, sewage, water, schools etc) required for these new suburbs. The proposal runs counter to the Federal Better Cities policy. It is absurd to even contemplate running a major freight rail whose cargo includes toxic waste and dangerous chemicals through the capital city of Queensland.
More generally, optimal long term planning and settlement is not possible
because of the lack of a city plan or adherence to a such a plan. This situation should be contrasted with other Australian and world cities.
For example, residents in Sydney, who bought property m the North Shore suburbs before the building of the Sydney to Newcastle Expressway, knew through land title searches for over four decades, of that proposed development's existence. In contrast' a property search at any time by any private citizen up to March 1992, would not have disclosed the presence of a freight rail corridor through 16 residential suburbs of Brisbane.
page 13
Queensland State Government legislation overrides the Brisbane City Council plan
The current Proposal overrides the Brisbane town plan in all aspects. This and the lack of political will by a Labor Council to challenge a Labor State Government explains the absence of any public criticism by the Brisbane City Council to date.
VITAL STATE PLANNING PROCESSES AND DECISIONS HAVE BEEN SECRET
There has been only lip service to public consultation about the Queensland Department of Transport freight rail proposal, and there is little evidence to suggest that there was more consultation between Government departments.
The community first found out about the Queensland Department of Transport's freight rail proposal, by accident. In an exercise to promote open consultation about a road/rail overpass proposal at Coorparoo, the Queensland Government resourced a consultative process between the community, local area consultative committee (LACC) and Department of Transport engineers17 It was at one of these meetings that community members first discovered that a freight rail was proposed to go through the inner suburbs of Brisbane. There have been no LACCs since, and no more genuine consultation with the community.
page 14
Conclusion: There is an alternative!
It has not been the purpose of this critique to deal specifically with how the $75 million should be spent However, it is clear to us and all thinking Australians that we do not hive resources to waste. This is particularly true today with over one million unemployed people m our intrinsically wealthy country, and a foreign debt of $200 billion
An efficient freight transport system is a high priority for Australia today, both for transportation of goods within the country and for export A long term plan for the implementation of a world class system of transcontinental transport corridors is required. This would provide many needed jobs in the construction phase and would eventually provide more efficient cheaper transport' and hence increase productivity long term employment would follow if Australia's market share increased at home or overseas.
If Australia should choose the rail option for transcontinental freight transport, then the Williams Plan 18 for linking the Port of Brisbane to the national rail grid does have the vision. The Government's current proposal is not an option. It may be cheap, but it does not couple economic sense with vision for the future.). The Williams Plan is a proposal which has major economic advantages. These include options for future Port of Brisbane expansion to the North, and the infrastructure for economies of scale, from double stacking, longer freight trains, linkage with the main and faster interstate standard gauge lines and single handling of goods at the Port of Brisbane.
The Williams Plan is also a long term solution for many of the environmental problems caused by road (and rail) freight It does not put a heavy industrial freight corridor through the inner residential suburbs of the capital of Queensland. It creates a transport buffer zone and an environmental buffer zone at the same time.
It provides the necessary infrastructure to achieve the Brisbane Keyport Strategy and to allow rail to - a major share of road freight. It fits in with the economic vision of the National Rail Corporation. Beyond that, the Williams Plan fits in with a realistic rail transport infrastructure for a vital Australia for the next century
page 15
References
David Hamill. In Background Information For Yeronga District Residents' Association Meeting, Matt Foley MLA: l7~6191.
David Hamill. First major supply contract for standard gauge link. Press Release 4/1211992.
Evaluation of Standard Gauge Rail Connections to Selected Ports. Federal Bureau of Transport Economics Report: Canberra, 1984.
Keyport Brisbane: Strategic Plan to 2005. Port of Brisbane Authority: May 1992.
Standard Gauge Rail Link To Fisherman's Islands: Impact Assessment Study. Maunsell Proprietary Limited: July, 1992
Peter Rimmer & Howard Dick. Synthesising Australia: National integration in a dynamic Asia~Pacific economy. In' papers of the Australasian Transport Forum. Bureau of Transport and Communication Economics. Canberra, October 1992.
Phillip Laird. Australian intercity rail upgrading options. Department of the Parliamentary Library. Canberra 9/9/1992.
Booz, Allen & Hamilton. Network Analysis. March, 1991.
Evaluation of the Standard Gauge Rail Link to the Port of Brisbane. Queensland Department of Transport Policy and Planning Unit. May, 1991.
In pamphlet titled, Comparison of Alternatives, from G. Fenlon MLA, August 1992.
Australian Law Reform Commission Report No 14. Australian Government Publishing Service, 1980.
Queensland Rail. Alternative southern rail access to Fisherman Islands. undated: but uses 1992 costings. (Compare with reference 5 or Queensland Rail Information Bulletin. November, 1991).
Queensland Rail Information Bulletin. May, 1992.
Queensland Transport. Final terms of reference for impact assessment study for the proposed standard gauge rail link to Fisherman's Islands. April 1992.
David Hamill. In, Background Information For Yeronga District Residents' Association Meeting, Matt Foley MLA: 219191.
Dr Karl Brauner. German Australian Chamber of Commerce and Industry, Sydney, 1992.
Coorparoo LACC. In letter to D. Hamill, Rail Crossings LACC & Community Consensus. 111511991.
John Williams. An alternative proposal to the standard gauge link to Fisherman's Islands. November, 1992.
page 16
This document was written by the Freight Rail Action Group. The members of our group live in Queensland. Some of us first found out about the Government's freight rail proposal because we live close to the Cleveland rail line. Others of us do not live near the rail, but found out about the proposal through local Press reports, or word of mouth.
The Freight Rail Action Group continues to meet regularly to promote genuine solutions to the problems of freight transport. As part of this, it plans a campaign of sustained opposition to the current proposal and the inadequate Government processes and legislation which aid and abet its existence.
For further information contact -
Dr Tim Florin ph 3840 8906
Mater Hospital,
South Brisbane, 4101

Sue Monk ph 3848 5208
31 Arras 8t,
Yeronga, 4104

John Williams ph 3848 3327
45 Arras St
Yeronga, 4104

John Douglass ph 3391 2762
18 Withington St
East Brisbane 4169
page 17
THE WILLIAMS PLAN FOR LINKING WITH THE NATIONAL GRID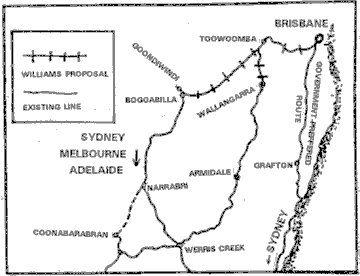 The Williams freight rail would link with Australia's major internal trade destinations.
---
This page is maintained by
The Rivermouth Action Group Inc
E-mail: activist@rag.org.au
as a community service.
---