Cigarette Smokers are the most prolific litterbugs.
When will ALL smokers clean up their ACT?
---
Pictures taken 4 November 1999
Creek Road cnr Richmond Road Cannon Hill.
Hundreds of cigarette butts cover an area of over a square metre of a traffic island.
---
The Brisbane City Council does not enforce anti-litter provisions of the State Litter Act.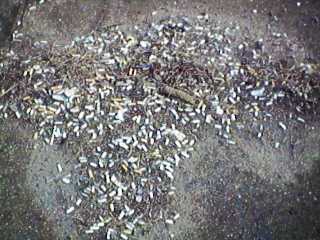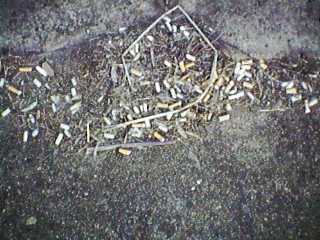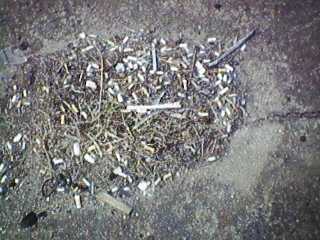 These pictures were taken on the traffic island on the northern side of the intersection of
Creek and Richmond Roads Cannon Hill.
A POX ON POLLUTING SMOKERS
AND ON ANY COUNCIL THAT ALLOW SUCH ACTIONS TO CONTINUE UNABATED.
Last seen Wednesday 10 November 1999
Complaint to BCC 10 Nov 99
Response 12 Nov to be cleaned up within one week.
Cleaned up 19 November 1999.
---
This page is maintained by
The Rivermouth Action Group Inc
E-mail: activist@rag.org.au
as a community service.
---