ROAD TRAFFIC SIGNAGE.
Moreton Bay Region Council Region.
Queensland Department of Transport and Main Roads.
---
No Stopping Signs and Bus Stops signs in the Moreton Bay Regional Council area.
Albany Creek,Arana Hills,Armstrong Creek,Banksia,Beach,Beachmere,Bellara,Bellmere,Bellthorpe,Bongaree,Booroobin,Bracalba,Bray Park,Brendale,Bunya,Burpengary,Caboolture,Caboolture South,Camp Mountain,Campbells Pocket,Cashmere,Cedar Creek,Cedarton,Clear Mountain,Clontarf,Closeburn,Commissioners Flat,D'Aguilar,Dakabin,Dayboro,Deception Bay,Delaneys Creek,Donnybrook,Draper,Eatons Hill,Elimbah,Everton Hills,Ferny Hills,Godwin Beach,Griffin,Highvale,Jollys Lookout,Joyner,Kallangur,King Scrub,Kippa-Ring,Kobble Creek,Kurwongbah,Laceys Creek,Lawnton,Mango Hill,Margate,Meldale,Moodlu,Moorina,Morayfield,Mount Delaney,Mount Glorious,Mount Mee,Mount Nebo,Mount Pleasant,Mount Samson,Murrumba Downs,Narangba,Neurum,Newport,Ningi,North Lakes,Ocean View,Petrie,Redcliffe,Rocksberg,Rothwell,Rush Creek,Samford Valley,Samford Village,Samsonvale,Sandstone Point,Scarborough,Stanmore,Stony Creek,Strathpine,Toorbul,Upper Caboolture,Wamuran,Wamuran Basin,Warner,Welsby,White Patch,Whiteside,Wights Mountain,Woodford,Woody Point,Woorim,Yugar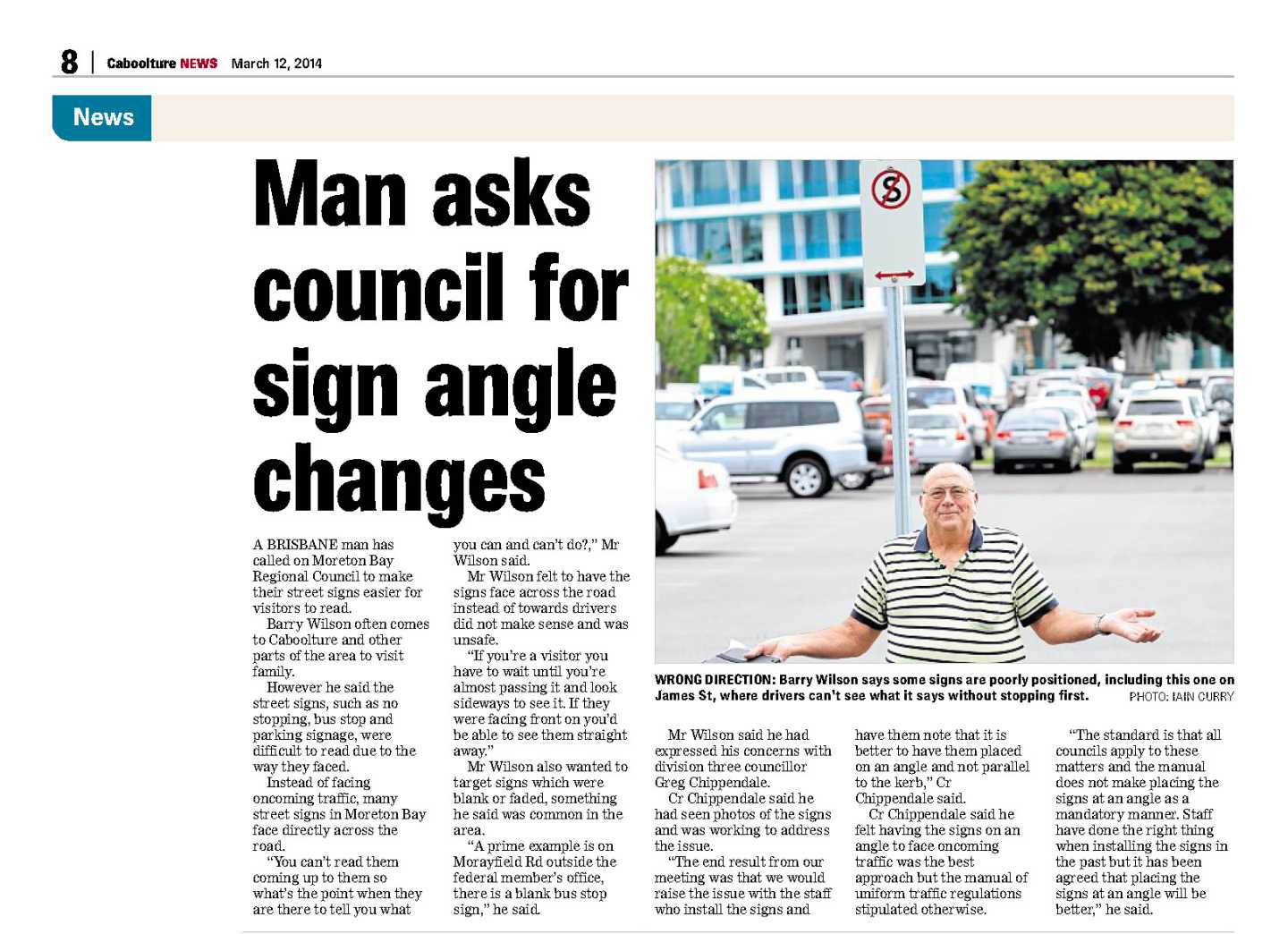 ---
Manual of Uniform Traffic Control Devices
Part 2
Traffic Control Devices for General Use

2003 Edition
First Issue 1st August, 2003
Second Issue 25th May, 2009
Third Issue 1st August, 2011
Fourth Issue 2nd April 2012
Fifth Issue 18th November, 2013
SECTION 2 - 9
1.6 RESPONSIBILITY AND AUTHORITY FOR INSTALLATION

Road users are required by law to comply with many of the devices included in this Manual. The
Transport Operations (Road Use Management) Act provides that Official Traffic Signs shall be installed
only by the authority of the Director-General, Transport and Main Roads or a local government. The Act
also provides that any such sign shall be installed in accordance with the methods, standards and
procedures prescribed in this Manual.
1.7.1 Basic principles for all traffic control devices
It is essential that similar conditions should always be treated with the same type of device so that road
users can anticipate the course of action required. The use of a device which is at variance with its use
elsewhere is confusing and may create a potentially hazardous situation.
1.7.2 Specific principles for signs
1.7.2.1 General
Traffic signs are provided to aid the safe and orderly movement of traffic. The signs covered by this
Part of the Manual contain regulatory requirements and non-regulatory traffic instructions for the road
user, warning of hazards that may not be self-evident, and signs delineating hazards.
As uniformity in the design of signs facilitates identification by the road user, the shape and colour of
each class of sign shall be in accordance with this Manual. This assists the road user in promptly
interpreting the message or instruction which may be either a legend or a symbol, or both.
As signs are an essential part of the road traffic system, their messages should be consistent, their
design and placement co-ordinated with the road geometric design, and their size selected so that they
are both conspicuous and legible at required reading distances. Guidance on sign size selection is
given in Part 1 of this Manual.
1.7.6 Reflectorisation and illumination
1.7.6.1 General
Signs that are intended to convey their messages during the hours of darkness (except parking signs)
shall be either illuminated or reflectorised so that they display their colours and shape and are as
legible by night as by day. Illumination may be required where reflectorisation is judged to be
ineffective, for example, on overhead signs. Reflectorisation may also be ineffective in some areas with
high intensity street lighting.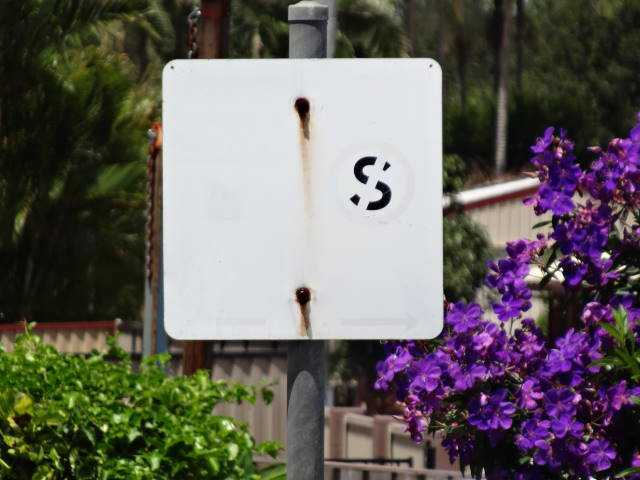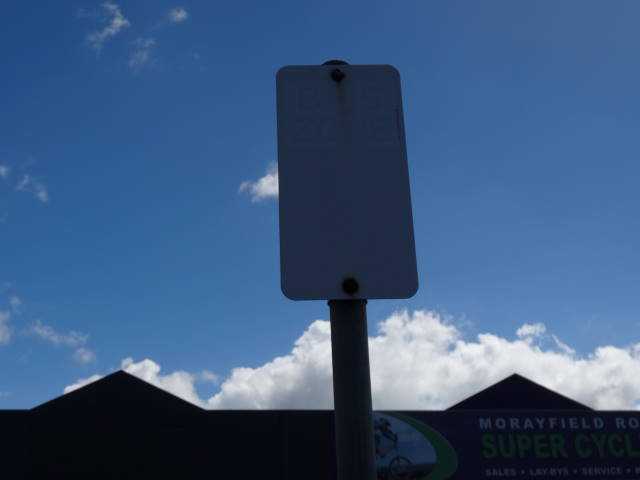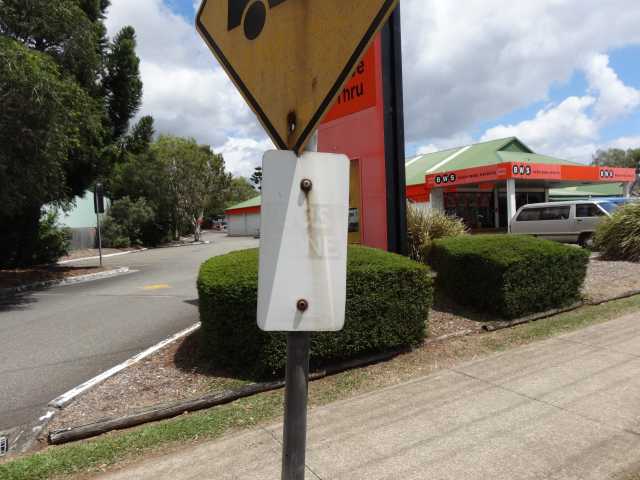 All these on State Roads. Both sides of Bus Stops. All facing directly across the road.
1.12.5.3 Sign orientation
Signs should be orientated at approximately right angles to, and facing, the traffic they are intended to
serve. At curved alignments, the angle of placement should be determined by the course of
approaching traffic rather than by the road edge at the point where the sign is located.
In rural areas night-time specular reflection from traffic signs can be troublesome. To eliminate or
minimize the effect, signs should be set at angles so as to face slightly away from the beam direction
of headlights from approaching vehicles.
On a straight length of road the horizontal axis of a sign should be set at an angle of 5 degrees away
from the normal to the left-side edge of the roadway on the approach side (see Figure 3(a)). On some
bends and complicated winding alignments, compromise solutions may have to be adopted but
generally it will be adequate on a right-hand bend for a sign to be set parallel to the normal to the left-hand
edge of the roadway at the point where the sign is erected. Signs sited on the left side of the road
at left-hand bends should be set at an angle of 5 degrees away from the normal to a line joining the
edge of the roadway at the sign with a point on the same edge of roadway 200 m in advance of the
sign (see Figure 3(b)).
Apparently Cr Chippendale has been misinformed by MBRC officers because below are FOUR pages from the MUTCD.
The very MUTCD Section 11 PARKING CONTROLS (Version 18 Nov 2013) which he said stipulated that the signs did not need to be facing the traffic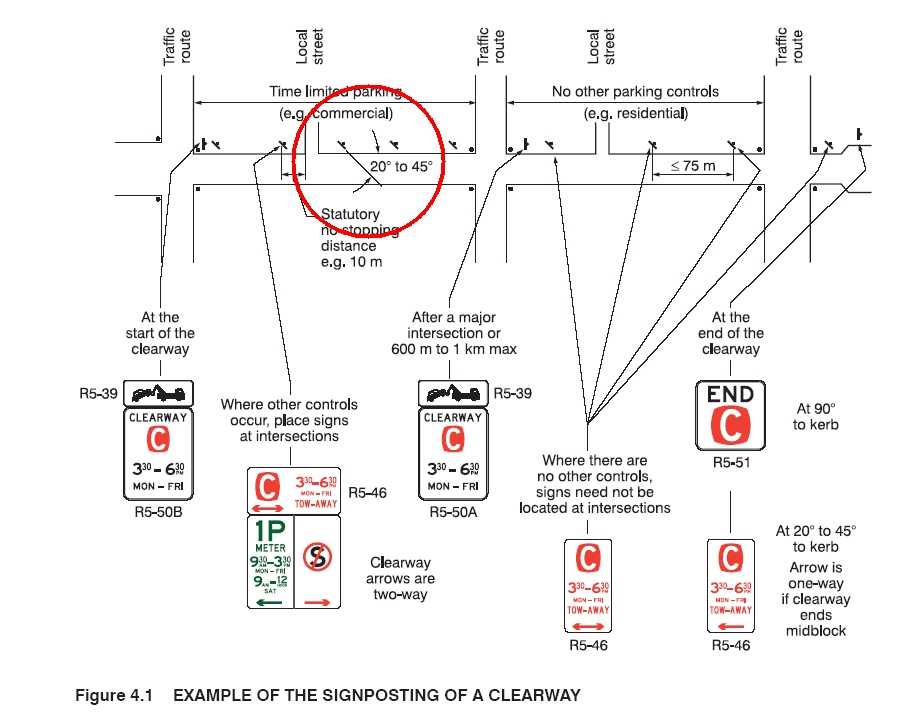 Above is a part copy from MUTCD Part 11 page 21 figure 4-1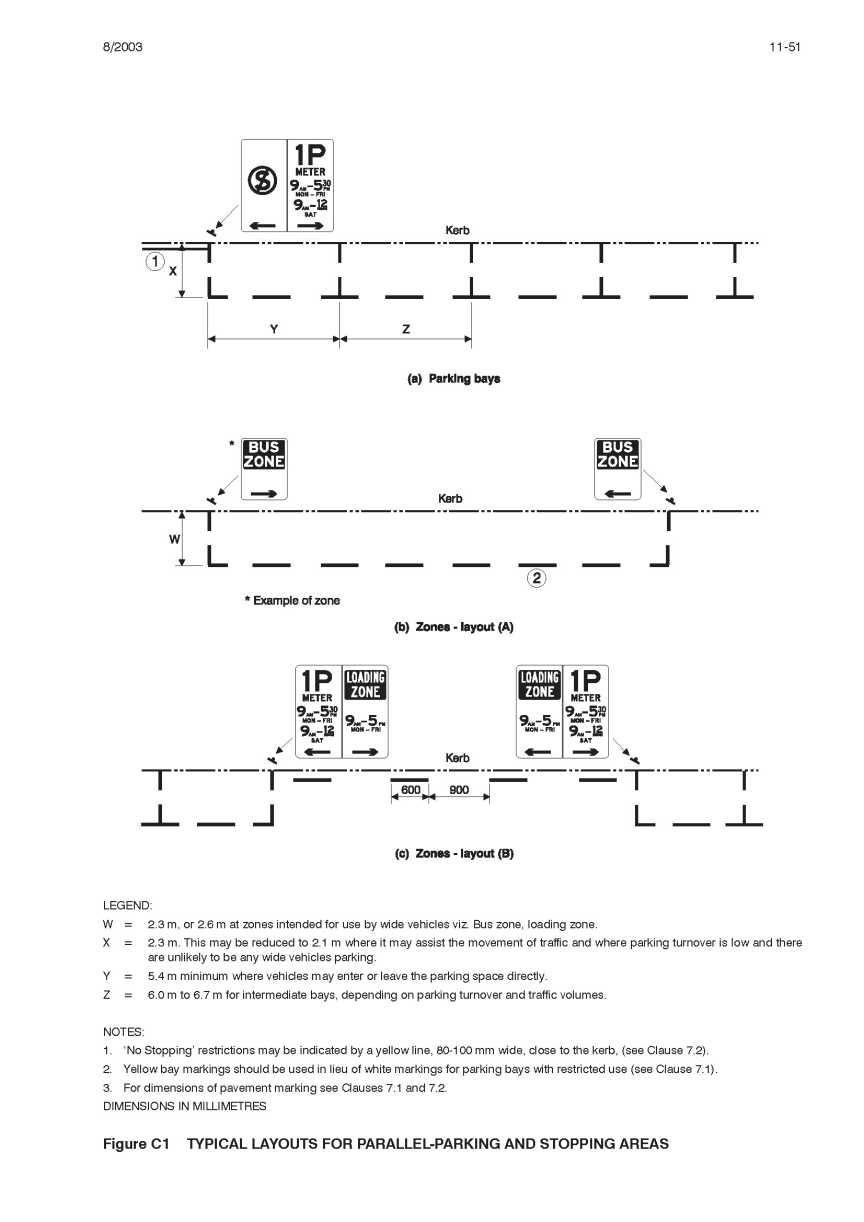 MUTCD Section 11 page 51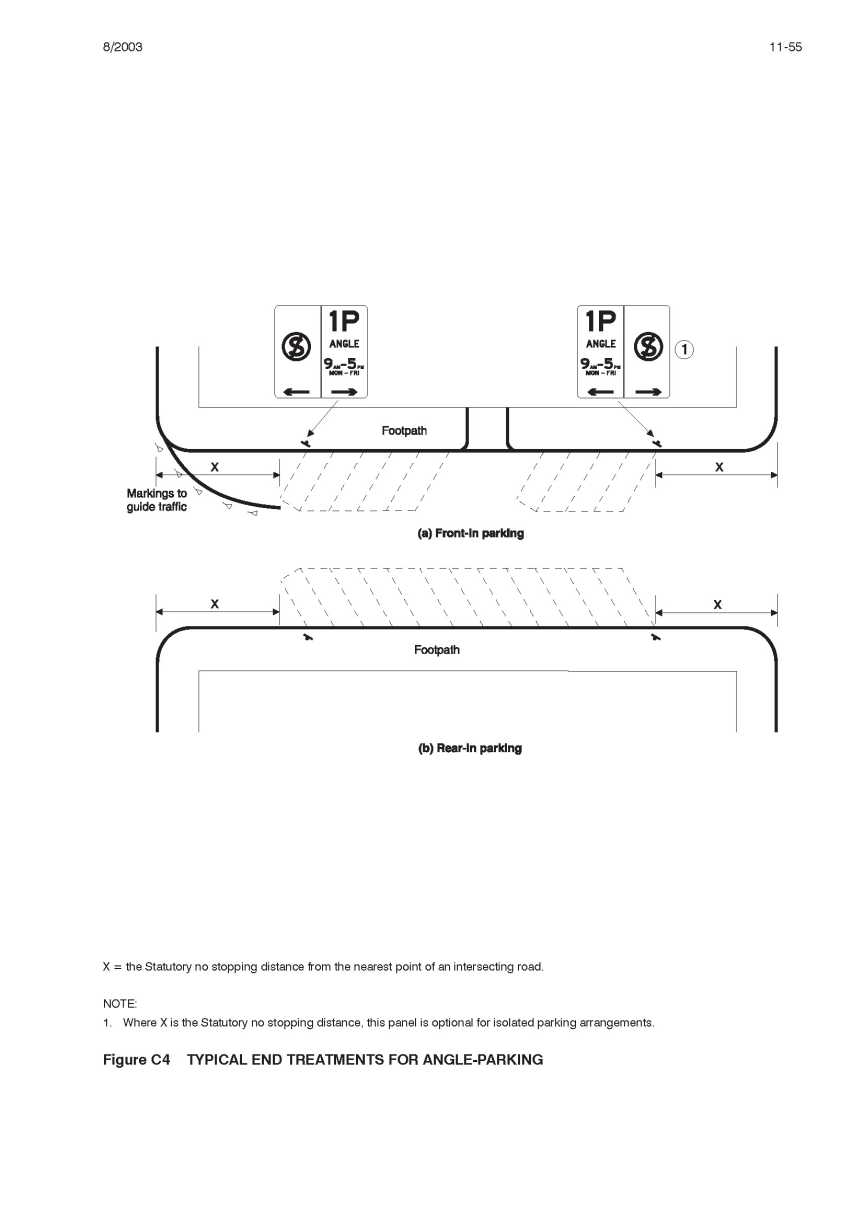 MUTCD Section 11 page 55 above
MUTCD Section 11 page 56 above
---
So What????

But the Queensland Government and some Local Governments do not maintain these No Stopping signs on their Main Roads and Local Roads!!
Reason: "We cannot afford the cost involved."
No inspections of road side signage are carried out regularly by the Brisbane City Council and the Moreton Bay Regional Council and nor by Transport and Main Roads in both these Local Government areas.
---
As you look through this web page you will see photos taken on 24 February 2014 on my drive from Strathpine through Lawton, Petrie, Kallangur, Kippa-Ring, Contarf, Woody Point, Redcliffe, Scarborough, Rothwell, Deception Bay, Narangba, Burpengary, Morayfield and Caboolture over 4 hour period.
Most of the roads travelled on were State-Controlled roads.
From a recent phone call I was informed that until December 2013 Local Government were responsible to maintain most roadside signage on behalf of the Queensland Transport & Main Roads Department. Queensland Transport & Main Roads are now to carry out a survey of the signage on the State-Controlled Roads within each of their districts.
Then comes the real issue. What signs are really urgent then which are not all that urgent and just how much money is there in the budget to fix any or all of the signs which require attention?
If Queensland Traffic Engineers or those of Local Government have not noticed that signage installation does not follow the MUTCD over several years then their managers should think about their early replacement.
Furthermore how often are the roadside signs even checked if the signs (see below) are blank or badly faded?
I suppose someone could be forgiven if they could not see the signs they were sent to check were actually faded or blank as they drove past due to the signs were not facing the oncoming traffic but facing directly across the road and hard to see and/or read.
The photos below are just a sample as I tried to take one sign in each suburb I passed through to prove just how widespread this misalignment of signage was.
However, the percentage of incorrectly facing signage as a total was not extremely high except in and around Caboolture CBD itself.
At a meeting with a Caboolture Councillor and a senior manager I was informed that all new signs would be installed facing the oncoming traffic and no action contemplated to correct all or any of the existing signs facing across roads due to the expense involved.
NOT GOOD ENOUGH M.B.R.C.
---
Map of State Controlled Roads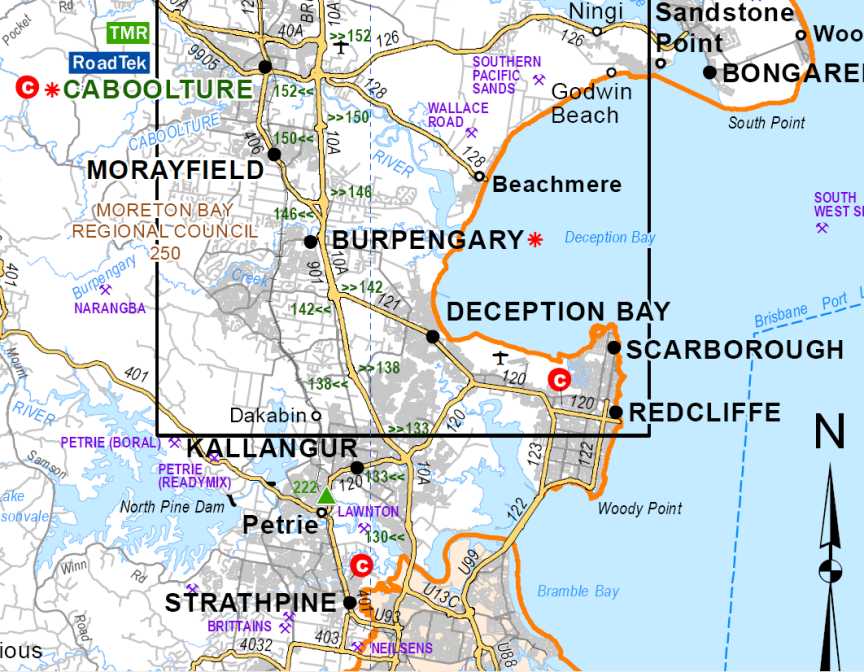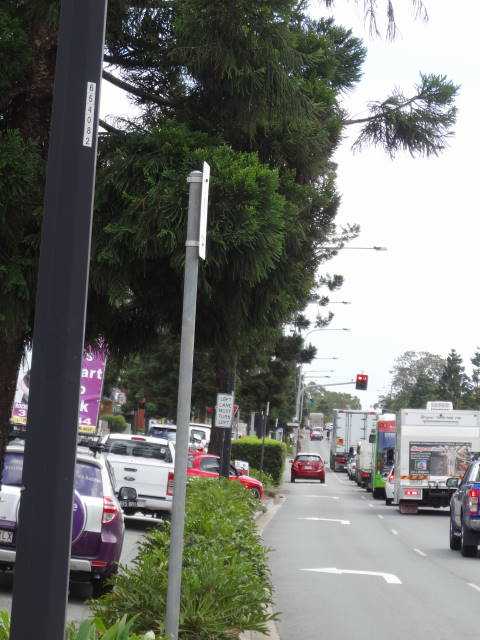 27 -18' 11.5" S
152 - 59' 19.8" E

State Road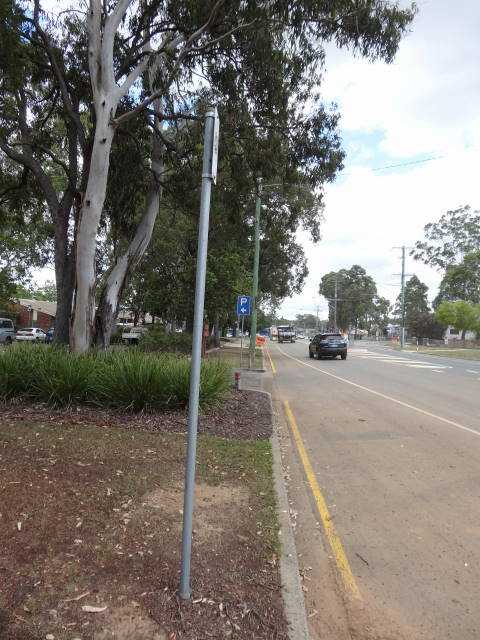 27 - 16' 59.8' S
152 - 59' 6.7" E

MBRC Road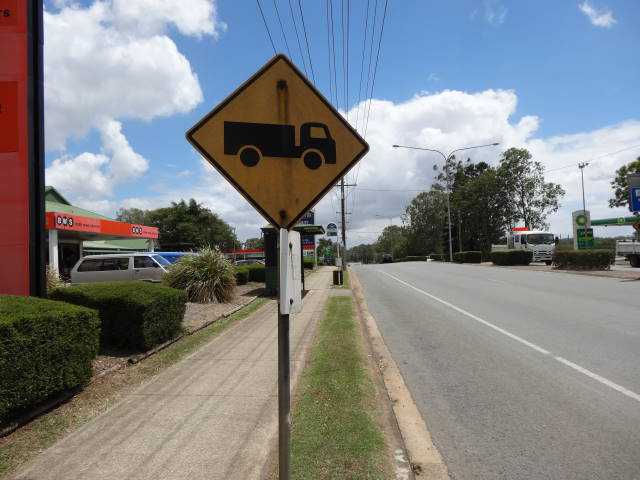 27 - 16'56" S
152 - 58' 58.1" E

State Road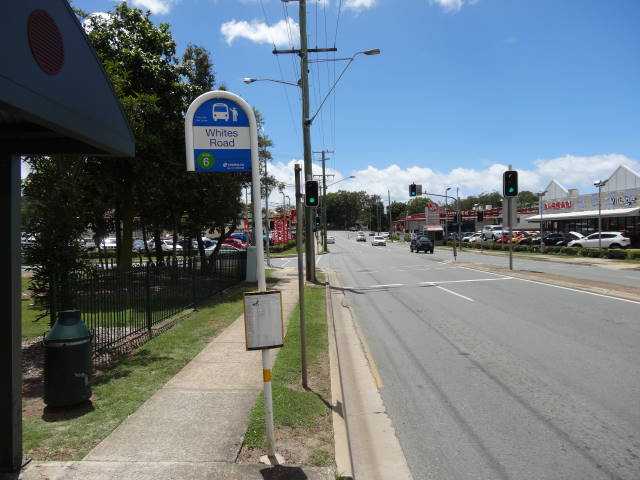 27 - 18' 9.7" S
152 - 58' 43.9" E

State Road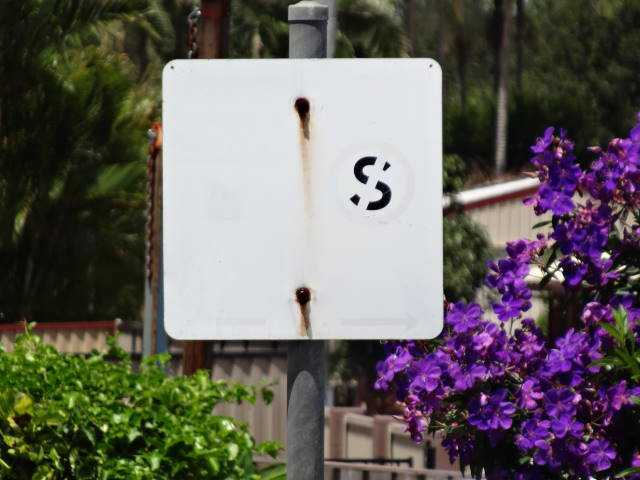 27 - 14' 59.6" S
152 - 59' 48.5" E

State Road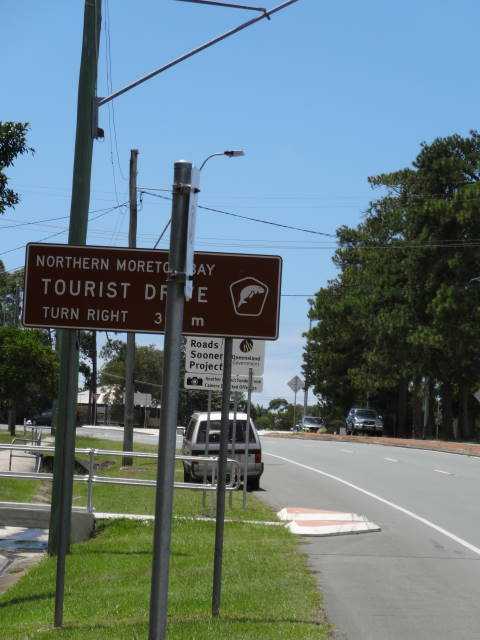 27 - 13' 1.7" S
153 - 2' 44.3" E

State Road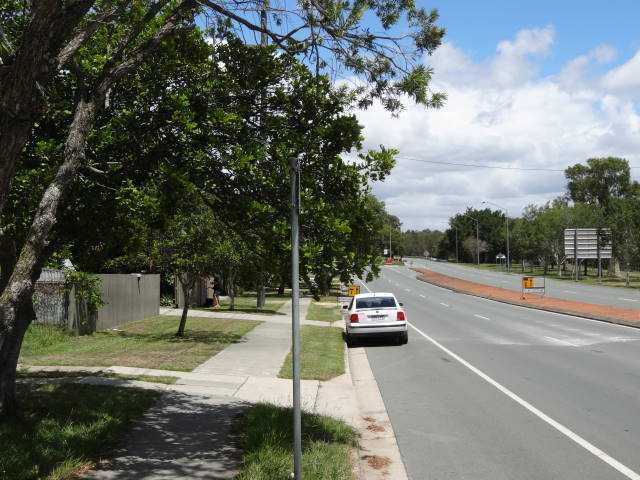 27 - 13' 1.4" S
153 - 2' 46.1" E

State Road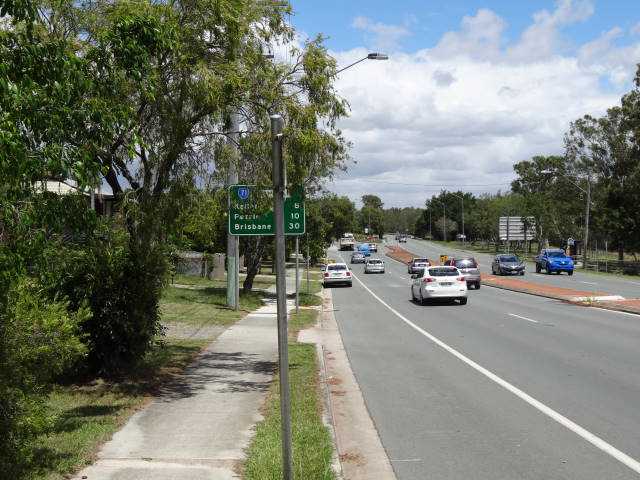 27 - 13' 1.1" S
153 - 2' 46.6" E

State Road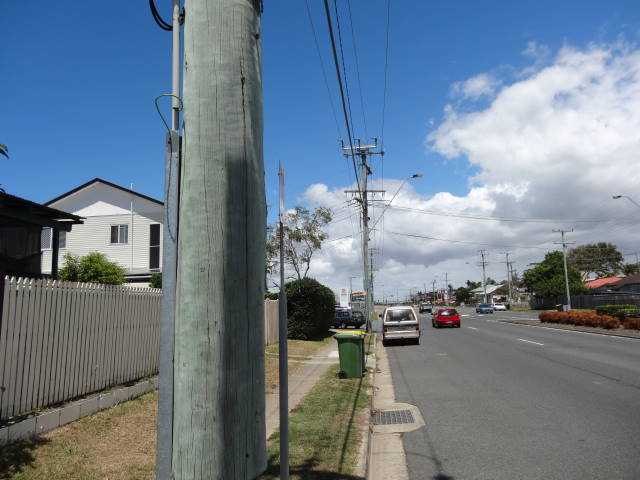 27 - 15' 31.2" S
153 - 4' 50.6" E

State Road
27 - 12' 30.3" S
153 - 2' 31.9" E

State Road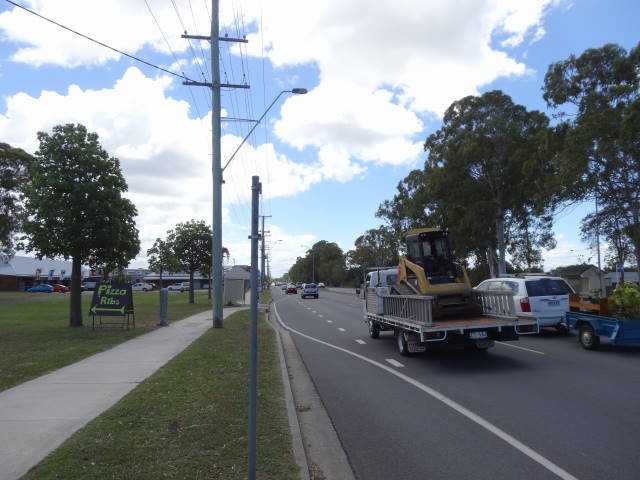 27 - 12' 26.8" S
153 - 2' 28.3" E

State Road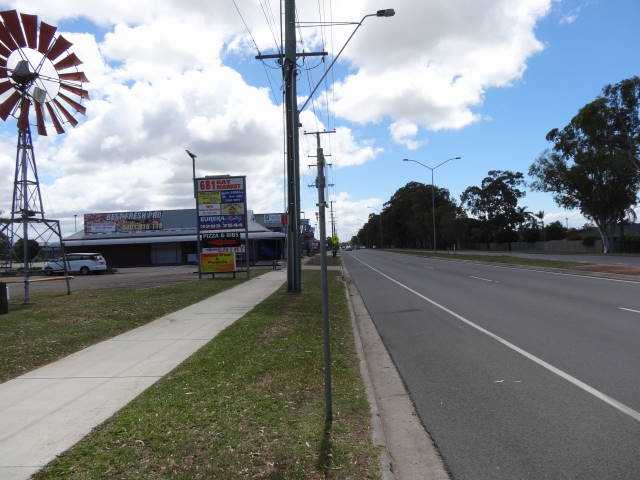 27 - 12' 24.1" S
153 - 2' 26.5" E
State Road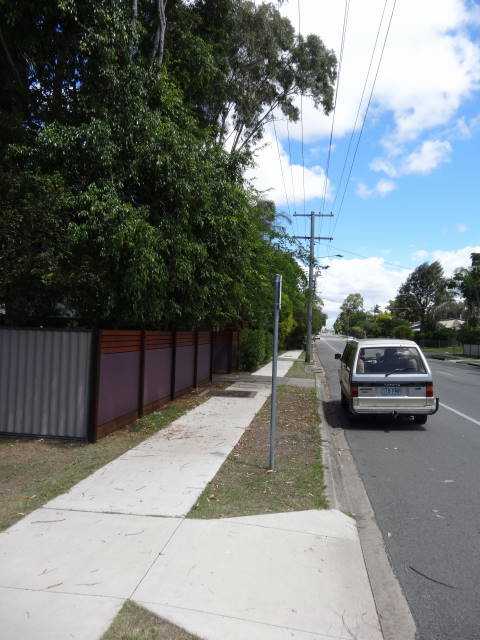 27 - 10' 51.1" S
153 - 1' 36.5" E

MBRC Road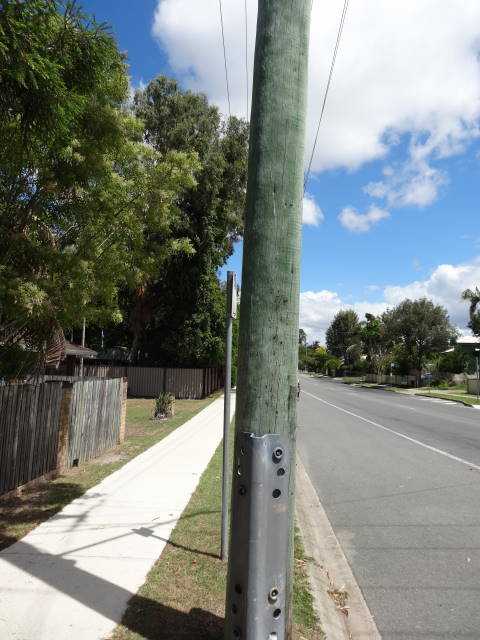 27 -10'50.6" S
153 -1'36.5" E
MBRC Road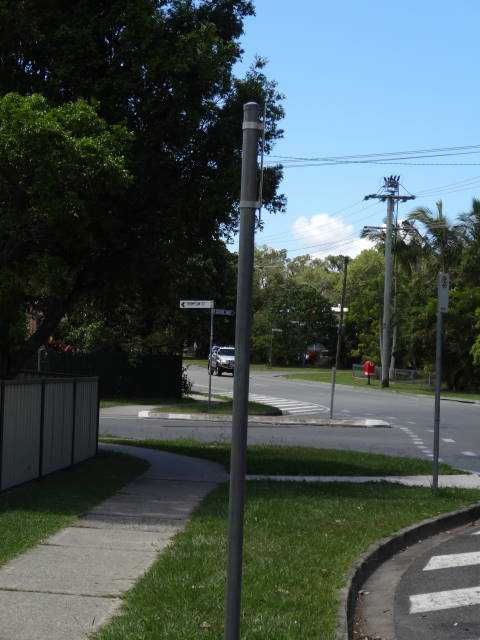 27 - 10' 52" S
153 - 1' 35.8" E

MBRC Road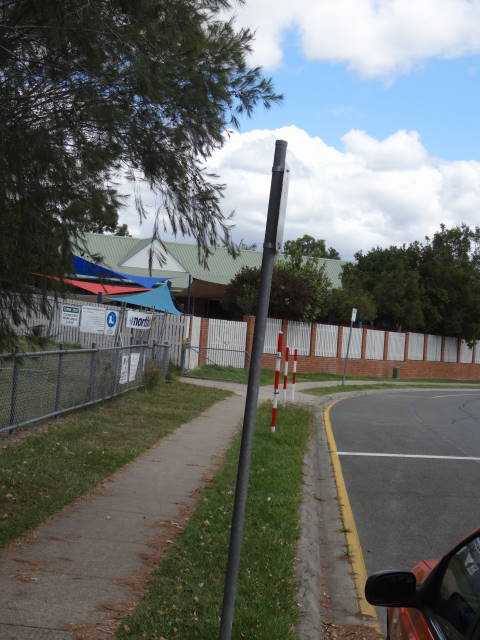 27 - 10' 52.7" S
152 - 56' 56.2" E

MBRC Road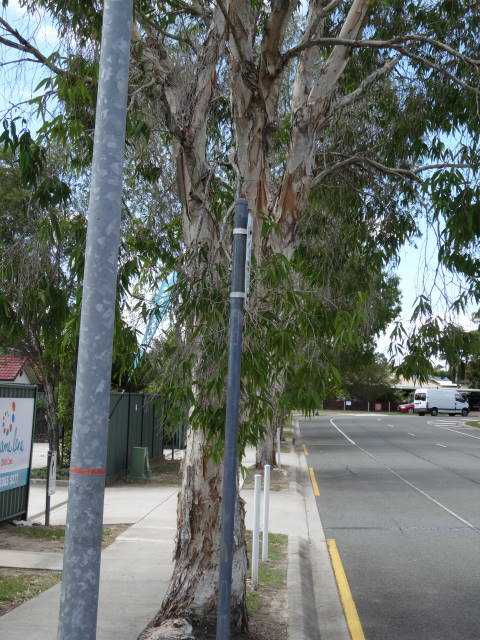 27 - 10' 52.9" S
152 - 56' 55.6" E

MBRC Road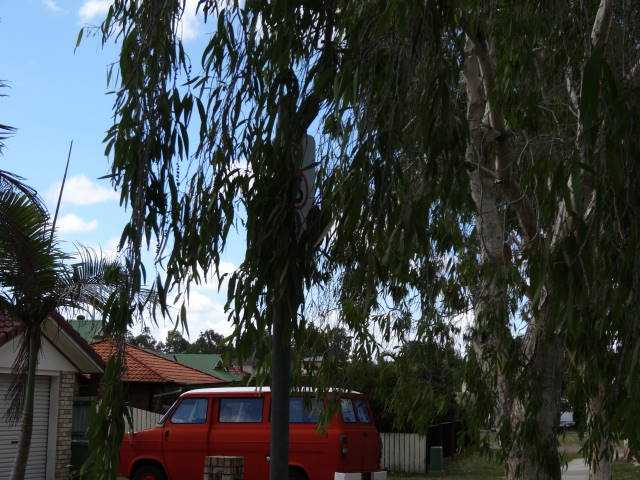 27 - 10' 51.7" S
152 - 56' 56.1" E

MBRC Road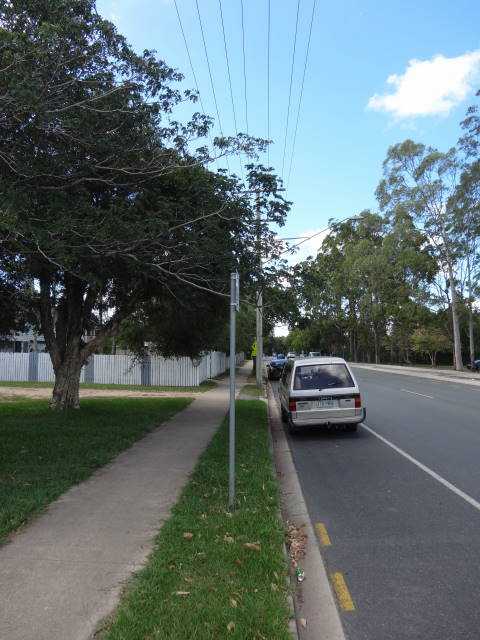 27 - 9' 33.1" S
152 - 57' 31.4" E

MBRC Road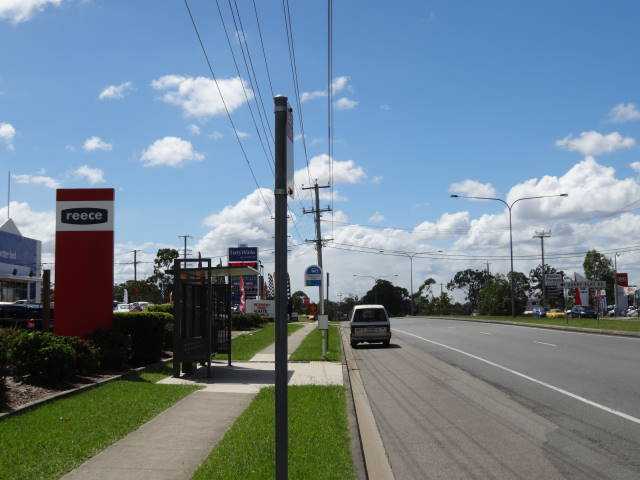 27 - 6' 41.6" S
152 - 57' 1.8" E

State Road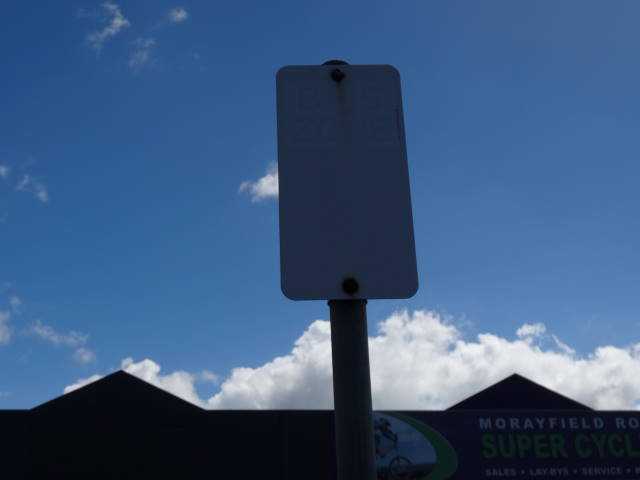 27 - 4' 59.3" S
152 - 56' 59.5" E

State Road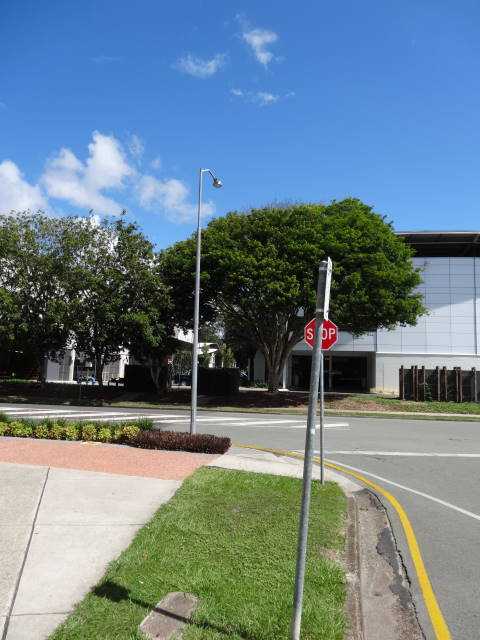 27 - 4' 59.1" S
152 - 56' 60" E

MBRC Road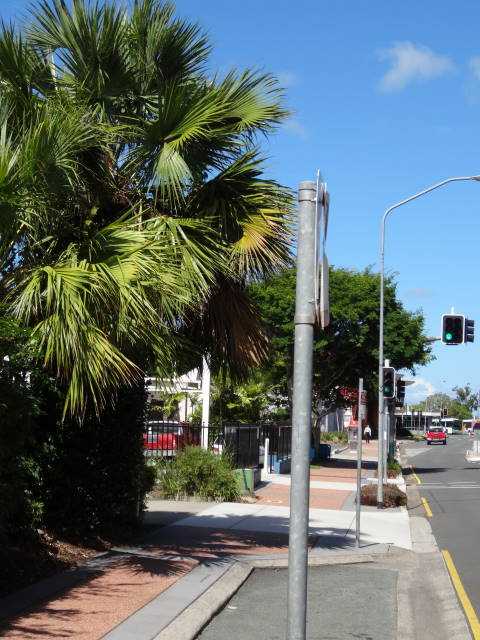 27 - 4' 59.4" S
152 - 57' 0.5" E

MBRC Road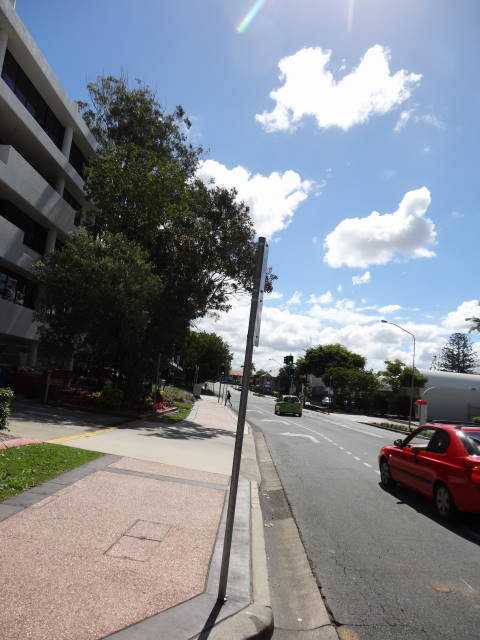 27 - 5' 0.4" S
152 - 57' 4.8" E

MBRC Road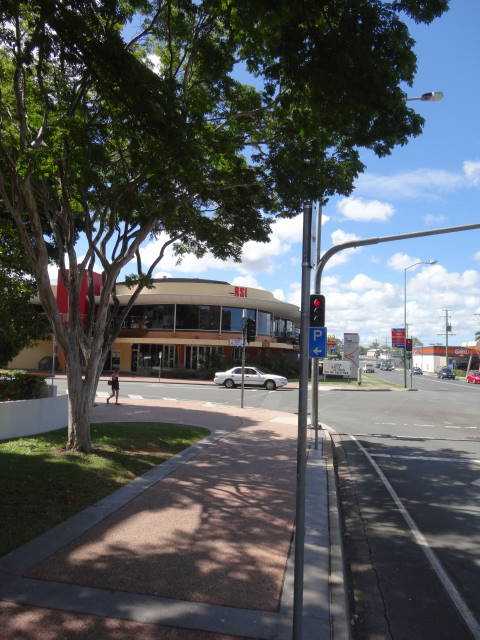 27 - 5' 1.4" S
152 - 57' 6.9" E

State Road
---
The reason for this web site is to educate the many Traffic Engineers in Queensland which appear to have never read or understood the Manual of Uniform Traffic Control Devices (MUTCD) Queensland.
My interest in roadside traffic signs goes back some 20 years when School Speed Signs started to appear with 00 minutes appearing. Then AM and PM after the starting time when it should only appear after the finishing time for example: 7.00 AM - 9.00 AM and 2.00 PM - 4.00 PM when it should have been 7 - 9 AM and 2 - 4 PM else 7 AM - 4 PM. and not 7.00 AM - 4.00 PM
This error went apparently unnoticed for 20 years not only by every State and Local Government employed Traffic Engineer and installers but also the manufacturers of the correctly made signage who apparently did not complain about the opposition companies not making their signs correctly and receiving government contracts.
Then to make matters worse the design on Queensland Transport's web site contained a flaw which also went unnoticed by these same government-employed Traffic Engineers for years and also appeared in manufactured School Speed Signs over many years. The minute height was to be half the size of the whole hour and the AM and PM to be two thirds of half the size of the hour.
What happened was that the design on the Transport Department web site had the morning Minutes 1/2 the size of the hour and the AM 2/3 of half but then the afternoon Minutes 2/3 of half and the PM was half height.
Many of the School Speed Signs in and around Caboolture were made and installed with 2/3 of half height minutes and 1/2 height AM & PM thus making it harder to read whether it was 30 minutes or the hour with 00.
Previous Web Sites on signage
There is a web site with the evidence: http://www.rag.org.au/speed/default.htm
Also Brisbane City Council faded signage http://www.rag.org.au/shame/signs/default.htm
Queensland Transport Main Roads faded signage http://http://rag.org.au/tmr/default.htm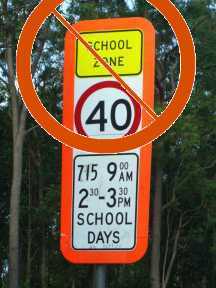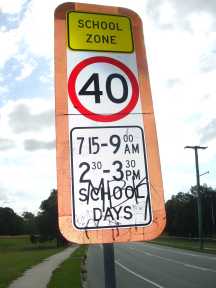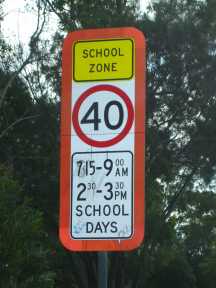 The photos above was taken of MBRC school speed zone signs outside a school in the Caboolture Area on 5 April 2010.
Note the size of the minutes in the Start time in AM and the small size of the other minutes and large size of the AM & PM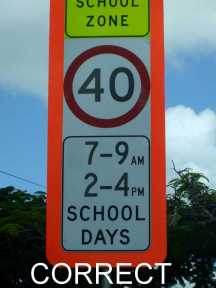 ---
This page is maintained by
The Rivermouth Action Group Inc
as a community service.
---
---