Brisbane City Council Shame File #7
---
Brisbane City Council needs to enforce better and adequate sediment control.
Note no sediment fence.
The grass verge was quite inadequate.
AND NO CLEANUP.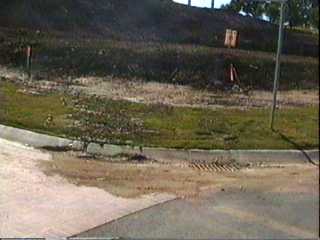 It's a shame that the BCC allows this to happen.
New housing development in Peachtree Street off Pine Mountain Road adjacent to the Pacific Golf Course, Carina Heights. 31 July 1999.
These pictures are placed on the WEB in an attempt to SHAME the Brisbane City Council into remedial action.
---
This page is maintained by
The Rivermouth Action Group Inc
E-mail: activist@rag.org.au
as a community service
to protect Brisbane's many waterways and Moreton Bay.
---