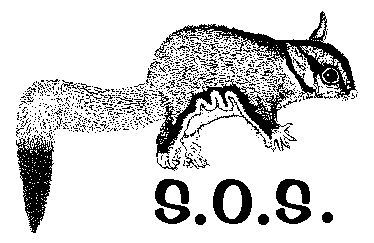 Save our Squirrel Glider Possum
---
A web site dedicated to protect Minnippi West Parkland from 13 Ha housing, resort golf course and habitat destruction on Brisbane's east side on public land zoned sport and recreation which was resumed 37 years ago for a PARK and road widening.
---
STOP PRESS
Written submission are due on or before 11 October 2005.
Make a signed written submission to:
Assessment Manager
Brisbane City Council
GPO Box 1434
Brisbane 4001
---
Visit our Possum Picture Page (PPP)
---
Another small colony of gliders is at risk at Murarrie.
Sorry you are too late, there gone!!!!
---
The Brisbane City Council has purchased the core habitat land during September 1999.
Our Groups extends our many thanks to the hundreds of people who supported our cause and wrote letters of support and signed petitions to save the colony of Squirrel Glider Possums at Cannon Hill, Queensland, Australia.
---
---
Council fails to protect Squirrel Glider Possum Habitat in new City Plan.
Does Council have a flawed management plan?
---
The Brisbane City Council has embarked on its proposal to develop a golf course on the land adjoining and containing the Glider Possums. Much of this land is flood plain for Bulimba Creek. High Acid Sulphate soils exist in this area. We have been supplied BCC test results.
Brisbane City Council admit Flood plain contains wetlands of high conservation value.
---
See Villa World Development at Boondall where a colony of squirrel glider possums have been condemed
---
BMD Group are the BCC perfered tenderers
A POX on them BOTH!
Watch this site to see who owns the company and their home phone numbers.
---
The local Councillor, John Campbell, called a Public Meeting for Saturday the 15 th August 1998 with just four days notice and letterboxed some neighbouring residents (we don't know how many or how few).
If this is Good Consultation then all we can comment is, that it SUX.
---
Q.
The Brisbane City Council has no written policy on Public Consultation so how can we tell when they are cheating?
A.
It's simple, when they call a meeting, 'Public Consultation'.
---
Send a letter to the Lord Mayor today! DRAFT LETTER.
---
On Sunday, July 30, 1995 a committee called the, "Save Our Squirrel Glider Possum Committee" was formed with the aim of saving a colony of unique Squirrel Glider Possums at Cannon Hill. It was also decided that we would be know as the "SOS Committee" for short. The Possum Colony inhabits the bushland behind the Monte Carlo Caravan Park and Save City Shopping Centre on Wynnum Road Cannon Hill, Brisbane, Queensland, Australia. An application was made to the Brisbane City Council on 5 June 1994 rezone the land at 1833 Creek Road Cannon Hill from Future Urban to High Density Residential B and open space by a Victorian Development Company.
The many objections and petition that were lodged with the Brisbane City Council against this development were over-looked for almost nine months. These Squirrel Gilder Possums have appeared on Channel 10's "Totally Wild" and News program, Channel 9's Brisbane Extra and News, ABC State Line, Channel Seven News, ABC radio 4QR and B105 has also carried interviews. The South-East Advertiser has printed several of stories on the Squirrel Glider Possums and our Committee needs the residents of Cannon Hill and environs and all concerned people to support the protection of this unique possum colony. A search of the Queensland State Library revealed a complete absence of basic studies of the Squirrel Glider Possum in Queensland. Wildlife groups report that Squirrel Glider Possums are very rare in both Victoria and New South Wales. The reported sightings of Squirrel Glider Possums by the Department of Environment & Heritage in Queensland have been at night and in the upper branches of tall trees (with spotlights!) .
How much more of our Australian wildlife are we prepared to lose. In each locality, once it is gone it is gone forever. As a community, are we going to allow Developers and City Councils alike to destroy our heritage and biodiversity? If decisions were made by Town Planners in the past without detailed local studies, then we should be prepared to change decisions as more information becomes available?
We know you care. Our group now calls upon you, to contact the Lord Mayor of the Brisbane City Council at P.O. Box 1434 BRISBANE QUEENSLAND AUSTRALIA 4001 or a Brisbane City Councillor in writing as soon as possible and show your concern.
To join the committee and assist our fight or make a donation please write to us at P.O. Box 268 Morningside 4170.
. Donations welcome.
Tony Krajniw Phone (07) 3390 4113
Barry Wilson Phone (07) 3399 6204
William J. Gabriel Phone (07) 3395 7704

E-mail: sos@rag.org.au
---
---
Minister for Environment's Press Release and: protection of wetlands in Queensland.
---
This page is maintained by
The Rivermouth Action Group Inc
E-mail: activist@rag.org.au
as a community service.
---