Noise meter for The Rivermouth Action Group Inc
STOP PRESS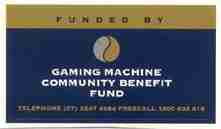 ---
Noise Level Meter arrived on 29 Jan 2000

Model 2238

---
South East Advertiser June 16, 1999 page 9

"THE Rivermouth Action Group is closer to purchasing a noise meter after receiving a $10,000 funding boost.

The State Government awarded the funds to the environment group in the current round of the Gaming Machine Community Benefit Fund.

Rivermouth president Barry Wilson said the money would go towards a $12,000 noise meter to monitor noise impact from planes, trains and heavy road vehicles.

"It's to help the community get accurate readings and noise rates on noise intrusion into their home lives," Mr Wilson said.

Readings could then be downloaded into a computer, with information sent to relevant government departments in the push to preserve residents' lifestyle and the environment."
---
Any Brisbane community Group or individual with a noise problem can now send our Group an e-mail and advise of the problem. This way we can make a list of sites where noise reading if need can be taken.

The list of noise sites will be posted on this site below.
---
Rail Noise Norman Park, Morningside, East Brisbane, Buranda, Coorparoo, Yeronga, Wynnum North, Hemmant.

Industrial Noise Lenner Street Slacks Creek

Traffic Noise Lytton Road Murarrie

Industrial Noise Creek and Lytton Roads Murarrie

Industrial Noise Gibson Island Murarrie.

Industrial Noise Wynnum North.

SIMSMETAL 148 Dunn Rd, Rocklea

Refrigeration and Truck Noise Barwon Street near Beverley St at Morningside






Traffic and Industrial Noise Tufnell Road Banyo




Rail Noise Kurwongbah



Add Your NOISY site HERE.
---
---
The Sound Pressure Meter to be purchased has a loging option where the meter can be left turned on for hours at a time and after the reading are taken the meter is returned to a computer and the special programs which are part of the purchase are able to analyse the readings and printout charts. These charts can be used as part of a submission to the authorities and also displayed on our Groups Web Site.

Noise meter usage needs to cover running expenses. At our 1999 AGM a donation of $50.00 was suggested which would be reviewed at each year at our Group's AGM.

Examples of cost:

Insurance, batteries, phone calls, transportation, travelling, depreciation, repairs, part of the re-calibration costs, printer running costs, etc.
---
R.A.G. appreciates the support from the following
Queensland Gaming Machine Community Benefit Fund
Members of the FREIGHT RAIL ACTION GROUP especially
Dr T. Florin for his family's most generous donation towards the purchase.

for their assistance with our noise level meter purchase.

B.P. Refinery Brisbane for their contribution to the calibration of the noise meter to
A.S. 1259.1-1990 and A.S. 1259.2-1990
---
This page is maintained by
The Rivermouth Action Group Inc
as a community service.
---