Brisbane City Council Shame File # 53
State Development Shame File #1
Queensland Transport & Main Roads Shame File #3
Queensland Rail Shame File #1
Bulimba Creek, Hemmant Creek and Lindum Creek share the same drainage flood plain south of the Hemmant to Lindum railway line and dispersal of flood waters are then restricted by the undersized Rail Line culverts and Lytton Road with its few undersized culverts and all drainage corridors from the rail line to the Brisbane River and/or Bulimba Creek are undersized, silted up and totally neglected.
---
web site by
"SERVING MANY COMMUNITIES"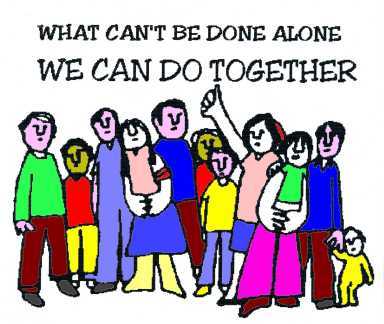 ---
Check out The Brisbane Courier of 23 April 1928 "Letters to the Editor" on page 3.
The text below is of that "Letter to The Editor" of 23 April 1928
"HEMMANT DRAINAGE.


Sir,-The whole countryside at Hemmant and Lindum is under water this morning. The fault lies with the mouths of existing old drains having been filled up by the river dredges with silt pumped on the banks. The population around here have approached the City Council time after time to have this evil remedied. Letters also have been written, and the Progress Association has made efforts, but all of no avail. The situation becomes worse every time it rains, and has reached a point now where some drastic action seems necessary at once.

We are paying higher rates, values have been increased, and there is no doubt about it, we are getting practically no local attention worth mentioning. After all, the local bodies were more competent to deal with local affairs than this unwieldy Greater Brisbane machine which has been set up, and seems to be unworkable, to handle minor affairs, no matter how urgent they are. As drainage is the first principle of health, and we have set up a Health Board, with a mosquito department and other bodies, it would seem that some practical action would be taken on these lines, especially when several approaches have been made to the authorities in that direction.

However, the inactivity of a body set up to look after public health and comfort is amazing. If the Greater, Brisbane scheme is to have public approval and confidence, different lines of action will be absolutely necessary to prove their .worth, and merit their existence. So .far, .the public around here is sadly disappointed with- their efforts and results, and has cause to be. We have no-individual right to act, and w" cannot personally go and remedy the drainage evil, under threat of legal action, and collectively, though many efforts were made, and are still being made, we seem to be also powerless. This state of affairs is very serious. We cannot remedy the evil ourselves, and the body set up to remedy it will not act. We really pay for service, but are refused the service we pay for.

We cannot clear out and leave our places, where we have toiled and spent our money in improvements. The old settlers here had a drainage board. They had drains dug, and floodgates put in, and we, the advanced generation, allowed them to collapse, and we allow further that the Harbour Board can bank up all the possible means of water escape with silt out of the river, and we look on powerless.

We see our cultivations flooded, knowing that the neglect of duty of the authorities we set up are responsible for the damage, yet we are seemingly powerless to act. What is wrong here? Someone must rise up and move; some final effort must be made to improve the position. Drainage is the first principle of health and comfort, and it is the council's bounden duty to see to it.


I am, sir, &c.


C. ANTHONY COURT.
Hemmant, April 10.1928"


---
October 2013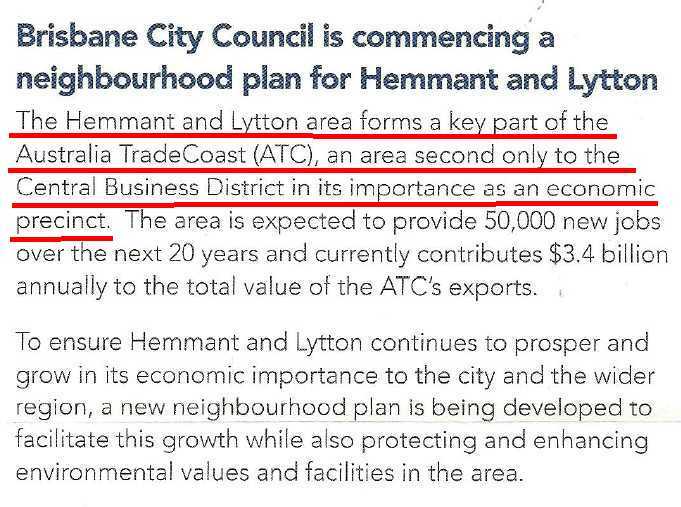 The story is simply that drainage in this area of Brisbane has been neglected for many decades by all levels and departments of the Queensland Government and the Brisbane City Council.
Below is a 1880s map of the Lytton Area of Brisbane showing land owners and original waterways.
Original map from Queensland State Archives.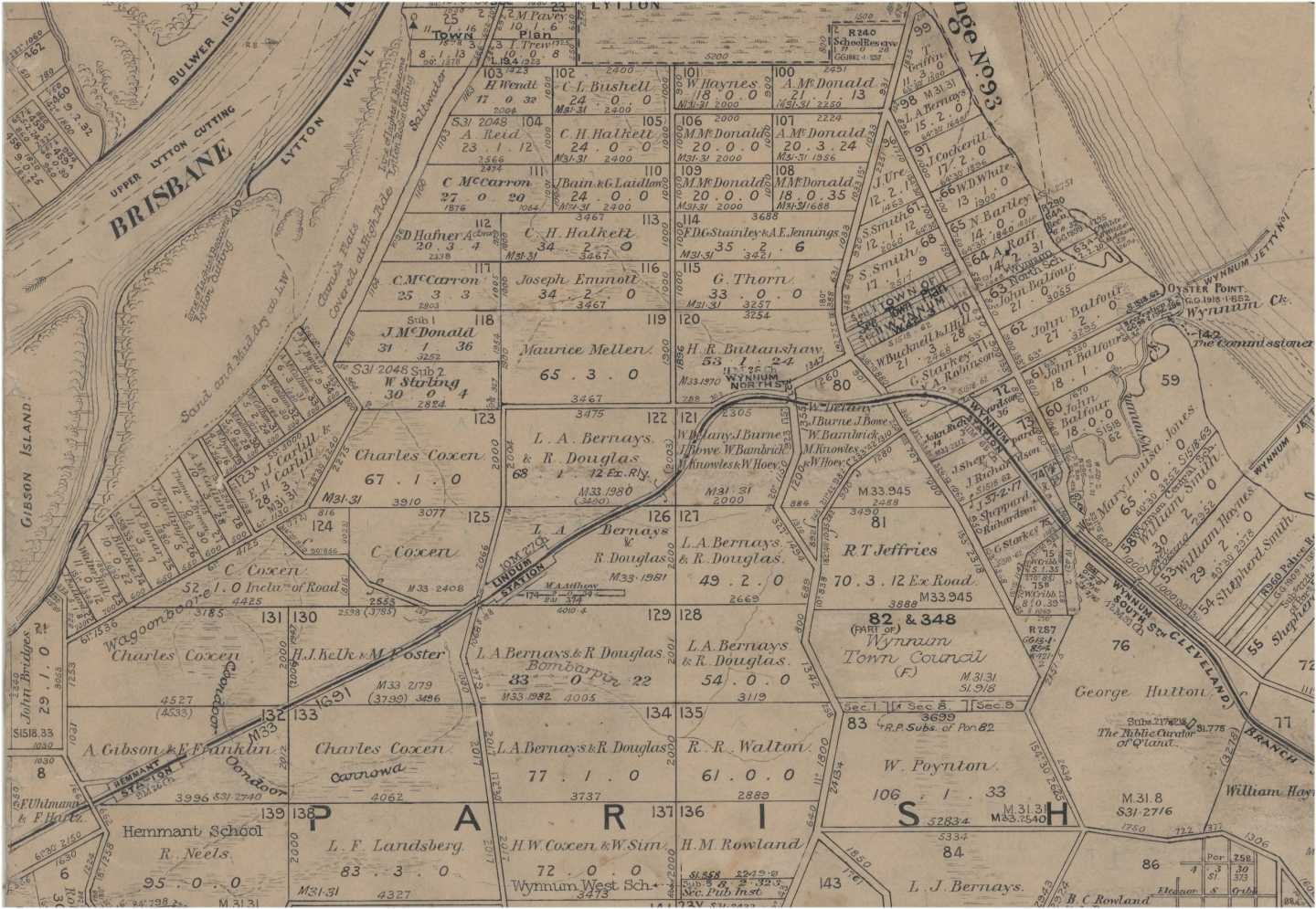 ---
One of the reasons there is so much inaction on drainage maybe because there are so many reports written about the drainage in the area which are fundamentally flawed.
Below is a section of the Revised waterway mapping for the City Plan for Brisbane as at February 2014.
The area highlight in maps below is north of Lindum Road, Lytton.
I have tried to bring this issue to the attention of the City Plan Town Planners but they say that because the submission time has ended no action can be taken.
What you will see if you look closely!
1 The water way shown on the BCC overlay is along a Energex high tension power line.
2 There is a roadway/track beneath the power line to allow all weather access.
3 That the property on the eastern side (118) is filled above the flood level.
4 The wetlands behind 118 and 146 LIndum Road (to the right of the power easement) show no wetland in an area where it is actually the deepest part of the wetland.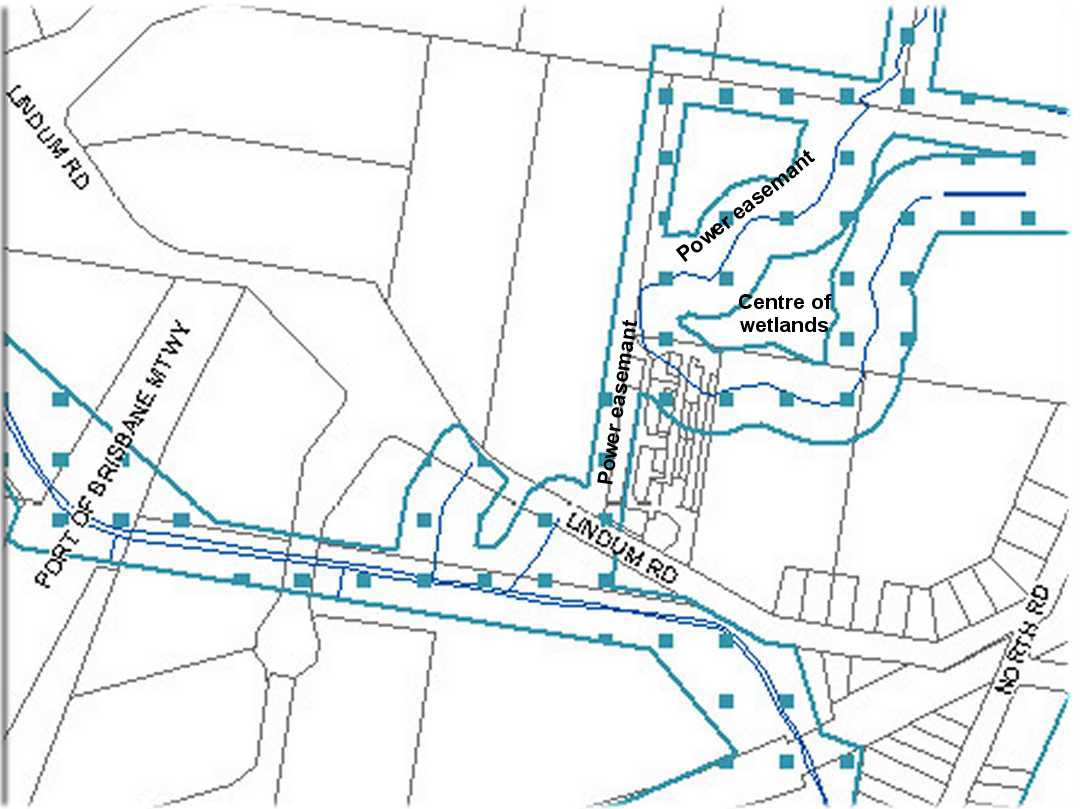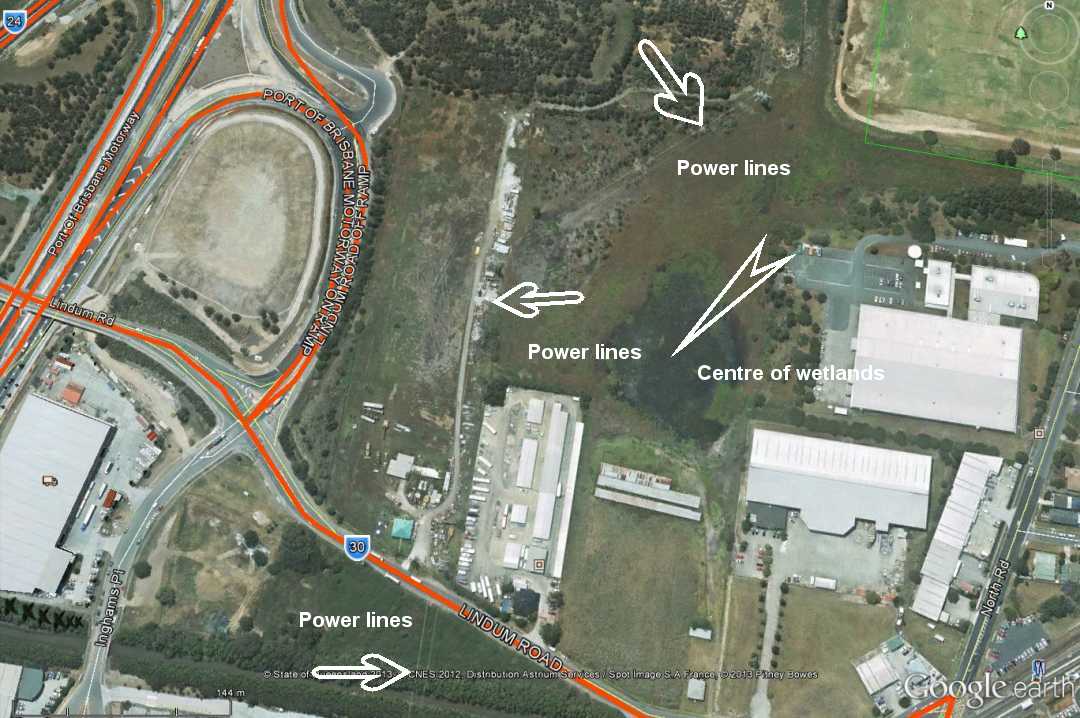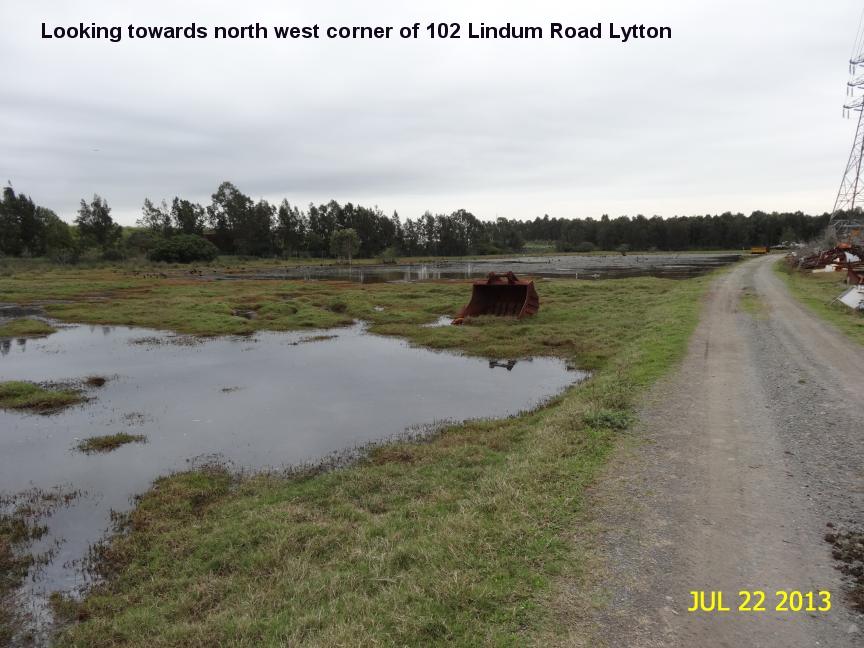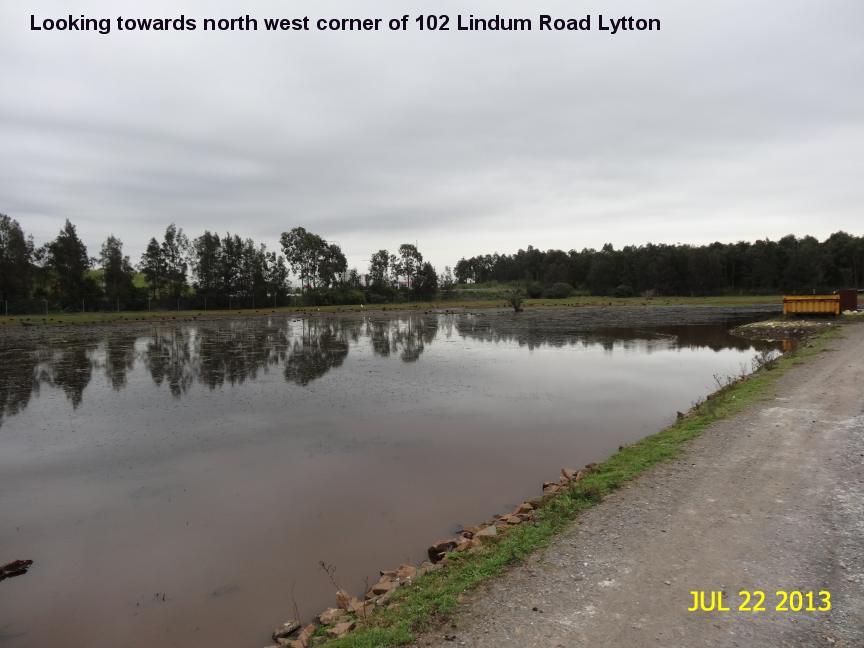 This road/track was install without drainage beneath it some 20 years ago along a drainage path by Energex.
Brisbane City Council see this road.track as a drainage line and are not interested in fixing the fault in their overlays.
The drainage drawing below was prepared for the Queensland Government after land was compulsory resumed at Lytton for the Port of Brisbane development and an industrial estate.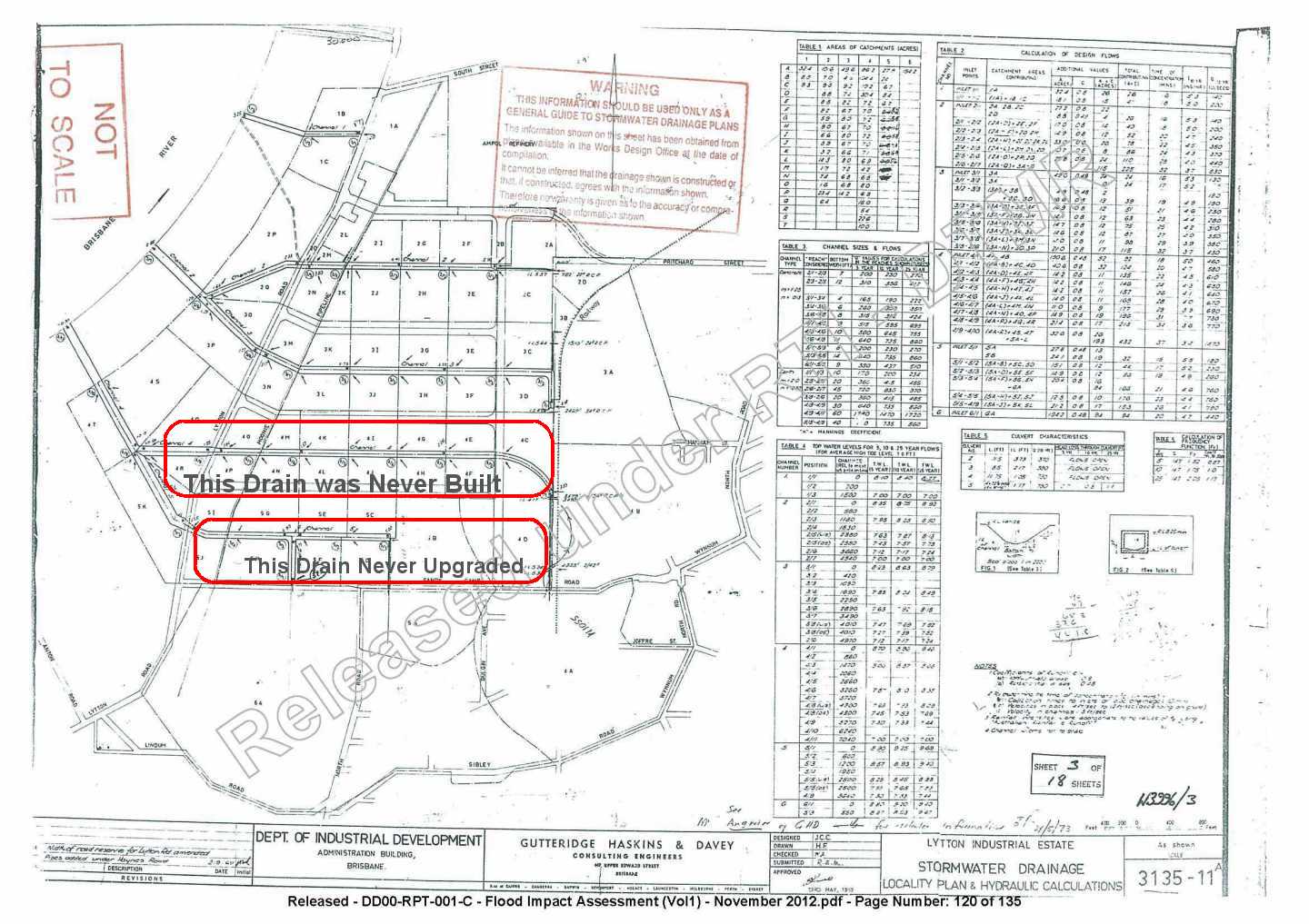 As you read further you come to understand that this design was never implemented.
One complete drainage channel was never built nor was there ever an upgrade to take into account the reduction of planned drainage capacity to the Brisbane River.
Nor has the built drainage channel (now called Channel 4) at the southern end of the Lytton Industrial Estate been a subject of any regular maintenance or any maintenance at ALL in over 45+ years.
The next two photos (at channel 4) were taken in Brisbane City Council Sandy Camp Park Lytton/Wynnum North/West on 23 October 2013.
These pipes are to allow storm water run off from the Southern side of the Lytton Industrial Estate to drain into Channel 4
This photograph and the next photo are of the same culverts but from different ends.
When I made a complaint no action was taken or contemplated.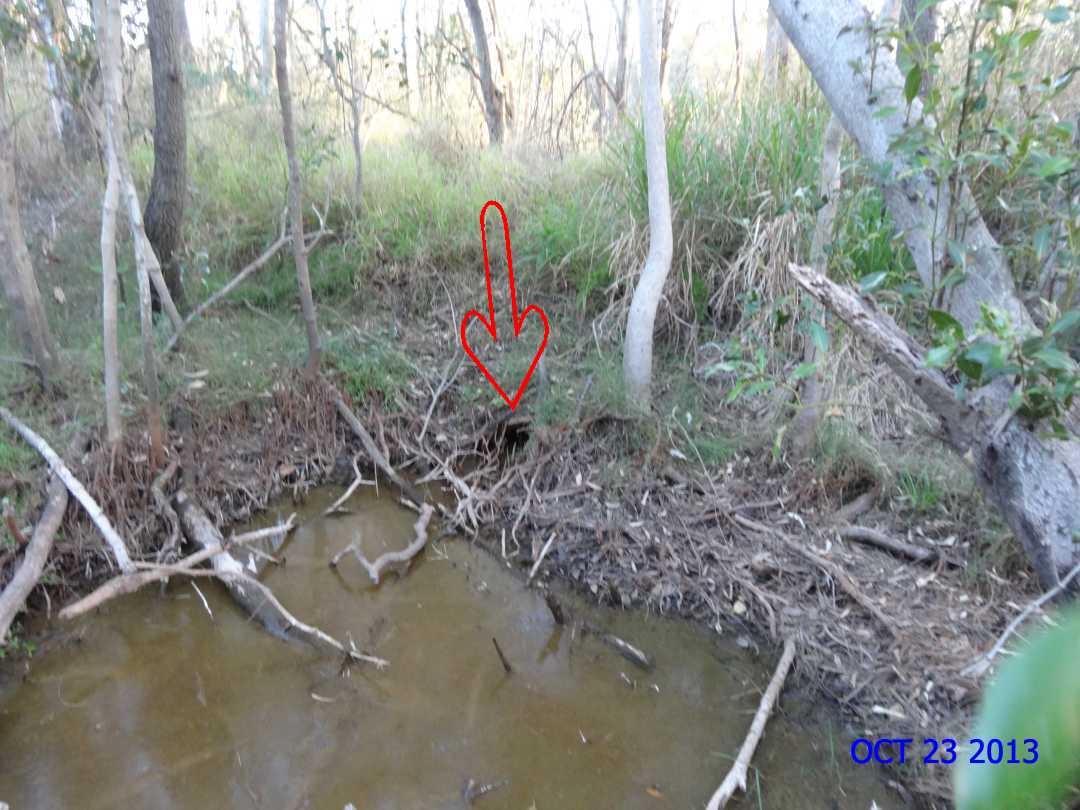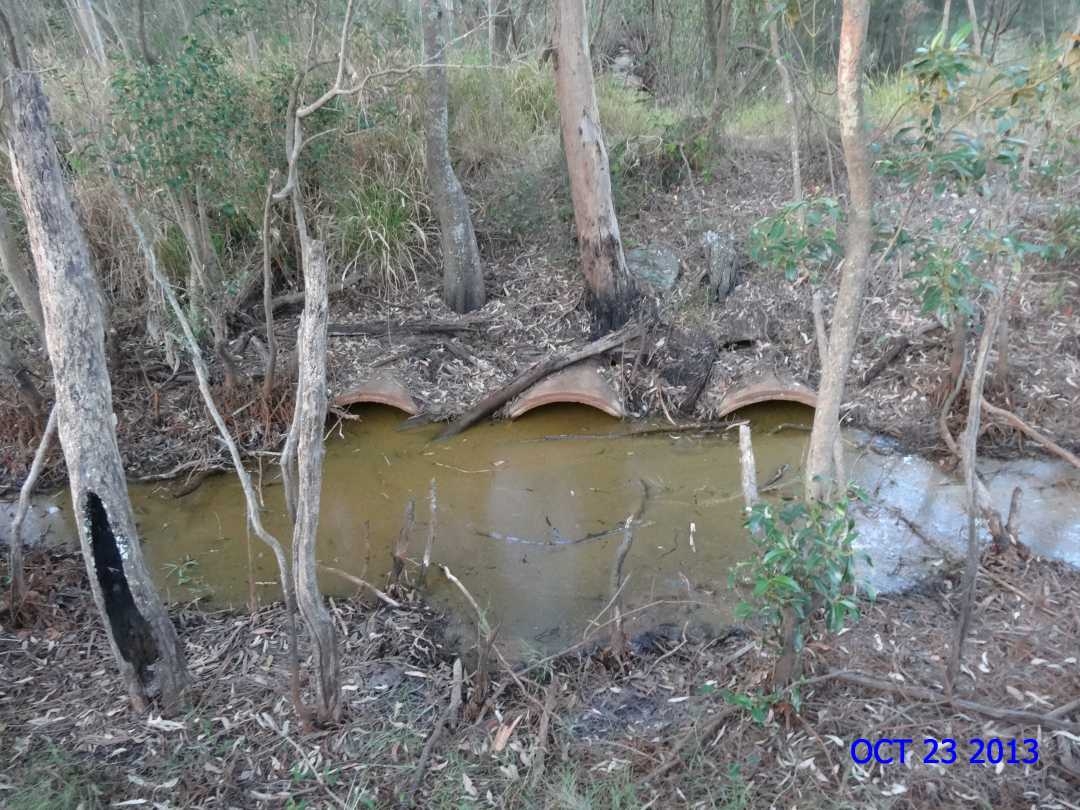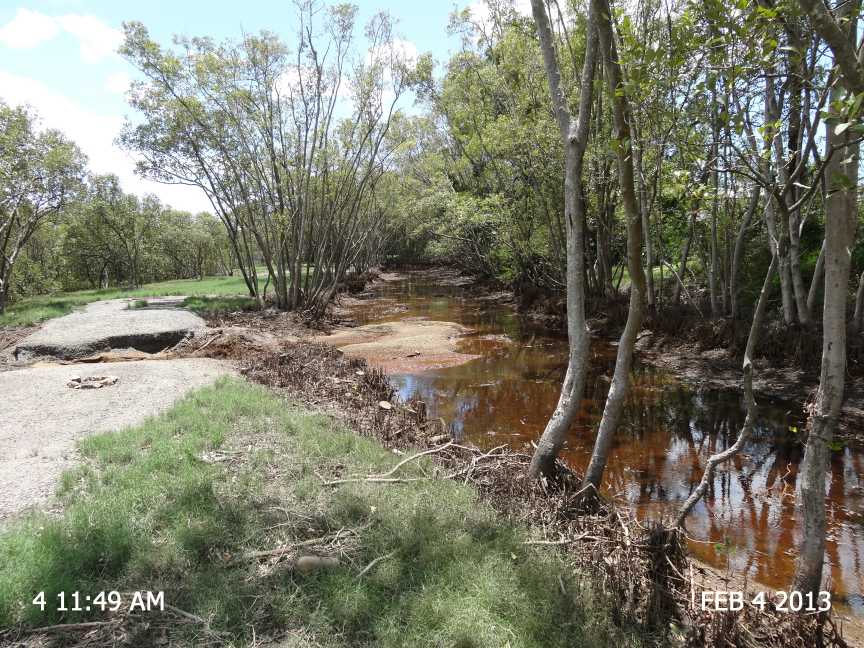 Lindum Creek after work was carried out to clean the sediment out of the creek.
Note how the fill which was placed in the channel to gain access further along Lindum Creek was left remaining in the channel and then washed into Lindum Creek after further rain.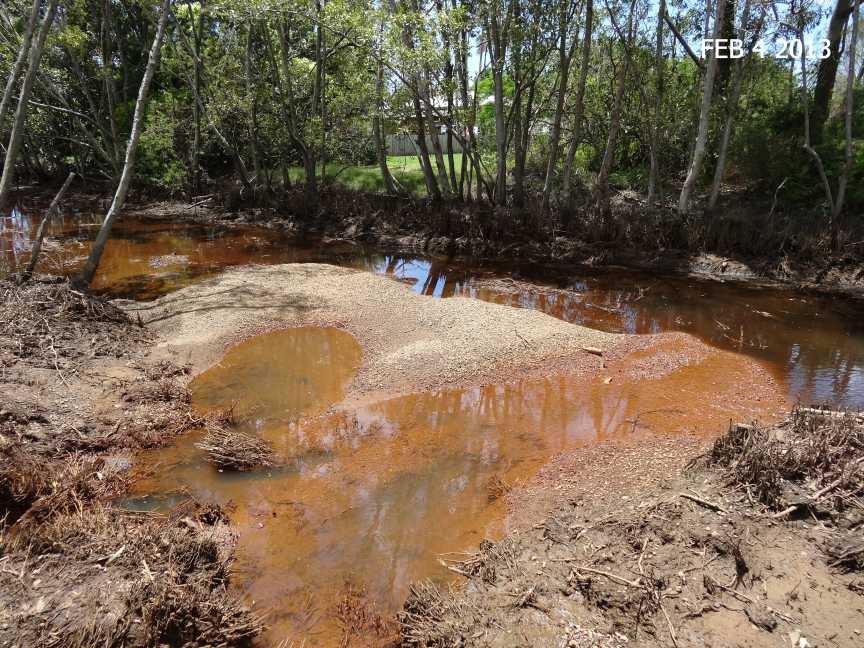 Is this the quality of work the Brisbane City Council should accept from its own workers or Contractors?
Next item from Lord Mayor's October E-Newsletter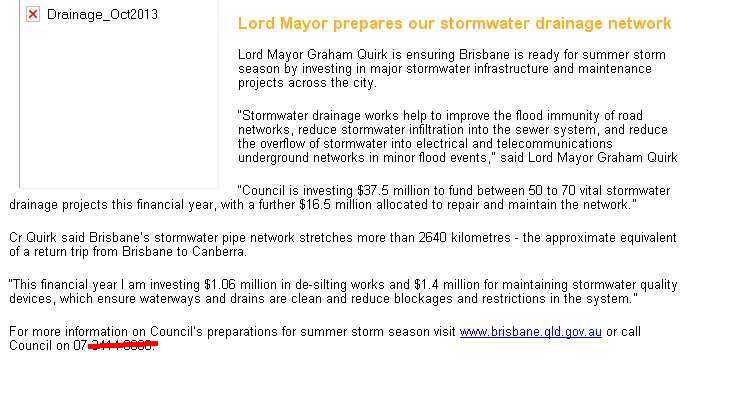 I wonder if there has been any money allocated to fix this problem?
Over to you Lord Mayor.
4BC Tuesday 5 February 2013.
I was on talk back radio with Gary Hardgraves. To listen, click on link just below.
http://www.4bc.com.au/blogs/2013-4bc-drive-audio-blog/40-years-of-ignored-complaints/20130205-2dwcw.html
---
The most feared sentence in the English language is:
"We are from the Government and we are here to help you."
---
"An upstream owner will not be liable for a nuisance where the downstream
owner has consented to the discharge of stormwater or drainage onto their
land. For that reason, conditions imposed on a development approval by a
local government may require an adjoining landowner's consent to the receipt
of additional stormwater and surface water drainage generated by the works
covered by the development approval. An upstream owner will not be liable for a
nuisance where the downstream owner has consented to the discharge of stormwater
or drainage onto their land. For that reason, conditions imposed on a development
approval by a local government may require an adjoining landowner's consent
to the receipt of additional stormwater and surface water drainage generated
by the works covered by the development approval."
Queensland Urban Drainage Manual – volume 1 second edition 2007
---
Queensland Transport Shame File Photos.
Taken 8 May 2013
Site: Port of Brisbane Motorway Channel 4 upstream.
Drainage channel left partially blocked/restricted by temporary bund wall used during construction.
Over 40 YEARS of drainage complaints were TOTALLY ignored by Port Connect.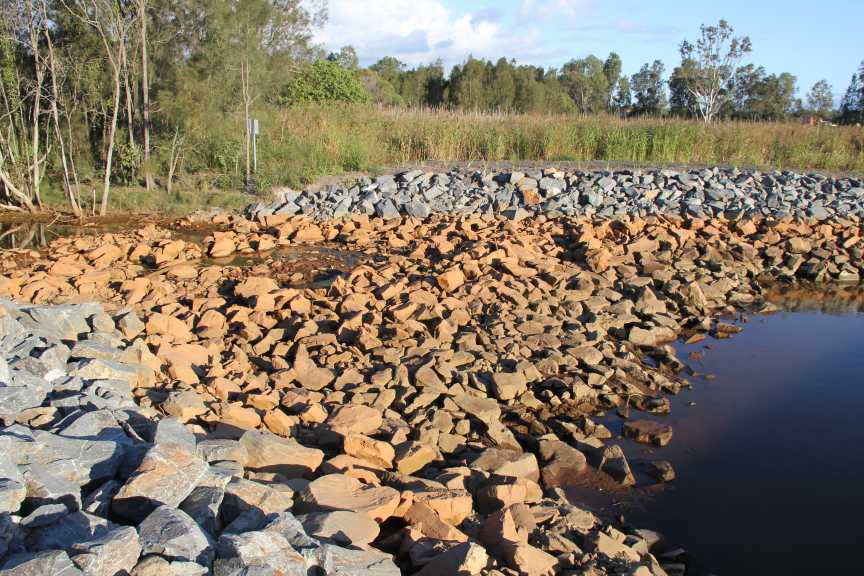 Looking South East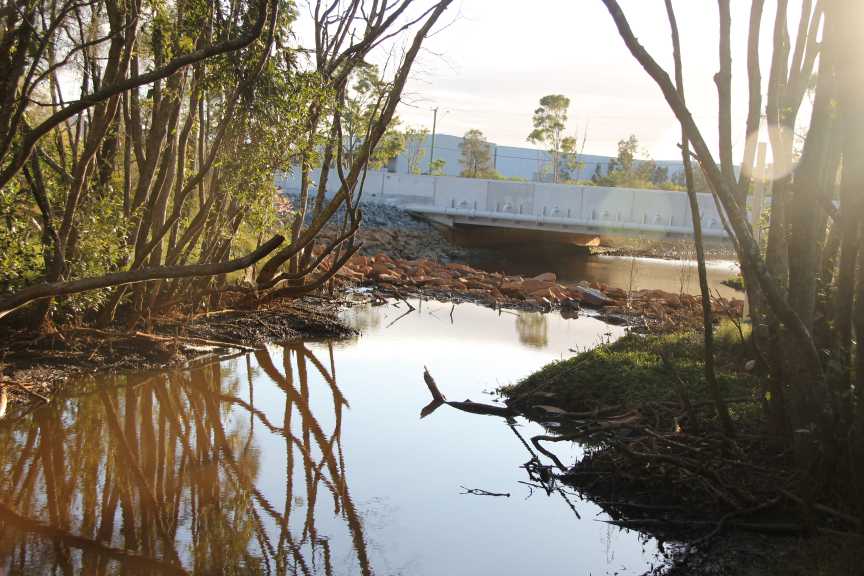 Looking West South West across Port of Brisbane Motorway.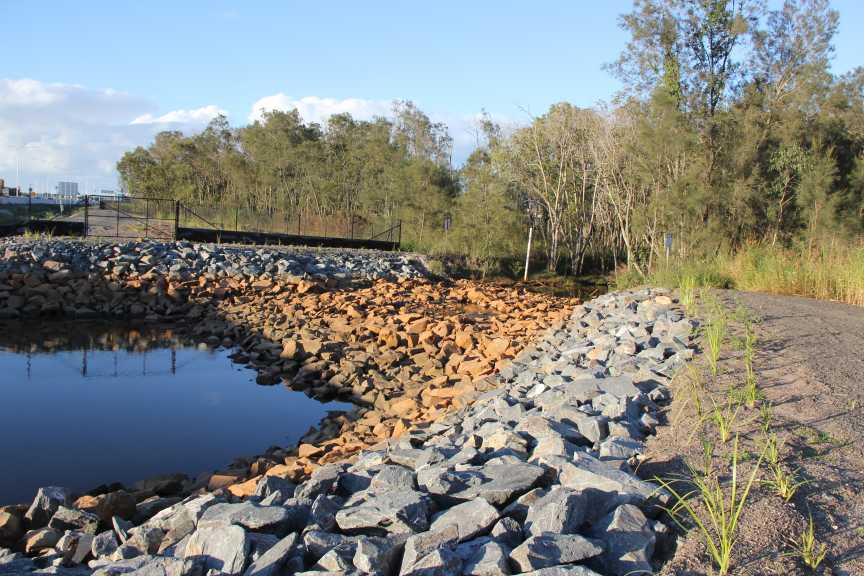 Looking North East
Upstream drainage is not draining and resident have been wondering WHY?
---
The next few images relate to the Lytton Industrial Estate drainage.
Lytton Road East Development Study 1992 Report. Note the drainage channel proposed highlighted.
This included 4 x 1800 pipe culverts under Lytton Road (never built)
This proposed drainage channel was to be 18 to 19 metres wide.
Was was built? NO!!! 3 X 1200 pipes into a UN-maintained drain and these three outlet pipes are all but fully blocked.
Then Southern Lytton Industrial Park as constructed drainage: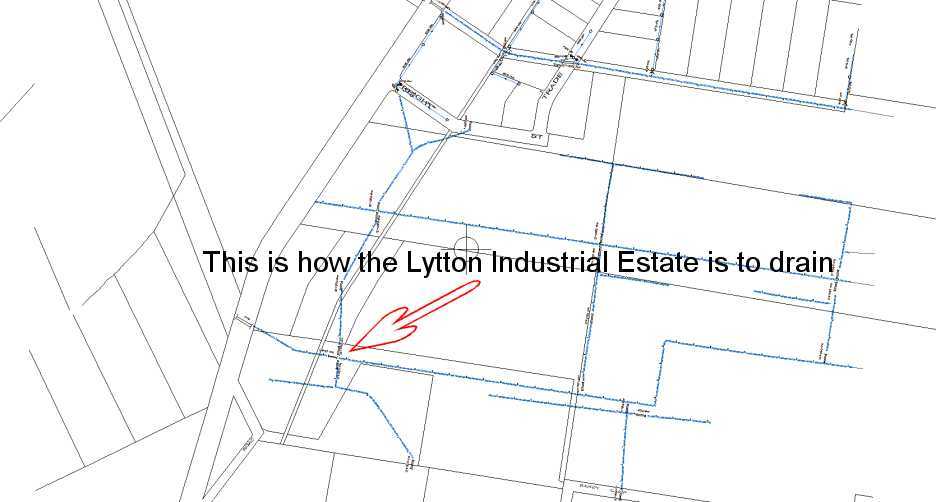 Then note the state of these important drainage culverts below.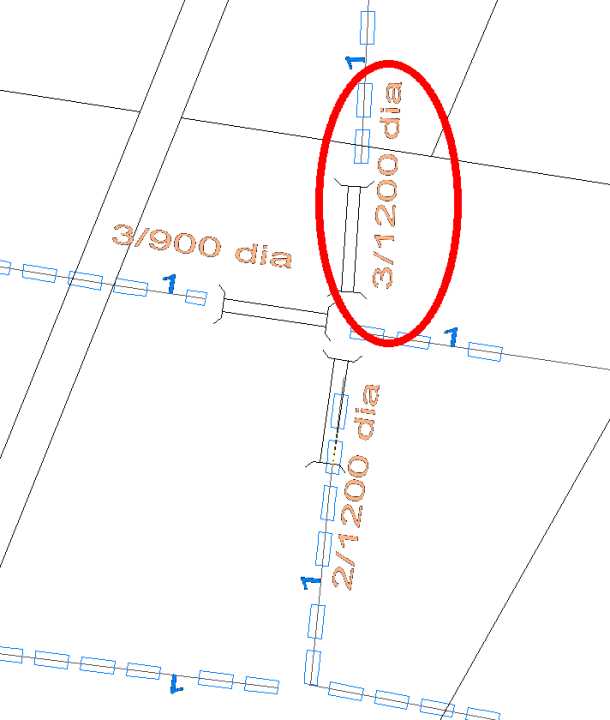 Size of 3 pipes 1.200 metres.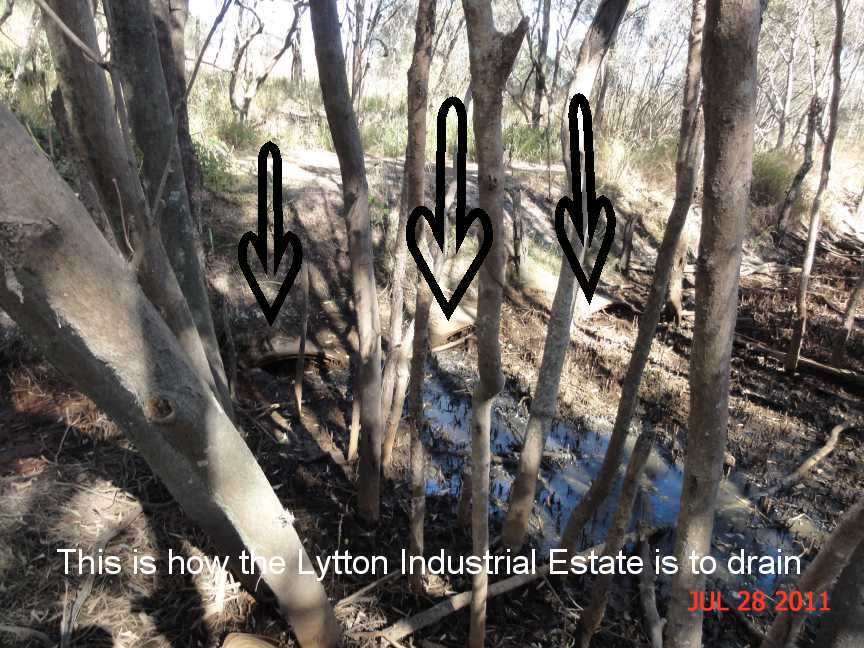 The other end of these pipes.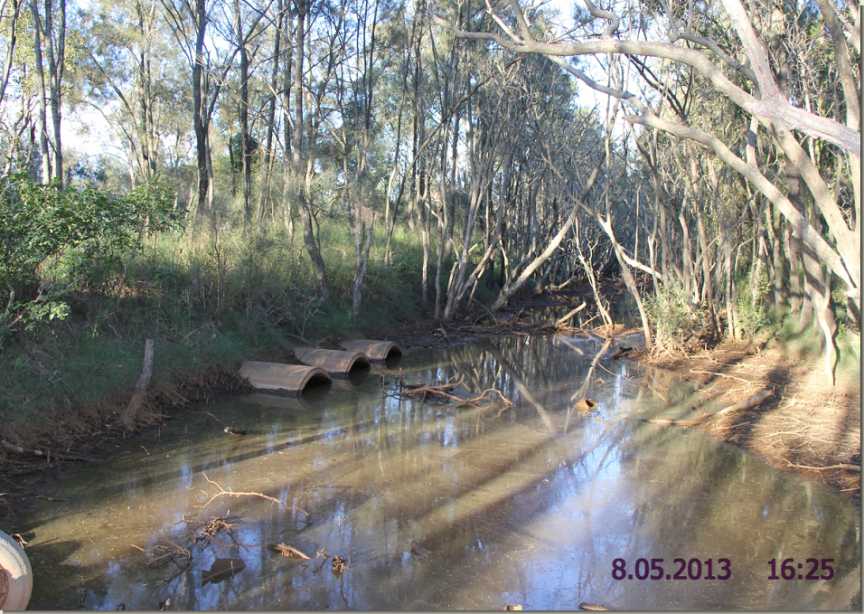 Then try to flow under/over this causeway/flood gates of only 3 x 1.5m pipes. (40+ years of complaints and no actions).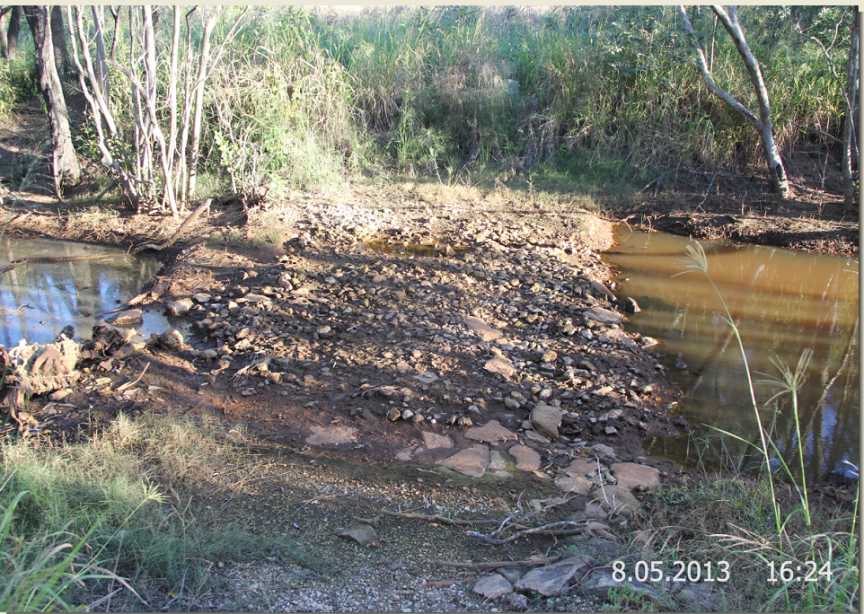 Then over/under tide gate. Three 36 inch pipes, (remain un-maintained)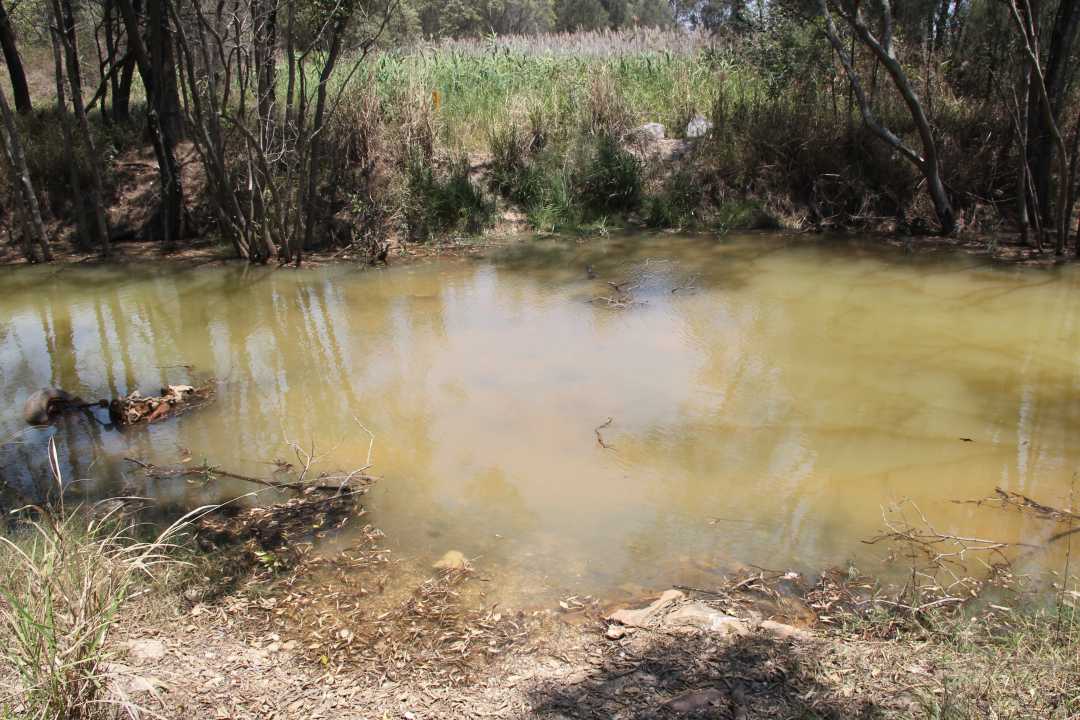 Same Tide Gate as above not restricting tidal flows.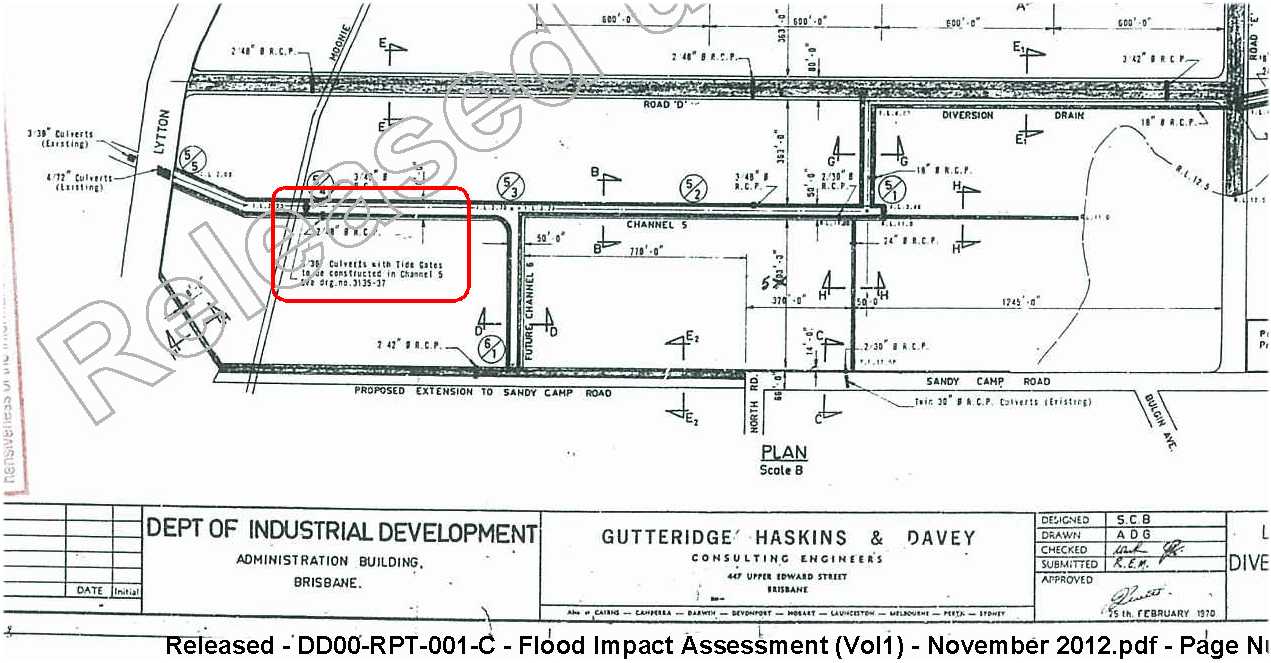 Channel 5 (now named Channel 4 as Channel 4 was never built as designed) Note construct tide gates 3 x 36" culverts.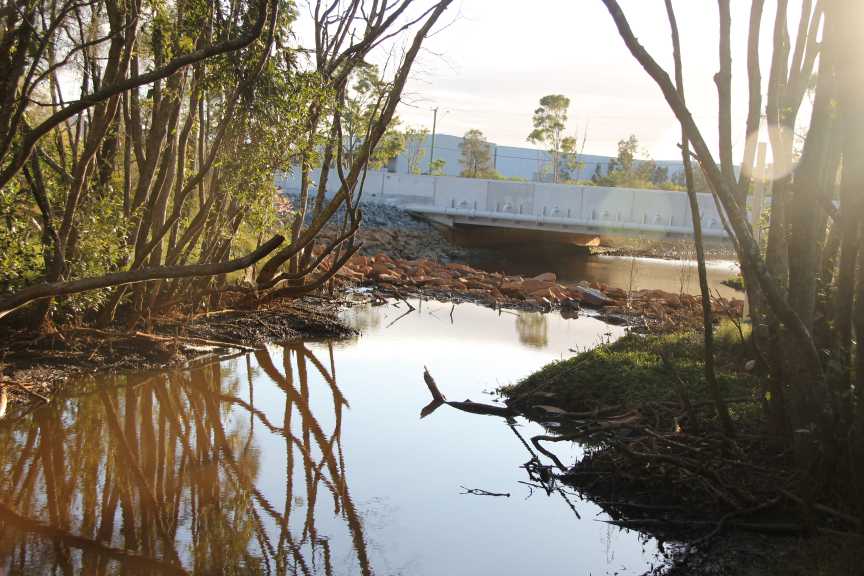 It becomes quite obvious that the Brisbane City Council and staff are not up to the task they are paid for.
---
Documents received under Right to Information Requests 2013.
Australia Trade Coast South Hemmant Waterway Study 2001
Lytton Road East Development Study 1992 Pages taken from relating to drainage
---
Bulimba Creek Catchment Management Plan ca 1999
---
During 2012 residents along Ragnor Road, Hemmant were served with court approved search warrants and properties searched.
What was the Brisbane City Council Looking For?

Illegal filling!!

One property owner nearby has already spent time in Jail for the fill he had placed on his property.

Why you may ask?

During periods of heavy rain and Bulimba Creek floods, waters simply flow upstream and over or around the Tidal Gate on Hemmant Creek, and floods properties along Ragnor Road Hemmant and other properties such as Foley Road within the Hemmant Flood Plain.

Some land owners have imported fill to keep under their houses dry and/or their driveway usable.

Keep in mind that these properties are just 11 kms from the Brisbane CBD and several do not have town water connected.

Also many have no sewerage connected either and septic tanks and their pumps do not operate well under water.

Their homes are just 2 kms from a major sewerage works on Gibson Island.

Tank water only goes so far when cleaning up after heavy rain.

Why does it flood so much, so often or for so long there?

Simply they are in a flood plain (made worse by the Queensland Government Rail Line with undersized culverts. Then Lytton Road, form restrictions due to unmaintained culverts, Gosport Street with undersized culverts which are not maintained and drainage channels which are not maintained.(refer to Connell & Wagner's Bulimba Creek Flood Study and the Lawson and Trelor, "Hemmant Wynnum West Area Master Drainage Investigation and Flood Study.) Check out the BCC flood map below to see the flood water held behind the rail line) and the drainage channels which are meant keep them flood free or reduced flood levels or duration times are either to small or simply full of mangrove roots or silt or fallen trees or the creek banks filled in by or narrowed by industrial development and due to the lack of any maintenance or interest by Queensland Rail, Queensland Department of Transport and Main Roads and Brisbane City Council.

Again the Brisbane City Council has unlimited money for Barrister, Lawyers, law clerks and inspectors, signs etc. to put you in Jail but cannot find any funds for drainage works in over 40 years after several costly flood studies/reports.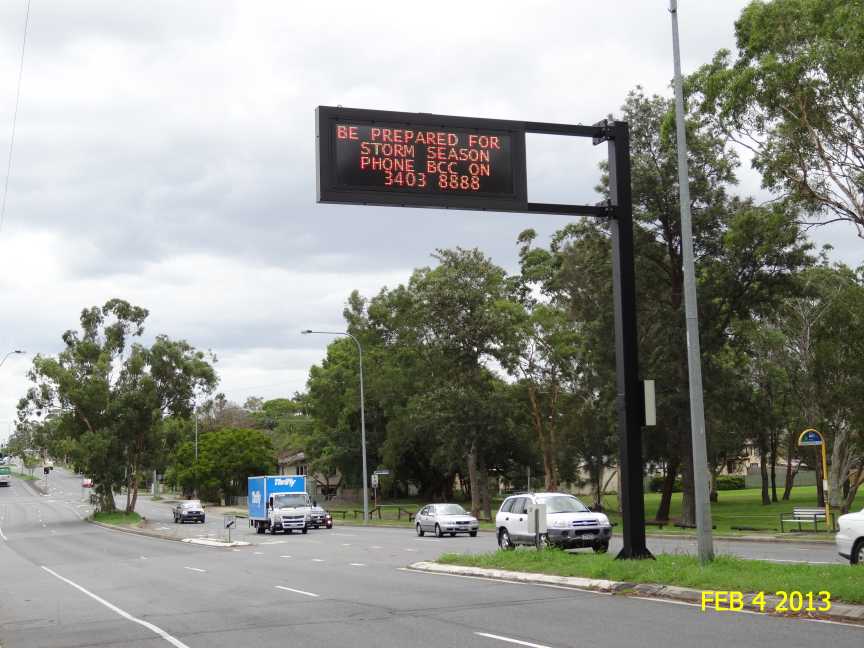 Wynnum Road Cannon Hill 4 Feb 2012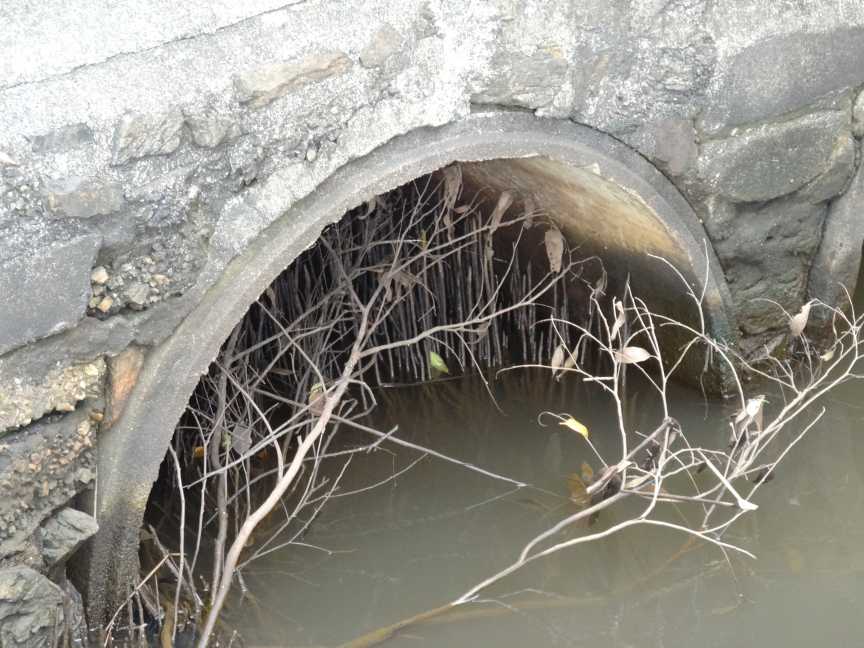 Hemmant Creek 7 April 2012 . At footbridge near Tidal Gate Reported to Brisbane City Council during October 2012.
Just in case the Brisbane City Council is uninformed the tide go out twice a day. (Or tries to)
What are they waiting for the tide to stay out for a week or so????
Following Photo taken 23 October 2013.
12 Months has passed by since a formal complaint to Brisbane City Council, and many follow up phone calls and further reports.
The BCC files obtained under Right to Information showed that my complaint was marked as completed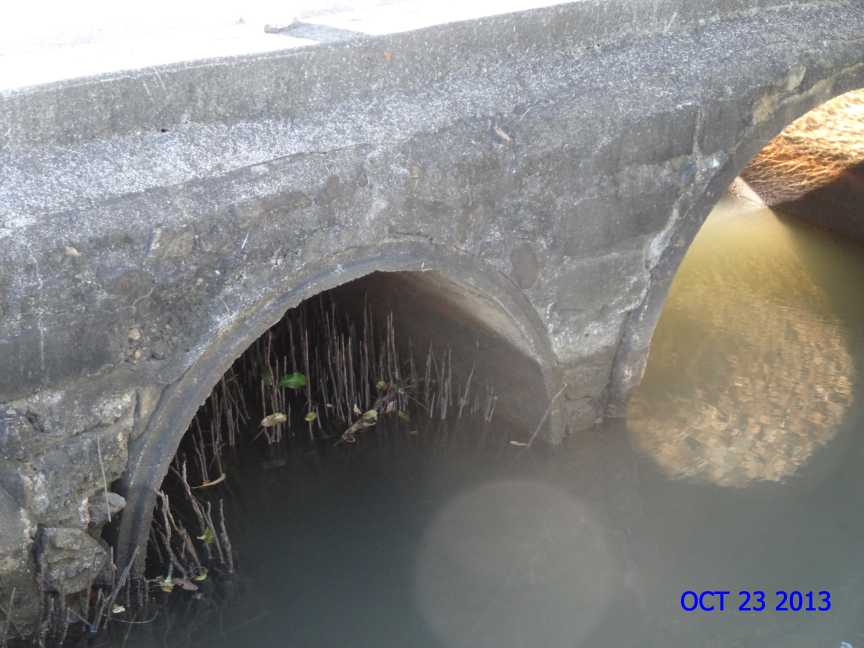 Then after a visit to the BCC Carindale office in October/November and speaking to a Manager the following 2 photos were taken about 6 weeks later.
That's right it has taken over 12 months to clean out two of these culverts which are undersized as well.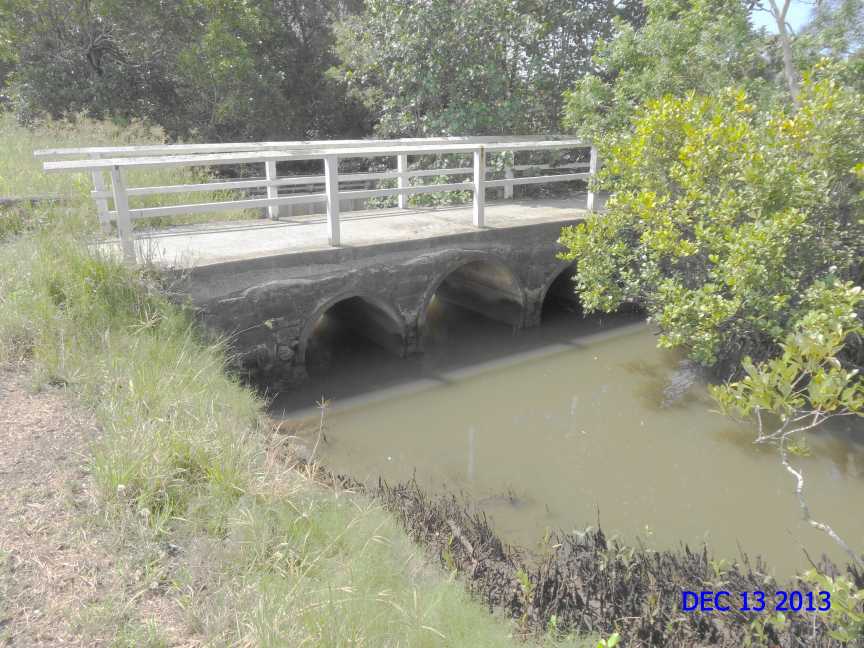 Finally the BCC has cleaned out the mangrove roots from the pipes under the pederterian bridge on Hemmant Creek near Hemmant and Tingalpa Road as below.
Over two years since reported and continued to be complained about.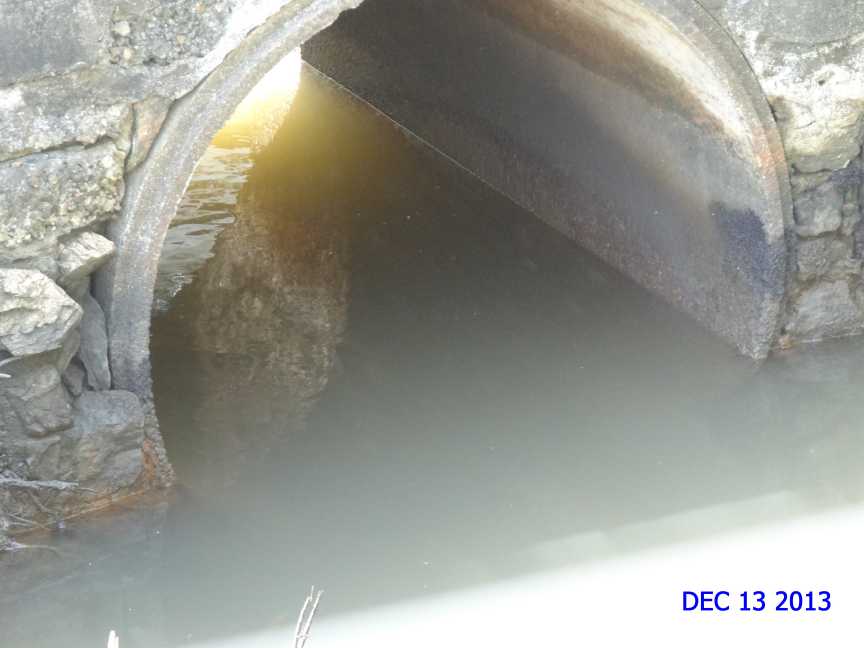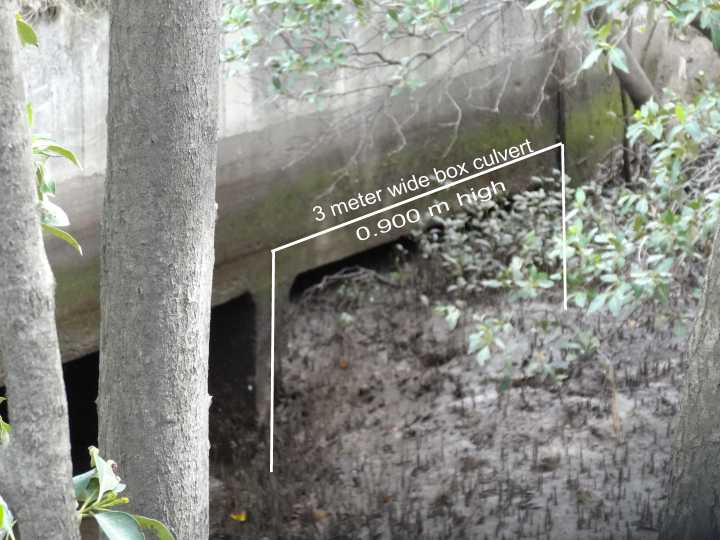 This photo taken 7 April 2013 of Lindum Creek at Gosport Street Hemmant.
Reported to the Brisbane City Council 8 April 2013
4 box culverts and this is the western side culvert on the downstream side.
I found this same culvert in the same condition in 1995.
Photos elsewhere in Website.
Photo below 9 months later. Still no action with the wet season approaching.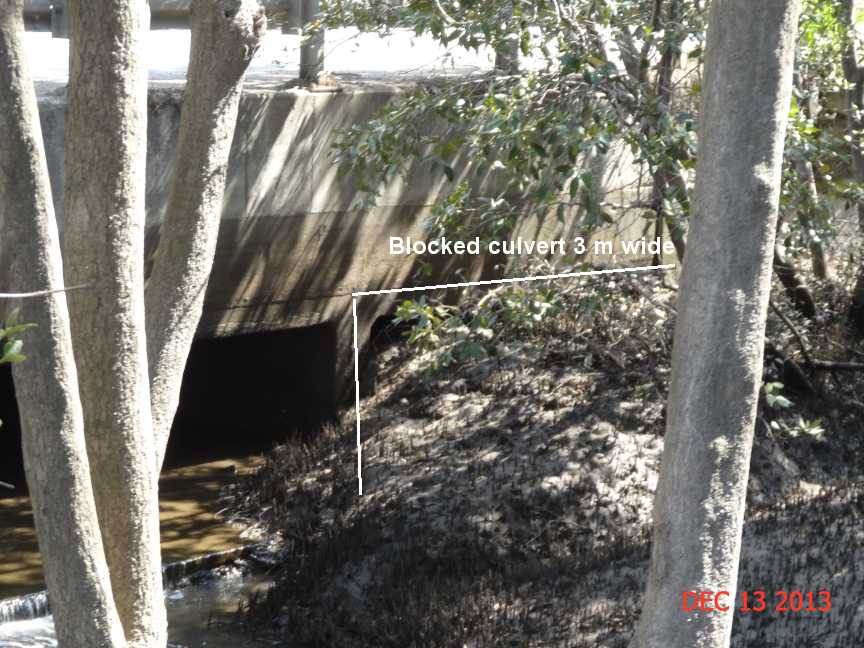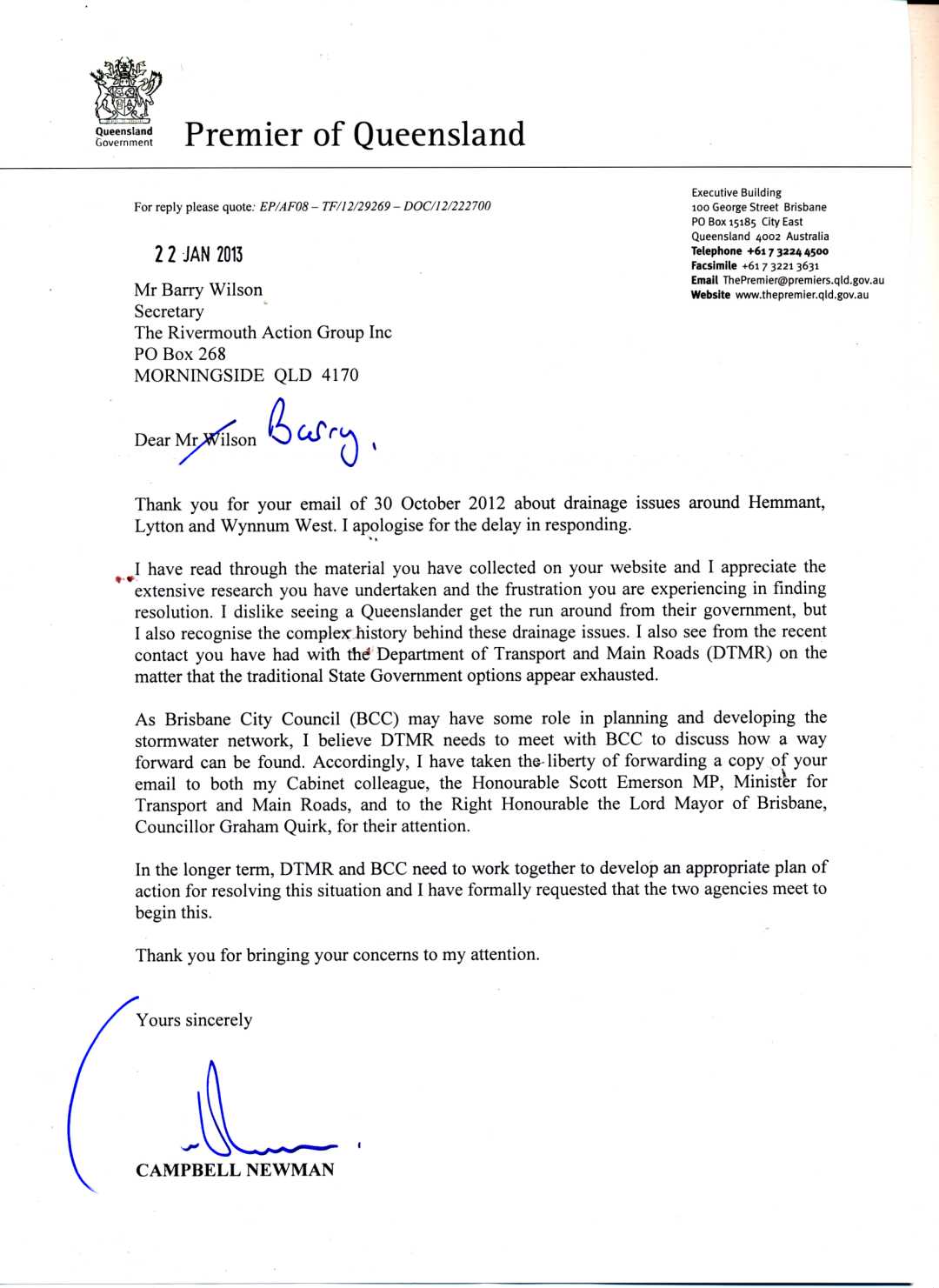 The last time the Premier sent on one of my emails to the Transport Minister for response I had no personal response from the Transport Minister.
Then on the same date from the Lord Mayor.
The Premier is an engineer.
Twelve months (now February 2014) later and still no actions have been taken.
Was the Lord Mayor's letter also written by an engineer? If so, please replace him/her.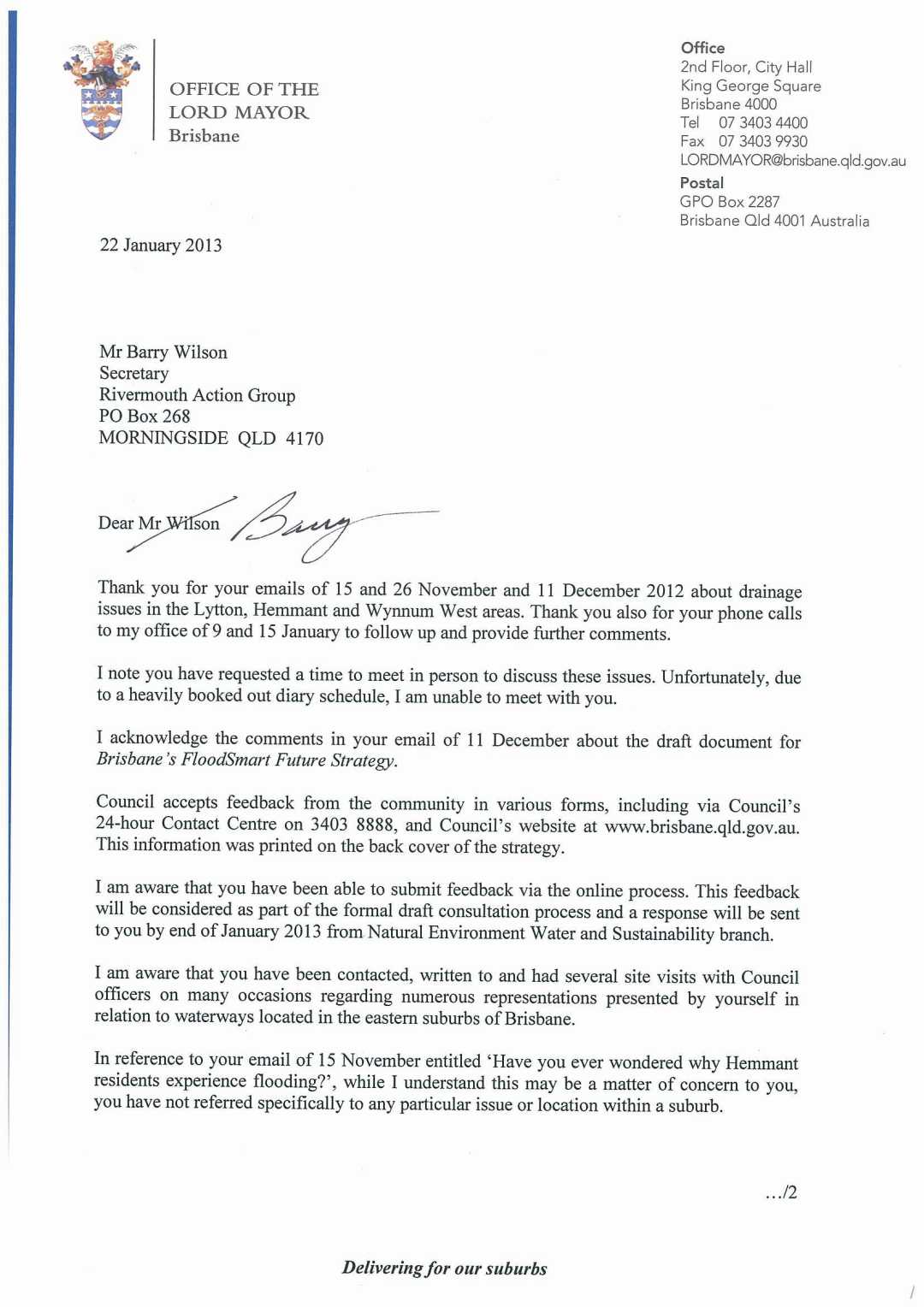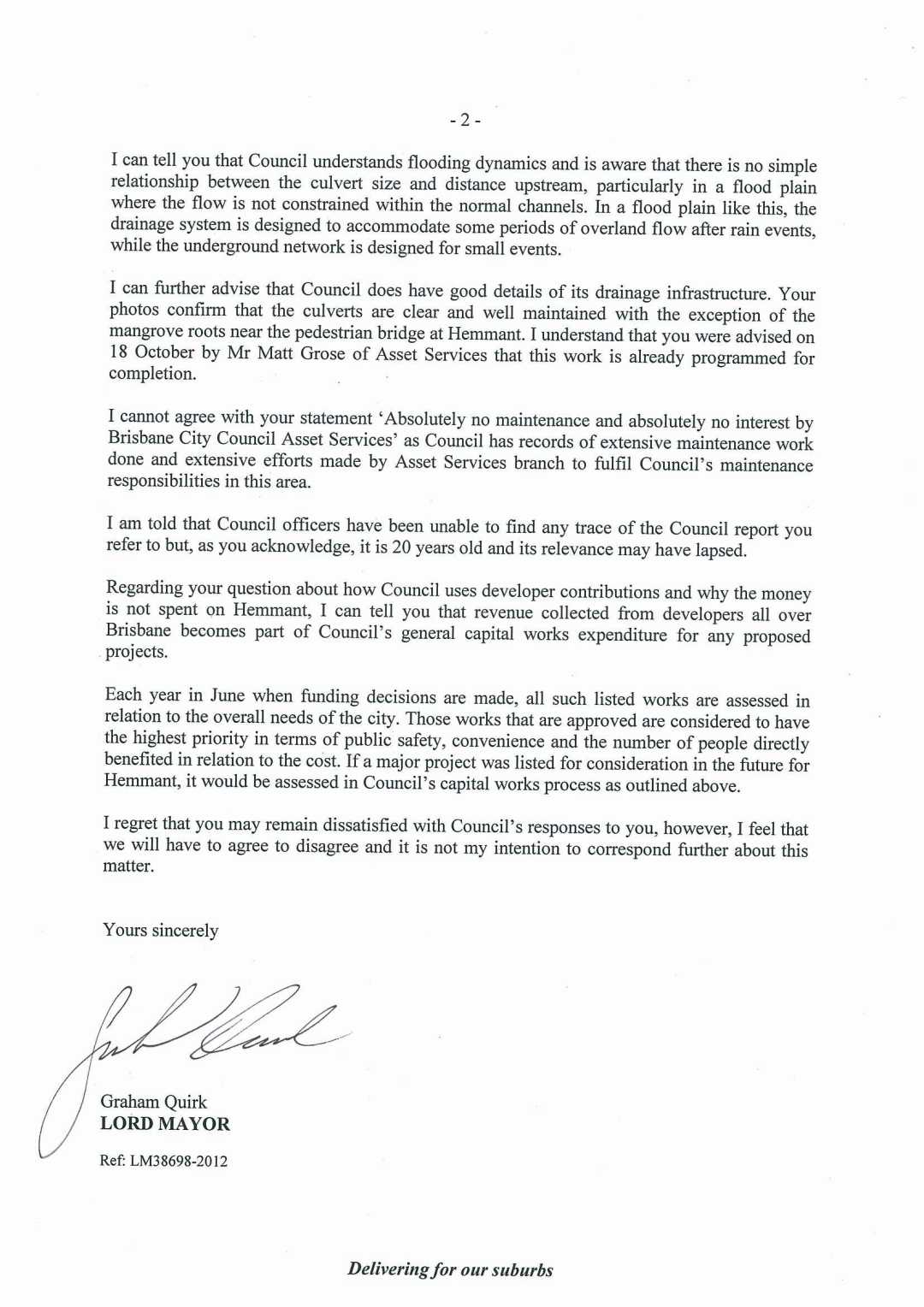 As I only ever met one council officer with his assistant on site at Lytton it is time to expose the author of the Lord Mayor's correspondence.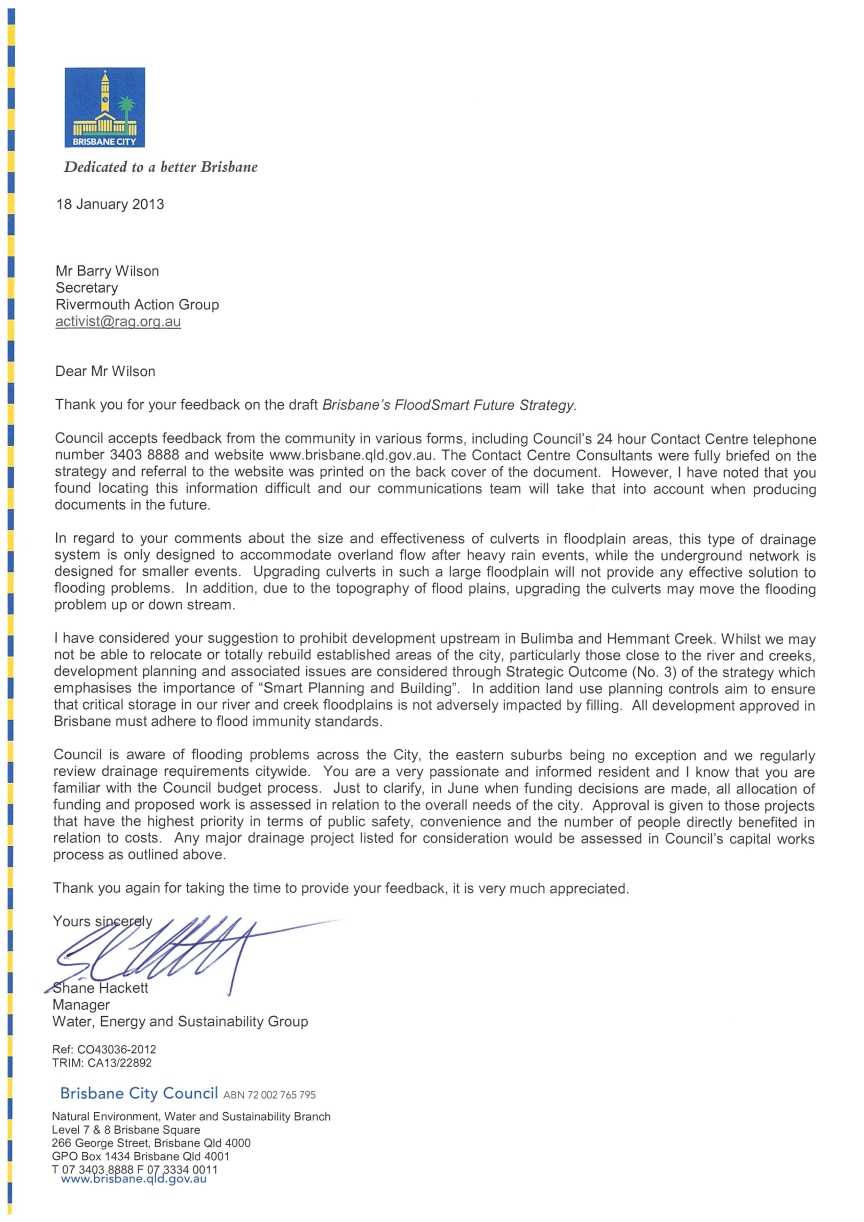 Pages from:
Pages from:
N.B. (Both documents exist in the Brisbane City Council's Reference Library)
Brisbane City Council had money for this new sign and message.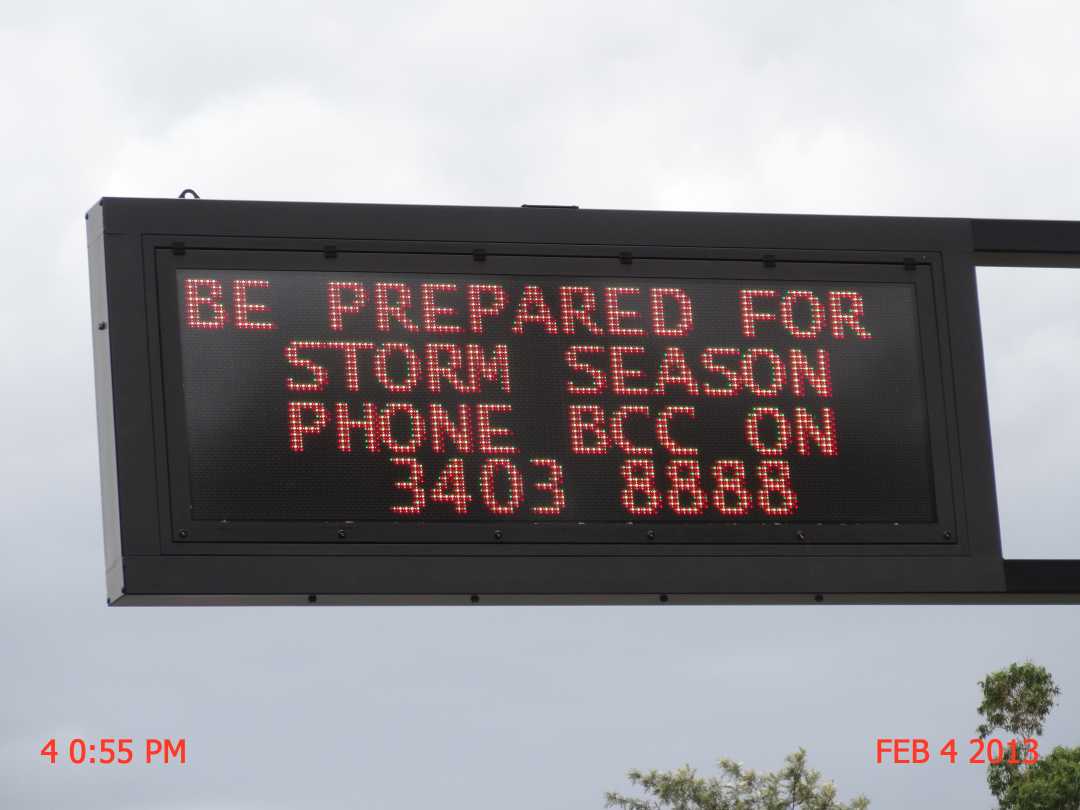 Now all BCC have to do is SOMETHING THEMSELVES.
NO matter what local home owners do the Brisbane City Council
have not cleaned these pipes out after 18 months (+) of complaints which started well before our last flood in January 2013 but after the February 2012 deluge.
More money on drainage works and then less need for signs.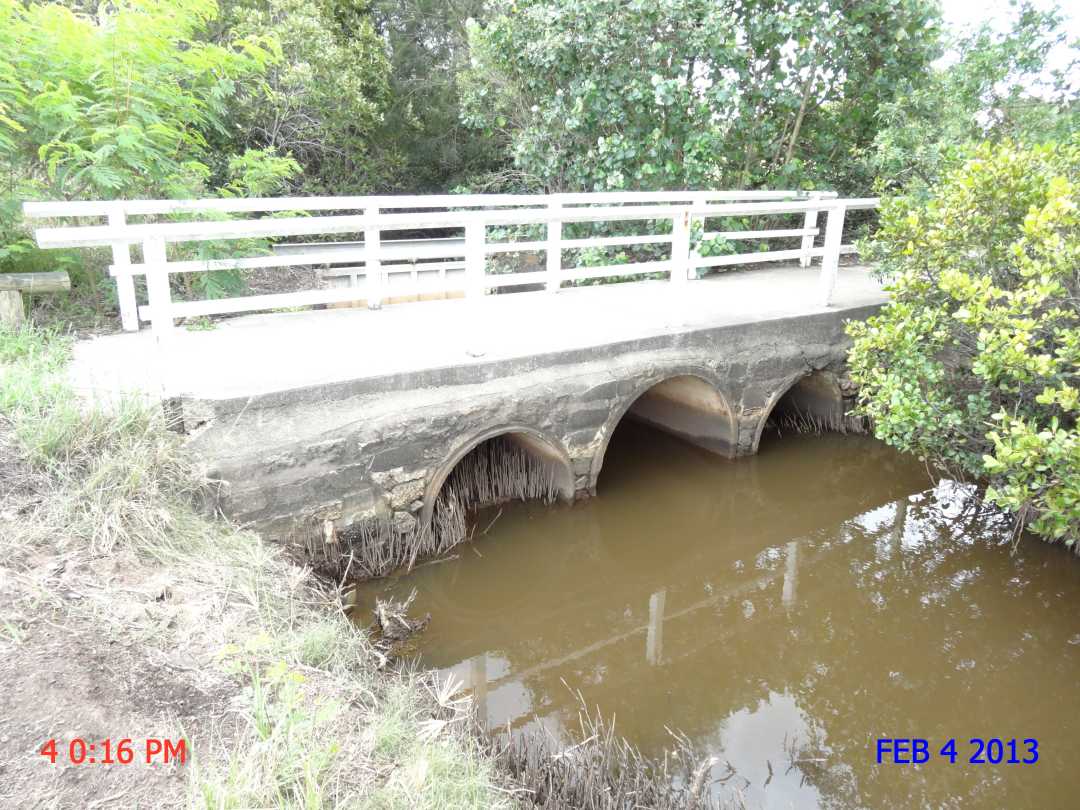 Photo of Pedestrian bridge over Hemmant Creek between Hemmant & Tingalpa Road and Bulimba Creek.
There has been at least two attempts to clean out these culverts but so far only the mangroves nearby have been removed.
The roots of mangroves in the pipes are years old.
Where was the BCC inspection over the past ten years? Were they always done at high tide?
Let us see if the Brisbane City Council can back up the contents of the Lord Mayor's letter above.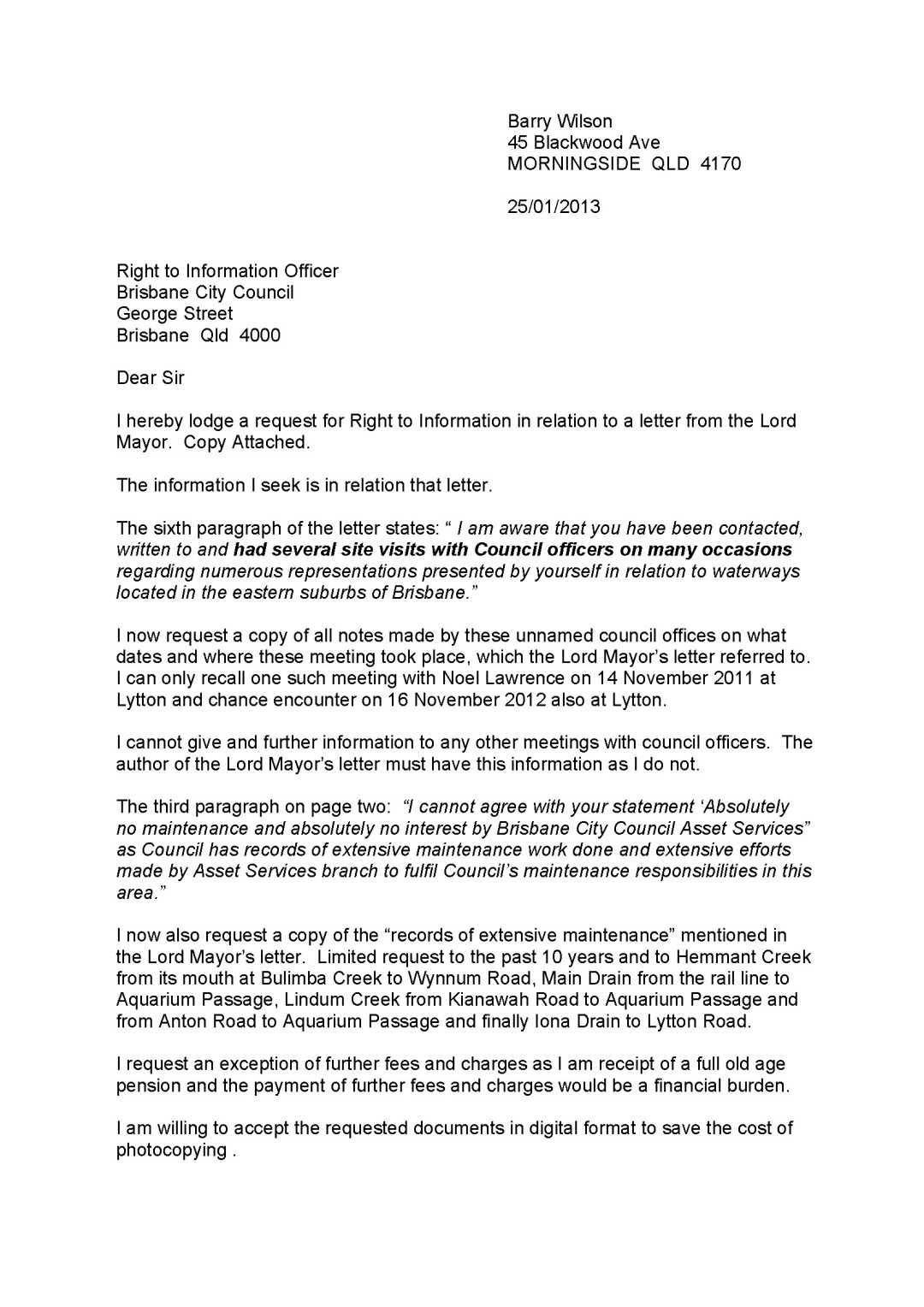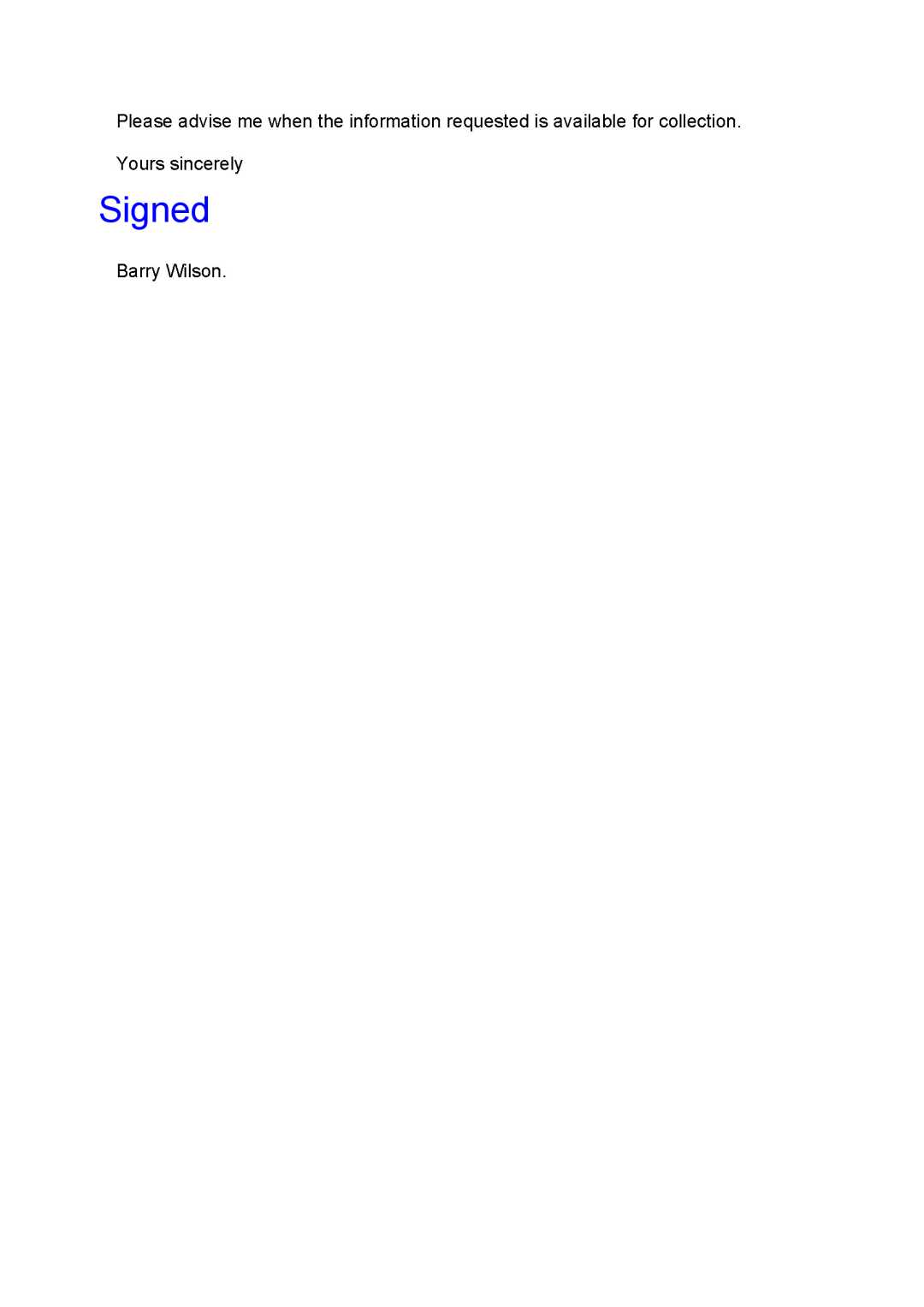 Iona Drain Flows north from Lindum Road through Port West to the Brisbane River or tries to.
Port Road Development (Port Connect) Stage 2 Shame File # 1
---
Tidal Gate Hemmant Creek

Hemmant Tidal Gate under flood water.

Hemmant Creek Tidal Gate allowing tidal water to flow past on incoming tide.


Queensland Rail Shame File #1

8 / 11 / 2012

Dear Mr Wilson


I refer to your previous correspondence to Queensland Rail Limited (Queensland Rail) about drainage in the Hemmant to Lindum area.

Queensland Rail has investigated the matter and considers that it has complied with its legislative obligations.

We reiterate our position as stated in our email of 6 September 2012.

Queensland Rail will continue to work with the Department of Transport and Main Roads and the Brisbane City Council to upgrade infrastructure that interfaces with rail corridor where Council has identified a requirement and is providing the necessary funding.

I trust that this information assists you with your enquiry.

Regards

The Customer Feedback Team

Queensland Rail

GPO Box 1429 Brisbane 4001

--------------------------------------------------------------------------------
Queensland Rail's number one priority is safety. Queensland Rail has a program of testing for alcohol and other drugs. Please be aware any person who enters a Queensland Rail premises for business purposes may be randomly tested for alcohol (breath test) and other drugs (oral fluids test). Please also ensure you are wearing the appropriate Personal Protective Equipment for the site you are visiting. Call your Queensland Rail contact person if you need more information.
This email (which includes all attachments and linked documents) is intended for and is confidential to the addressee; it may also be subject to legal professional privilege or otherwise protected from disclosure. If the addressee is a government agency in receipt of a Right to Information Act (2009) application in relation to this email, contact must be made with Queensland Rail Ltd ACN 132 181 090 in accordance with the third party consultation process provided for in Part 3, Division 3, Section 37 of that legislation. If you are not the addressee, or if you have received this email in error, you must not use, rely upon, disclose or reproduce it (or any part of it) in any way. Please notify the sender of your receipt of it and delete it in its entirety. Neither Queensland Rail Ltd (or any of its related entities) accepts any liability for computer viruses, data corruption, delay, interference, interception, unauthorised access or amendment of this email. The views expressed in this email, unless clearly stated otherwise, are the views of the sender. They do not necessarily represent the view or policy of Queensland Rail Ltd or any of its related entities.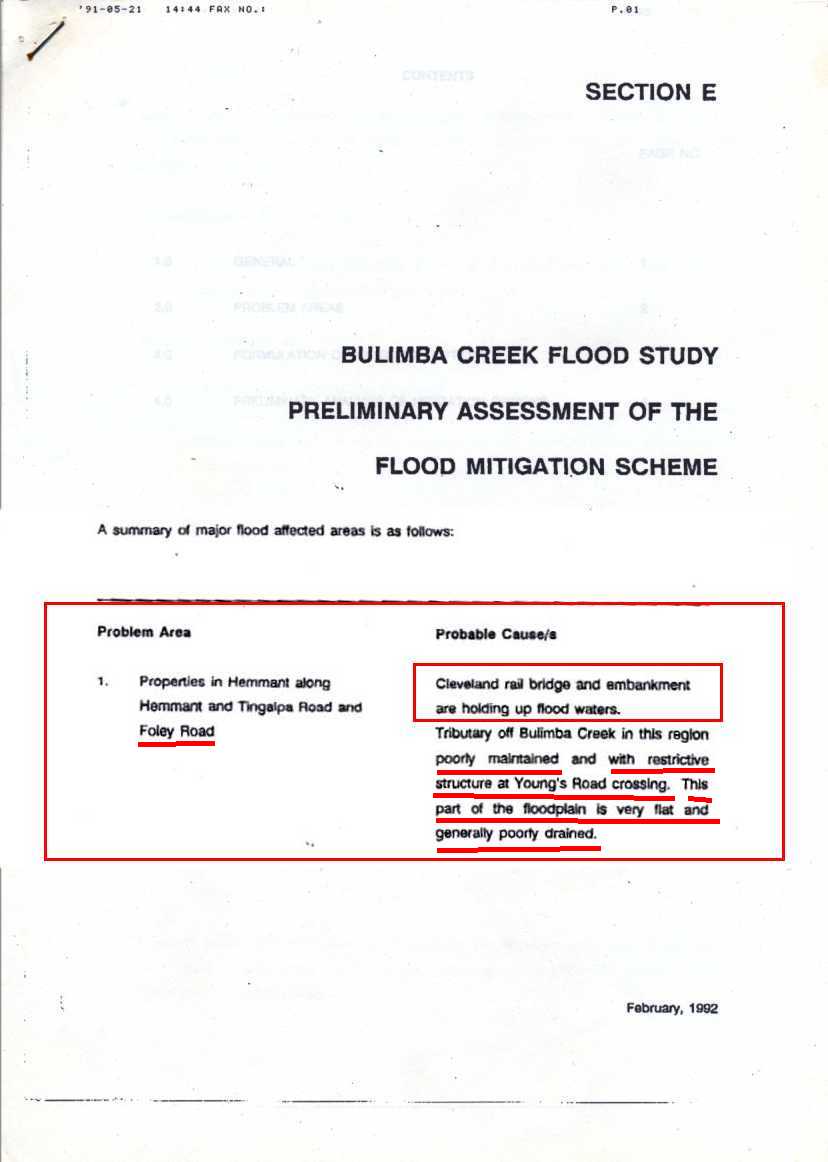 Who else is included in this SHAME FILE?
Paul Lucas MLA Shame File #1 Retired from parliament
Cr Peter Cummings Shame File #1
20 Years after BCC own LREDS study nothing has happened except INACTION.
---
LYTTON ROAD EAST DEVELOPMENT STUDY, FINAL REPORT
Industrial Planning Unit Department of Development and Planning
July 1992 Brisbane City Council.

Page ii "SOCIAL ISSUES

"A major shortcoming of the Study was that no programme of community consultation was undertaken because of the nature and confidential status of possible alignment for a Port Road Corridor. This restricted both the development of an accurate social profile and, more seriously, forced the Study Team to develop a plan without any community input. ...."

The following is part on one of my own submissions

Filling is taking place throughout the Lytton Road East development area. The amount of fill placed in what was a flood plain is incredible, some even without Brisbane City Council approval. Many of the companies have undertaken drainage works within their properties but they abut other properties or roads where no further work has been carried out. Examples of this exist in Hemmant, such as Gosport Street near the Queensport Hotel and west of the Lytton Road and Lindum Road intersection.

The dual gauge rail line to the Port placed more fill within the flood plain, yet no work was undertaken to increase the drainage to the Brisbane River or Bulimba Creek.

The Proposed Port Road will require a massive amount of fill to keep the road above the 100 year flood, and it intended to be built to 100 km/hr specifications, four lanes width. Invariably, inadequate drainage outlets will be provided beneath this road. Even if large open sections are left beneath the Port Road, the Brisbane City Council has then to dig drainage channels to the riverfront, or creek edge. This is not happening at present.

page 3-25 "Table 3.10 Estimate Culvert Costs (LYTTON ROAD EAST DEVELOP STUDY 1992)

Almost $½ million dollars was required in July 1992

---
Queensland Transport/Main Roads Shame File # multiple times

Note the issues to be evaluated.
Both drainage and flooding issues are not mentioned in the advertisement above, yet the entire Port Road crosses Bulimba Creek, Hemmant Creek, Main Drain, Lindum Creek and four drainage channels at Lytton.
Yes you have read correctly, the residents had six weeks to the 31 December 1994 to write their submissions. Mine was worked on all of Christmas Eve as I was to leave for holidays with my young children on Boxing Day (26 Dec).



Department for Industrial Development
Department Environment Resource MIS - Management
---
STOP PRESS
9 October 2012
Port Connect has advised that the increased drainage upgrade beneath Lytton Road, Lytton at the drainage channel known as Channel 4 will only be increased by one more (not two as planned) 1800 pipe making the total of five.
This provides a drainage capacity of 12.5 square metres for a catchment of 266.3 ha
The catchment area for the Lytton Industrial Estate (Channel 2 and 3) is 118.7 ha and the drainage capacity under the Port Road is nine pipes at 1950 making a total of 36 m2 and then downstream flow (adjacent) under Lytton Road has five pipes of 1950 on Channel 2 plus 6 x 2400 x 1200 box culverts at Channel 3 giving a drainage capacity of 30 m2.
In short the Government Industrial Area has drainage in excess of 5 times the capacity of the next catchment.
266.3 ha = 12.5 m2
118.7 ha = 30 m2
Awaiting a URGENT response from the Queensland Transport Minister.
ARRIVED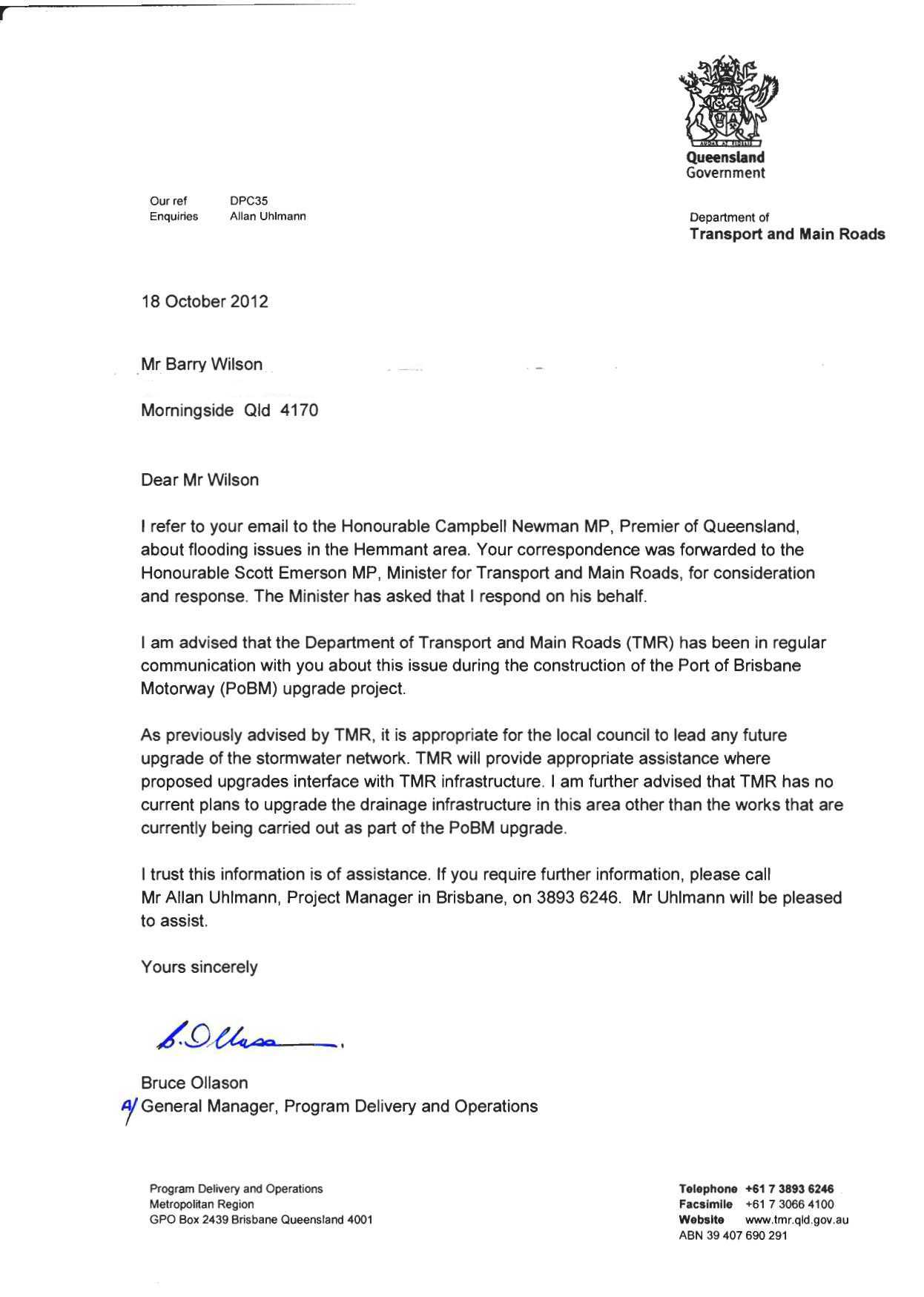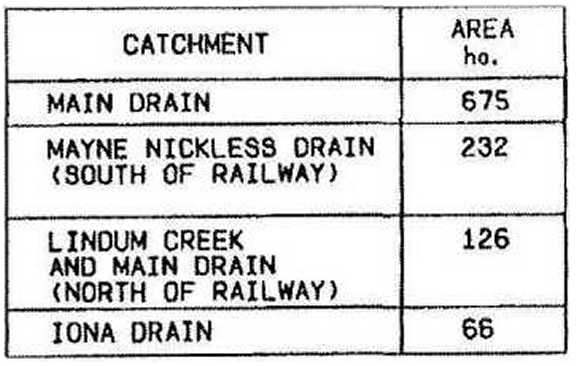 Information from Port Connect on catchment areas (below)
Bulimba Creek – 12500 ha
Lindum and Main Drain – 400.4 ha
Channel 2 and 3 – 118.7 ha
Channel 4 – 266.3 ha
Port Connect Information (below)
Channel
Existing Motorway
New Motorway construction
Existing Lytton Road
Lytton Road after motorway construction

Channel 2

(adjacent to Recochem)

N/A
3 x 1950 pipes
Bridge
5 x 1950 pipes

Channel 3

(East of Freight Street)

N/A
6 x 1950 pipes
3 x 2400 x 1200 box culverts
6 x 2400 x 1200

Channel 4

(Green Corridor)

N/A
Bridge
4 x 1800 pipes

Designed 6 x 1800 pipes

NOW TO BE 5 x 1800 pipes

Lindum Creek

Mayne Nickless Drain

Bridge

Bridge

(Duplicated)

5 x 1500 pipes *
No change
Main Drain

2 x 2700 x 1500

box culverts

2 x 2700 x 1500

box culverts

(extended)

3 x 1500 pipes *
No change
Bulimba Creek
Bridge

Bridge

(duplication)

Bridge
No change
* Metropolitan Region asset - outside Port Connect Scope
---
This web site is still under construction which will only cease once positive action is taken to rectify ALL the many problems highlighted.
Where remedial works are undertaken and I am aware of them I will try to add further photograph to show action taken.
Web site started July 2011.
Web Site development will only be deemed completed once all the drainage problems in the lower Bulimba Creek, Hemmant Creek and Lindum Creek and Lytton are rectified and tidal gates reinstated to return fresh water wetland as there were prior to upgrade of Lytton Road in the 1960s.
---
As you read further down this web site Please keep in mind the highlighted text in part of the Memo below.

Full text of the above memo is in the correspondence file near the bottom of this web page.
---
Which part of Government is interested in fixing the drainage problem within the Bulimba, Hemmant and Lindum Creeks and Lytton Drainage?
BCC will not start on the Lytton area until Port of Brisbane Pty Ltd clean out the drainage channel between Lytton Road and the Brisbane River. COMPLETED JAN 2013
Port of Brisbane Pty Ltd was waiting for the Port Connect/Queensland Transport to complete an hydrology study that should have been completed more than 16 months ago and long before work started on the duplication and extension of the Port Road.
Port Connect say that they are only responsible for the Port Road corridor and take no responsibility to ensure any of the drainage channels between the Port Road and Bulimba Creek or the Brisbane River are cleaned out and are actually operational.
A prime example is the original creek under the rail line near the Hemmant railway station which then passes (or tries to) under Canberra Street Hemmant and then Lytton Road. Queensland Transport has a history of not caring about the upstream flooding caused by road upgrades nor rail line upgrades as demonstrated several times within this web site.
Brisbane City Council engineers over 40 years have never shown any interest in protecting the residents of the area as shown by correspondence at the bottom of this web site and many photographs contained on this site.
---
PLEASE READ RESPONSE
We still have not acquired the attention of the Minister or the Department.
---

Correction, information and update about this news item above.
The photo was taken at the culverts on Lytton Road at what is now called Channel 4 at the south east corner of Port West.
No action was ever taken except to clean out the four pipe culverts at this site (by Queensland Transport) and at four box culverts at Gosport Street (by Brisbane City Council) both some two years later.
No cleaning of local drainage channels took place at that time or since except the Port of Brisbane Pty Ltd in early 2013.
Why do I believe and where is my evidence that the Rail line between Hemmant and Lindum railway is restricting drainage?



---
Before you read further read this text.
As you read the following web site consider that most decisions that were made which caused the problems, or not fixing the drainage problems or making the problem worse were made by qualified engineers who are most probably members of Engineers Australia. As such are subjected to the Engineers Australia's By-laws and Code of Ethics also the Queensland Board of Engineers will accept complaints.


I honestly believe that it is about time that ALL such engineers involved in this drainage dilemma must now be brought to task.

Because of this I will be lodging complaints against every engineer I can find who has been associated with any of the negative aspects of the issues contained within this Lytton/Hemmant web site.

I recommend that readers consider such actions as well.

From Engineers Australia Web site

http://www.engineersaustralia.org.au/about-us/complaints-against-members

Making a complaint


Anyone can lodge a complaint against a member of Engineers Australia. All complaints must:

•Be in writing
•Clearly explain the circumstances that gave rise to the complaint
•Provide evidence to support the allegations
•Include all documentation relating to the allegations ('drip feeding' of relevant information will only result in delays)
•Detail any prospective or ongoing tribunal or legal proceedings in relation to the matters raised
•Include your full name and contact details.
Complaints should be addressed to:

Complaints Commissioner
Engineers Australia
11 National Circuit
BARTON ACT 2600

Our Code of Ethics defines the values and principles that shape the decisions we make in
engineering practice. The related Guidelines on Professional Conduct provide a framework
for members of Engineers Australia to use when exercising their judgement in the practice
of engineering.


As members of Engineers Australia, we commit to practise in accordance with the Code of
Ethics and accept that we will be held accountable for our conduct under Engineers Australia's
disciplinary regulations.

4. Promote sustainability


4.1 Engage responsibly with the community and other stakeholders

a) be sensitive to public concerns

b) inform employers or clients of the likely consequences of proposed activities on the community and the environment

c) promote the involvement of all stakeholders and the community in decisions and processes that may impact upon them and the environment

4.2 Practise engineering to foster the health, safety and well-being of the community and the environment

a) incorporate social, cultural, health, safety, environmental and economic considerations into the engineering task

4.3 Balance the needs of the present with the needs of future generations

a) in identifying sustainable outcomes consider all options in terms of their economic, environmental
and social consequences

b) aim to deliver outcomes that do not compromise the ability of future life to enjoy the same or better
environment, health, well-being and safety as currently enjoyed.

If any reader would like to join our group's complaint please send me an email to activist@rag.org.au
A Right to Information (Freedom of information) request on the Queensland Government will make available the names of the engineers involved.
The names of those involved will be available upon request once available.
---

29 April 2012 Lindum Road, Lytton FLOODED
"Port Connect work will not result in any more than a 10 mm flood increases."
Read Press Release 30 April 2012
Minutes of Port Connect Community meeting:
Question:
"D.O. advised that Mr Barry Wilson was surprised that works happened in the wet season.
Response from TMR Project Manager:
A.U. Advised that drains are not entirely blocked off during construction. The impacts of rain events are actively managed to balance the effects on the site and upstream areas.

Please note that this important drainage channel is not entirely block off or that is what they would have every one believe.
Same house (102 Lindum Road Lytton) post 1960s Lytton Road upgrade.

When Bulimba Creek is in flood and is restricted by the Rail bridge and culvert at Hemmant, flood waters spread overland to Lindum Creek or try to.
Due to restrictions along the flow path of Lindum Creek it flows under then over Lindum Road heading to the north but is again restricted due to poorly maintained and restrictive drainage channels and the height of Lytton Road and the lack of adequate drainage under Lytton Road and the poorly maintained drainage channel on its way to the Brisbane River.
---
Port Connect information (16 Aug 2012)

1. The new rock lined section of Channel 4, between the Motorway and Lytton Road, has a 12m base width and 1V:2H side slopes. Please note that a smaller channel width would have functioned hydraulically, but tapering in from the bridge spill through width to the smaller channel width and tapering back out to the Lytton Road culvert width was not considered practical. Therefore, a consistent (larger) channel width was adopted.

2. The additional modelling and report, regarding Channel 4 and based on the existing Port Connect hydraulic model, has not yet been completed. We anticipate this will be finalised by the end of August (2012) and submitted to the Port of Brisbane Pty Ltd for their decision making process.

Now read a page of BCC document.

Note the size of channel recommended upstream (27 m) and then only part of the catchment which will need to flow through the Port Road channel (12 m) above (in the photo).

---
Must Read PRESS RELEASES
---
Queensland Transport's 1994 Maunsell's Port Road EIS reported that this culvert under the rail line east of Hemmant Railway Station was undersized.
2012 The culvert is still undersized.
Residents up stream suffer unnecessary flooding.
Shame on Queensland Rail.

---
How large should these culverts and drainage channels actually be made.

---
Don't Believe Brisbane City Council Reports. Here is why!
Just more of Brisbane City Council Lies, Lies and More Lies, misinformation and pure B.S.

In reference to the above document.
We have always been told that these drains were not under the control of the Brisbane City Council.
Now we have in writing that they are PUBLIC DRAINS.
Keep in mind as you read the table below that these "Public Drains" are now need to suffer "acquisition"'
There is no concrete lining on Lindum Creek anywhere from Kianawah Road to Aquarium Passage.
The author calls Main Drain "Hemmant Creek" which is NOT and they are not connected. But may over flow into each other in flood/heavy rain times.
For Mayne Nickless Drain (aka Lindum Creek) to drain the Hemmant area especially Bulimba Creek overflows it has to pass under the private road built across the flood plain by Inghams Enterprises.
Believe Brisbane Council Reports if you will but I will not.
As you read the work schedule below keep in mind the following:
Main Drain Culvert Lytton Road.
BCC Proposed 3/3000 x 1800 Box Culverts
What are the size of the culverts up stream from this point?
Water only flows across this area at the Highest tides of the year and some flood waters!!
BCC proposed an additional one 3.000 x 1.450 box culvert
Queensland Rail expect the Brisbane City Council Rate payers to fund this drainage upgrade which Queensland Rail previously downgraded when the original wooden bridge was replaces with a much smaller box culvert.
What is the state of Main Drain to Bulimba Creek near its mouth ?.
Let us look downstream instead:
ONE 2.600 x 1.450 box culvert then (at rail line)
TWO 2.700 x 1500 box culverts then (at Port Motorway)
ONE 1.000 pipe culvert then (Canberra Street)
THREE 1.500 pipe culverts (Lytton Road)
and BCC now suggests an increase to
THREE 3.000 x 1800 box culverts.
One must ask where and how is the water coming from to need such large culverts?
The answer is simple from the southern side of the rail line through a one metre pipe under Canberra Street. Good One, BCC and TMR.
But wait there is more, the report above suggests that this existing drainage channel can handle Q100 floods already.
What a lot of BS from report writers.

Main Drain between Gosport Street and Bulimba Creek.
Yes Sir, Q100 rated drainage channel.
---
WHEN IS/WAS WORK SCHEDULED

Table of work Update
Culvert work above: Not Done
Other works: Some at Iona Drain, not completed, other works: None done
What is missing?
Main Drain excavation from Port Motorway to Bulimba Creek with tidal gate
Mayne Nickless Drain (aka Lindum Creek) Lytton Road to Bulimba Creek with tidal gate
Anton Road to Bulimba Creek with tidal gate
Iona Drain from North Road to Lytton Road with tidal gate.
ACTION So Far: NOTHING by OCT Nov 2012 February 2013 February 2014 on most items.
Work Started on Iona Drain Nov 2012.
Not finished. February 2013 February 2014 as yet.
---
Brisbane Priority Infrastructure Plan October 2011 on storm water.
What is obviously wrong with these plans is that the drainage works start at the head waters and not at the blocked up end of flood plains.
New developments upstream acquire adequate drainage at the expense of long time residents further down the catchment.
Money paid by developers for storm water upgrades not (always) spent in same catchment.
Refer: Lord Mayor's above.
A POX on City Hall and all within.


Brisbane Priority Infrastructure Plan October 2011 on new roads.

The proposed closing of the at grade railway crossing at the Lindum railway station as above.


Check out the proposed size of culverts under the Rail line west of Lindum Railway Station.
Existing: 2x3000x900 box culverts
BCC Proposed: Additional 2/3000x900 box culverts
Present Culverts?
4 Aug 2011

Check out the proposed size of culverts under the Rail line east of Hemmant Railway Station.
Existing: 1x2600x1450 box culvert
BCC Proposed: Additional 1/3000x1800 box culverts.
June 2012.

---
View BCC Flood Maps for the local areas
Whilst viewing the flood maps above consider if you accept that the rail line is responsible for restricting the water flow.
What has Queensland Transport response to emails about drainage upgrade been?
Queensland Rail installed undersized culverts prior to 1994 as mentioned in Maunsells EIS (1994) on the Port Road.
After looking at the Brisbane Priority Infrastructure Plan above one must ask, "Will Queensland Transport upgrade these culverts before they build a bridge above Lindum Creek and the rail line and close the at grade crossing at the Lindum Railway station.
---
The Aerial photograph below is dated 16 May 1958
The white dots on the photograph represent the original drainage channels which existed at that time along with the yellow dots are man made drainage channels and in a few cases modified channels.
The area shown is Lytton, Hemmant, Gibson Island, Wynnum, Wynnum North, Tingalpa, Manly West and what was Lindum now renamed Wynnum West.
The white dots follow the original drainage line and the yellow dots the man made drains most probably all dug with depression labour in the 1930's as my father told me that he watched them being dug by hand when he was a young teenager who lived in Lindum Road from 1930 to 1980's.
What did this area once look like?
This is an aerial photograph taken in 1958.
The white dots are along the original drainage lines and the yellow dots are man
made drains possibly ca 1930's.
---
---
!937 Map of this general area. Notice areas of mangroves and reclamation area along river banks.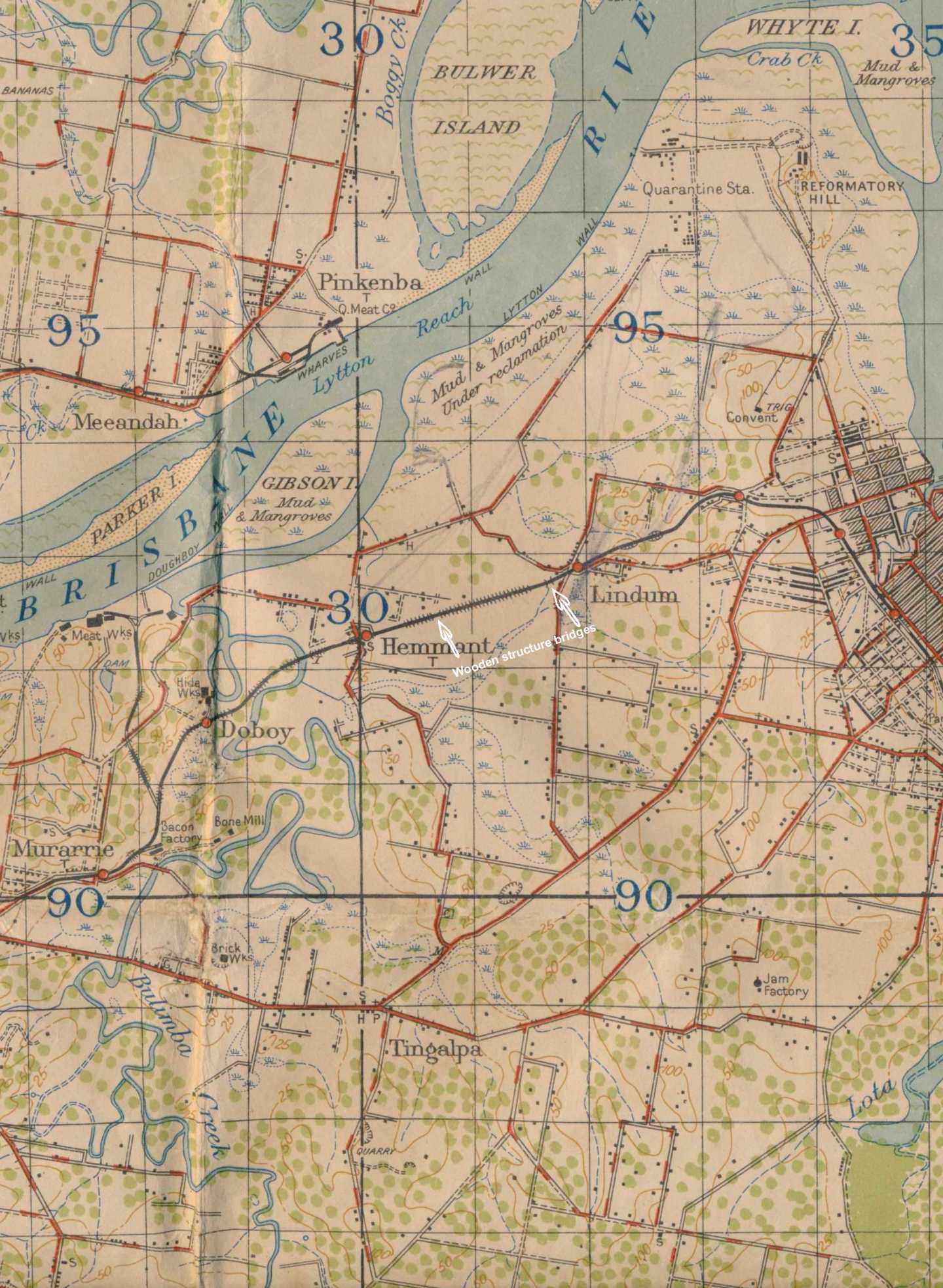 ---
Why was the flooding in Hemmant (below), Lytton and Wynnum West worse in January 2012?

Could have the port road construction had anything to do with increased flood levels?

Photo above is Southside Rail line east of Hemmant Railway Station
Could have the UN-maintained undersized culverts had any adverse results in flood heights?
Port Connect has confirmed that, "The bund was installed in December 2011 to allow construction of the new motorway drainage structures.
The bund has remained in place since that time. " email dated 22 Feb 2012

3 February 2012 Hemmant Drainage Channel adjacent to Port Road
Nearby to the eastern end of Canberra Street Hemmant.

3 February 2012 Hemmant Drainage Channel adjacent to Port Road
Nearby to the eastern end of Canberra Street Hemmant.

3 February 2012 Hemmant Drainage Channel adjacent to Port Road
Nearby to the eastern end of Canberra Street Hemmant.
---

---
Where does the flood water drain away after the culvert above?
---
Across this area (owned Queensland Transport)

NOW

Either through this one pipe


---
Then try to get OUT at this end.
3 February 2012 Hemmant Drainage Channel culvert complete with mangrove roots.
At the eastern end of Canberra Street Hemmant.

NOW


As constructed.
OR along the Port Road drainage channel below

Through this small ??

3 February 2012 Drainage Channel adjacent to Port Road between Hemmant and Lindum
Past the eastern end of Canberra Street Hemmant.
---
Then into this UN-maintained drainage channel

THEN make its way to Lytton Road culverts.
---
ALTERNATIVELY IT COULD TRY TO FLOW TO THE EAST UNDER INGHAMS' PRIVATE ROAD

---


Photo taken 3 February 2012
Mangroves tree removed, root balls still remains in pipes.
What an efficient team we have at Queensland Transport!!
Lytton Road Hemmant just out bound of Canberra Street.
Read the letter above and below.

---
---
Phone call from Paul Lucas office Thursday 16 February 2012 about 3.00 pm stating that information from the Main Road Minister's office said that the drain under Lytton Road, Hemmant had been cleaned out.
I check this drainage pipe Saturday 18 February 2012 and took the following photograph.

The past Main Road's Minister said it would be done by 31 December 2011.
Then Ministerial Main Road staff told Paul Lucas' office it has been done!
Then Paul Lucas office phone me and told me LIES!!
Any wonder the Hemmant drainage is in such a bad way.


WHERE IS THIS PROBLEM MAIN ROAD are still to fix seven twelve fourteen months later?
Re-inspected 16 August 9 October 2012 January 2013 and this culvert has still not been attended to.

---
Queensland Transport Shame File # just another one (who is keeping count?)
---
Email dated 21 April 2011
Project Manager Port Connect.
"TMR is aware that one of the contributing factors to local drainage issues is the condition of land owned by the Port of Brisbane Pty Ltd (POBPL) between Lytton Road and the Brisbane River. These concerns have been raised with POBPL."

---
Lytton Drainage Issues July 2011



Existing Conditions as at 28 July 2011

Drainage restricted?

Pipes are 1.050 metres in diameter
Water In
(land owned by BCC as Park Land)
The BCC wants a 27 m wide base drain built up to these 2 pipes but does not want to increase the size of these pipes which have not been cleaned out in over 20 27 months since a complaint.
(Sandy Camp Park)

Then under this road.
Energex use this Access Road via North Road
BCC engineer suggested that the road should be lowered but has been raised in past 2 months.
This is culvert is on Brisbane City Council owned Park Land.
Reported seveal times and shown personally to BCC technical officer.
This pair of culverts were to be cleaned out in 2011.



Water out? 28 July 2011 same place 28 October 2011

This photo 4 January 2012

This photo 15 June 2012
Not been cleaned out as yet in 12 months.

BCC Planning want a developer to build a channel with a 58m2 cross-sectional area with a 27m base up to then to
flow through these two pipes at 1.050 m each.
---
This is how the Southern side of The Lytton Industrial drains away.

Three out of Three all in a row and all blocked
---
In January 2013 the Port of Brisbane Pty Ltd excavated a drainage channel from Lytton Road through towards the Brisbane River. This previously blocked section of drain has now lowered the water level at low tide at Lytton Road by about a metre but on a very low tide may be even more of a reduction. As the obstructions up stream of Lytton Road and new Port of Brisbane Motorway have not been removed much of the improvement has not eventuated.

10:54 am 4 August 2011 11:12 am 4 August 2011
Point 1 and Point 2 on the map above.
27º 26' 23.8" S 27º 25' 57.4" S
153º 8' 6.1" E 153º 8' 24" E
Inflows stationary
2 culverts 1,003 metres apart incoming tide different drainage corridors
High tide @ 12:52 pm

The above drainage channel through Port controlled Land WAS blocked most possibly from years of dredge spoil releases.
What does this drainage channel look like further downstream between Lytton Road and the Brisbane River?
This blockage has been attended to during January 2013. (See Iona Drain site)
The six following photos tell the story.
Low Tide @ 12.30pm. Six photos taken between 12.30pm and 1.07 pm 4 January 2012






Don't forget how big the other drainage channel was upgraded to for
the nearby Queensland Government industrial Estate.
This drainage channel shown below is less than 1 kilometre (north) away from the blocked one shown just above.
How well did the Queensland Government drain their industrial land development adjacent?

This wide and this deep.
Photo from video 02-06-1995.
Keeping Queensland government industrial land drained and flood free but not privately owned land flood free.
---
The aggregate catchment area (approx. 130km2 ) is broken up as follows:

Bulimba Creek – 12500 ha
Lindum and Main Drain – 400.4 ha
Channel 2 and 3 – 118.7 ha
Channel 4 – 266.3 ha
---
1. The new rock lined section of Channel 4, between the Motorway and Lytton Road, has a 12m base width and 1V:2H side slopes. Please note that a smaller channel width would have functioned hydraulically, but tapering in from the bridge spill through width to the smaller channel width and tapering back out to the Lytton Road culvert width was not considered practical. Therefore, a consistent (larger) channel width was adopted.

2. The additional modelling and report, regarding Channel 4 and based on the existing Port Connect hydraulic model, has not yet been completed. We anticipate this will be finalised by the end of August and submitted to the Port of Brisbane Pty Ltd for their decision making process.

---
These two photos below have been captured from a video tape made at Port West on 27 October 1994.
It only took me two weeks of searching to find my VHS video tape I made from my Sony video 8 camera 17 years ago.
I believe that these two photos prove who is responsible for the blocked drainage.

Photo shows a pipe through the bund wall around the dredge area of Port West.

Photo shows several pipes through the bund wall through which allowed silt laden dredge spoil excess waters
to flow into the adjoining drainage channel which was at that time restricted and still is.
---
The following images are from Google Earth / Google Maps available on 22 Nov 2011
The area is Port West, satellite map, date unknown.
First Image below is the drainage channel at the south of Port West.
Looking closely several breeches of the bund wall can be seen and dredge spoil/sand has flowed towards the drainage channel.
An excavator can be seen in the images below.
Just how much sediment/spoil/sand reached this drainage channel and how much was ever removed?
Check Google Earth or Google Maps for yourself if you doubt the images below!
Stop Press: DERM confirms that at least 2 breaches of bund wall have occurred where sand has entered the mangrove lined drainage channel and has not been reported to Fisheries Department nor DERM by the prior Port of Brisbane Corporation which no longer exists. The Google Earth below is in about 2009 I am informed.



Take the time to read this letter.
This environmental incident and a previous one were never reported by the Port of Brisbane Corporation.
Photo of the drainage channel near this point, photo is below

This looks like the mangroves have been smothered by sand.

The red pin denotes the GPS site where the photo above this image was taken.
Photo taken with Sony GPS camera and displayed on Google satellite mapping.




---
27º 25' 57.4" S 153º 8' 24" E

Photograph taken 8 August 2011 @ 9:50 am

Low Tide Brisbane Bar 10:21 am

Quite obvious this drainage in not working except to those whose job it is to inspect and maintain.

Several years ago I made a video which showed three of these culverts fully blocked and the fourth more that 3/4 blocked. It took a further two years for any work to be carried out to clean them out. It is a impossible to now see if the culverts are or could fully function during heavy rain because the water level is not changing with tidal influence as it should.

---

These images have been taken from video 8 tape made on 28 February 1997 as you can see some company had put a concrete slab across the drainage corridor about half way up the the height of the pipes. 20 months after my first video on 2 June 1995.

Eastern side of Lytton Road showing concrete slab which inhibits drainage under Lytton Road then through Port West (looking south). 28 February 1997

Looking upstream (to East) through the same culverts above where you can see the concrete slab. 28 February 1997

This was the excavator used in 1997 to clean out the culvert on the downstream side of Lytton Road. Again some 20 months after my complaint about blockage.

---

What the Lord Mayor said about this drainage in 2002!



How often should this drainage system be maintained and why?

When was the last time this maintenance was carried out?
Never on the Port of Brisbane Corporation Land since 1930's.
Now some works by The Port of Brisbane Pty Ltd in 2013
Late 1990's for the Lytton road culvert after my video in 1995.
Never on the remainder of the drainage corridor in
over 40 years ago.
---

Flooded again. Owner Len Yeo on right and possibly Paul Lucas on left.

The calf with a cow standing in water up to her udder in the shallow part.

Looking north .

Looking NNW.

Taken from same property (above) looking north-east showing Magpie Geese which have breed here.
Compare how far fence post are out of water.

All this flood waters can only flow away through these two pipes to drain or stay and eventually evaporate.

Lytton Road Culvert on upstream side.

Photo taken 1970's (?) after most of the laying hens were drowned, yet again.

Photo of house once owned by Mrs Chambers situated between Lindum Road and rail line not quite opposite 118 Lindum Road.
Date unknown but maybe 1970's
---
The history lesson.
Local residents, and there only a few of us now, who lived in Lindum Road, Lindum (now Lytton) who have been subjected to unnecessary flooding of their property since Lytton Road was upgraded some 40 years ago to allow for the transportation of fuel from the Ampol refinery built at Lytton and the building and access to the developing Port of Brisbane at Fisherman Islands.

During the latter part of the 1960's an upgrade of Lytton Road started at Bulimba Creek at Hemmant continued to the intersection with Hemmant & Tingalpa Road then instead of turning left into what is now Aquarium Avenue and then along what is now Gosport Road, the new Lytton Road went straight ahead across the intersection across what could only be described as near intertidal wetlands covered with salt cooch and stunted mangroves growing on a acid sulphate soft clay expanse to its intersection with Lindum Road.

This new Lytton Road was built up some 2+ metres above the surrounding ground height which resulted in what could be called a causeway / retention dam across the entire flood path of Bulimba, Hemmant, Main Drain and Lindum Creeks.

As the new Lytton Road was constructed, new culverts were installed and old culverts / wooden bridges were removed or filled in. The connecting of the old drains to the new culverts was not undertaken when the road was built. Shortly afterwards the residents upstream of the new improved Lytton Road experienced the worst flood event in living memory and the duration was even longer than any previous experience.

This was due to the flood waters that could not flow out through the new culverts because they had not been connected to the old drainage channels.

Eventually new drainage channel were excavated which were far larger that had previously been in place. Unfortunately as part of the upgrade, tidal gates were not installed on the new drainage corridors. Tidal gates had been in place on all of these drains which had in the past restricted the flow of tidal salt water from entering the fresh water wetlands which existed on the southern and eastern side of Lytton Road.

The banks along these new drainage channels were quickly colonised by mangrove which in turn trapped sediment and litter thus lowers drainage capacity and reduces flow rates.

The environmental issues happened as tonnes of acid sulphate soils (A.S.S.) were exposed and therefore acid formation and release.

These drains still have a very rusty appearance. Of course at the time that this work was undertaken the manner in which Acid Sulphate Soils were tested had a fundamental flaw in the testing method.

Now when A.S.S. are to be tested all marine shells must be removed before the sample is ground up to make a homogeneous mix before testing occurs.

I have taken to time to read the Lindum Creek, Hemmant Creek and Bulimba Creek flood studies. What I discovered was that each creek is studied in isolation. There was no information relating to what happens or could happen when rain falls in the three catchments at the same time especially seeing that they share the same flood plain south of the train line between Hemmant and Lindum railway stations.

The Maunsell's EIS for the Port Road stated that the two sets of culverts beneath the rail line between Hemmant and Lindum Railway stations are NOW undersized. Of course, I have issues with anything Maunsell.

This restriction most probably took place as the Dual Gauge Rail Line to the Port of Brisbane was built.

The so called Public Consultation on the Port Road was not carried out on a present road corridor alignment. We as a community were not allowed to raise or discuss any other corridor along which the port road could follow. This strategy was also carried out by Maunsell previously during the Dual Gauge rail line, because when an executive of another well respected community group wanted to discuss alternatives he was told if he wanted to talk about alternate rail corridors he was most welcome to do so outside the meeting room but not in the meeting.

The above map is the Port Road the community was "consulted" on and no other corridor was allowed to be discussed by Maunsell and Queensland Transport..

This is the Port Road alignment we the community were not allowed to discuss at any meeting by Maunsell and Queensland Transport.

The Port Road corridor we were consulted by Maunsells and only allowed to speak about. No Alternatives allowed by Queensland Transport or Maunsells.

A copy of The Rivermouth Action Group Inc submission on the Port Road was printed in the Final EIS on the Port Road and a copy is available for reading below.

After my own birth in 1947, I was take home to Lindum Road, Lindum (now Lytton) where I lived with my parents until late 1969 when I married and moved out. My father moved to Lindum Road with his parents when he was 12 1/2 years old in 1930.

During the depression in the 1930's, the government undertook many community projects using men out of work for a couple of days a week which allowed unemployed men a small income to feed their families.

My father watched some of these workmen dig by hand, drainage channels in Lindum and Lytton to allow for the drainage of wetlands after rain periods. The local wetlands are below high tide level and as such the decision was made at that time to install tidal gates in these drains to restrict in inflow of salt water during daily tidal changes to protect pasture grasses for the many dairy farmers.

Upon reading a copy of the "125 years of Hemmant State School", I found an article about Albert Townsend on page 51 where he would receive 8 shillings and sixpence in ration tickets from the Wynnum Police Station for digging out drains at Lytton during the depression.

The natural drainage of this area had been changed with the building of the Brisbane River walls, the dredging of the Brisbane River, and the pumping of the dredge spoil behind the river walls, the building of new roads and Cleveland rail lines over the past 130 years ago.

My Grandfather Hubert A. Wilson was a foreman involved with the north bank river wall at Pinkenba and I have further photos in which he can be seen.

Looking at some of the photos I have you will wonder on which side of the wall is the Brisbane River.

The landowners surrounding Lytton and Lindum utilised most of this low level lands for dairy farms. When I was younger there were six substantial dairy farms in this general area with three using the land between Lytton, Lindum and North Roads and a fourth in the same catchment.

With the decision to build the Ampol Refinery and move Brisbane's Port to Fisherman Islands the amount of heavy traffic which resulted, lowered the updated Lytton Road height more that a metre below its original built height.

With all of this knowledge and knowing one long term resident who had continued to request the government both state and local, carry out maintenance on the drainage channel for over 40 years, I made a submission to Port Connect in April 2011 asking for an on site meeting to explain to their engineer and hydrologist what I know of the flooding issues in the area and the restricted drainage channels which exist.

After four months I was told that there was no funds to undertake maintenance of the drainage channels and the new Motorway was not allowed to increase flood heights any more that 10 mm. compared with existing conditions. Copy available below.

Some of the photos on this page were taken late July 2011 the day of my 64 birthday and a few more on August 4 and even more since.

It is quite evident looking at them that no maintenance has been carried out on this drainage corridor for many (over 40 years) years yet correspondence suggests that it would be a annual inspection from Brisbane's Lord Mayor in 2002. (Letter below).

When the Lytton area north of Sandy Camp Road, Wynnum West was resumed by the Queensland Government for the development of the Port orientated industries a further large scale sand dredge pumping exercise took place.

Large quantities of solid fill were trucked into this area to fill the once extensive melaleuca wetlands and low intertidal wetlands and to raise the level of the remaining land to facilitate the industrial development we see at Lytton today. (Aerial photos 1946 to 2011 attached below)

The Department of Business, Industry and Regional Development were the department irresponsible for the loss of these vast wetlands, disturbance of acid sulphate soils .

The action of this filling resulted in large ponds of water being trapped within bounded areas waiting to be filled in either by dredge spoil or solid fill.

The area on the southern side of the Brisbane River just downstream of its connection with Bulimba Creek there once stood a large wooden wharf (visible in the 1946 and 1958 photos) and behind the wharf were large round concrete tanks (originally built during WW II by the US Army as a refuelling station for their fleet). Later after W.W.II the tanks were used to store whale oil for transhipping from the Tangalooma Whaling Station on Moreton Island. This whole area was reclaimed land from dredging the Brisbane River for navigation purposes. (visible in the 1946 and 1958 photos attached)

Further downstream is an area now known as Port West which was for many years known as Clunies Flats. This area as I remember as a young child was sandy covered in the declared weeds known as groundsel, prickly pear and a very thorny bushes called devil apples.

When I was about 15 to 17 years old this area was again used as a dredge spoil dumping area for both sand and mud /silt and then for many years after that time. The excess water which was pumped out of the dredge on to this area laden with very fine silt was then allowed to flow through large steel pipes about 30 cm through the bund wall into the drainage channel in the south east corner of this area.

What that caused was the fine silt which was still suspended in this outpouring then deposited into the drainage channel both up and down stream of the outlet with tidal flows.

Not only did it silt up the drainage channel downstream but silted up the culverts and up stream drainage channel as well thus reducing the drainage capabilities of the only remaining drainage corridor for the entrapped rain and flood waters held behind the raised Lytton Road.

My concerns are that the about to be constructed Port Motorway extension will further increase the flooding in properties behind the Port Motorway due to the amount of fill required to build the four lane divided Port Motorway some 0.25 to 0.5 metres higher than the existing Lytton Road with the loss of flood plain capacity.

The Design Engineer from Maunsell who did design work for the Port Motorway in the mid 1990's admitted to a resident that he had not once visited the area until after he had finished his work but had carried out his investigation and planning from his office desk with photographic maps and plans of the area.

At one point in time an off ramp design would have required the filling in of a large section of freshwater wetlands owned by the Caltex Refinery. When this was pointed out to Maunsell we were told that it did not appear to be wetlands in the photographic maps. The Brisbane City Council has since declared this same area as a conservation wetland for protection into the future.

Let us not forget this is the same company (Maunsell) who under estimated the number of motorist who would be using the Clem 7 tunnel on completion.

Unless this drainage issue is resolved now, future generation will be burdened with unnecessary increased flooding both in levels and duration.

One of original the drainage corridors under Lytton Road has been filled in and now the new Port Motorway will remove any obvious existence except the UBD street directory show it as a creek in their road map for the area. It seems strange that engineers decided to remove and not reinstate this culvert given it is marked in the street directory. Map below.

What they have said is that this culvert allowed the water to drain the land on the river side of the old Lytton Road into the wetland on the eastern side of Lytton Road. That may have been so but it also allowed flood waters to flow in the opposite direction during flood times due to the actions of land owners which had their own drainage channels in place at that time.

What we have experienced over the years in Lytton and Lindum is work undertaken by Desk Top Studies.

In Queensland there two golden rules for Desk Top Studies.

1. Must be done at Night.

2 The light must be turned OFF.

---
CORRESPONDENCE FILE
City Design Brisbane City Council Memorandum 31 May 1999 - 2 pages Page 1 Page 2
Port of Brisbane Motorway Alliance Minutes of meeting with Len Yeo 14 January 2002 - 3 pages Page 1 Page 2 page 3 map
Transport Minister to Paul Lucas 5 February 2002 - 2 pages Page 1 Page 2
The Duty of Care was with the Port Of Brisbane Corporation and the two share holders were the Ministers for Finance and the Minister for Transport.
Beattie Ministry, 12 February 2004 to 28 July 2005
(ALP)
LUCAS, Paul Thomas Minister for Transport and Main Roads
MACKENROTH, Terence Michael Deputy Premier, Treasurer and
Minister for Sport (until 25 July 2005)
Why did not the Minister responsible of the Port Of Brisbane Corporation execute his duties and protect his own voters?
Too Lazy?
Too Incompetent?

---
This page is maintained by
The Rivermouth Action Group Inc
as a community service.
---